The American Express Foundation and the National Trust for Historic Preservation are leading the charge to encourage Americans to preserve the nation's cultural history. The combination of aging locations in need of repair, local pride, passionate voices and the advent of social media have resulted in the two organizations not only helping to repair buildings and sites in need but also giving people a sense of ownership, pride of place and the realization that each individual can make a difference.
For the past eight years the two organizations have worked together periodically for the Partners in Preservation, selecting a different city each year and then identifying historic locations within that city which may be in need of repair.
"We want to go to towns and cities that are historically focused," said Caitlin Lowie, director of corporate affairs and communications at American Express. "These places have a lot of pride in their history and they're very preservation minded cities."
The goals of the campaign were not just to provide grants for historic preservation but bring the public into the decision-making process.
By doing so, the hope is that participation and interest will inspire individuals to become long-term supporters and advocates for historic preservation.
When Partners got started, "American Idol" was one of TV's most popular shows. So Partners took the show as inspiration, offering $1 million annually to be split among different locations in need, but letting the decision be made by the public voting.
While "Idol" has a full TV season to work with and generally knocks contestants off one at a time as it draws closer to its finale, Partners opened up the voting for about three weeks and then announced the winner on the final day.
In order to vote for the past seven years, people visited the PartnersinPreservation.com site to vote once daily, but this year social channels were added to the ballots.
SOCIAL MEDIA
"This year we wanted people to be much more socially involved because that is really how the D.C. community is, so we integrated Instagram, Foursquare check-ins, Tweets, so people could really engage the way they wanted to," Lowie said.
That kind of social engagement gave D.C. voters more ways to advocate for whichever site they wanted to win the grant money. Partners in Preservation hoped to gain advocates for historical preservation in general as well as to engage people in pushing their own projects.
"The main goal of the social campaign was to drive voting, but we also sought to inform the community about the sites themselves and the importance of preservation in general," said Jordan Middendorf, digital strategist at M Booth.
One site, the Latin American Montessori Bilingual School, encouraged parents to check in on Foursquare every day when they dropped off their kids at school.
Partners in Preservation also spent extra effort reaching out to D.C. bloggers with their own pet projects. "So many bloggers have passionate followings, so we wanted to tap their audiences," said Audrey Chang, managing director of The Harbour Group. "Blogs also tend to focus on a few aspects, maybe a neighborhood or local community, a handful of interest areas, but they are deep in these interest areas."
For the LAMB school, Harbour reached out to bloggers who were interested not just in education, but also the Latin American community in D.C. That coverage helped LAMB gain a $60,000 grant from Partners in Preservation (PiP).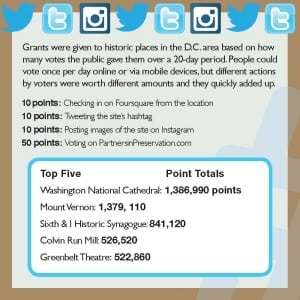 SCORE ONE FOR ANALOG
Harbour and M Booth were also careful to hit niche publications. "The passions of the world are found by reaching out to these hyperlocal outlets right around the corner from the sites involved," Lowie says. "These were just as important as The Washington Post. "
For some media outlets, such as the Post, at least 10 people were contacted. However, even smaller community papers sometimes had two different people contacted in order to try and advance the story, Chang said. Sometimes, it was just a matter of finding the person who would pick up on the program or a site and become an advocate.
Each of the participating historical places got a full-day training session from the American Express Foundation and the National Trust regarding how to generate press coverage. The locales were also taught to come up with their own creative plan and develop taglines, images and videos to help their cause.
But Lowie notes that the main drivers have to be the sites themselves. "American Express and the National Trust, we do a lot of work making media plans and creating outreach strategies, but it's the sites themselves that make it happen," she said. "The places that do something clever tend to do better."
For example, a Seattle-based Viking ship used the catchphrase "Vote for the boat," while a church in Chicago that serves the Chinese community created a video that was shared in China and sparked a lot of international voting.
Yet Harbour and M Booth didn't just depend on social media, the blogosphere and traditional media to get the word out to potential voters.
With food trucks in vogue, PiP partnered with a local Popsicle maker, Pleasant Pops, to drive around D.C.in Pleasant Pops' van for four days throughout the 20-day voting window and hand out 10,000 "Preservation Popsicles" along with information on how to vote. The van itself carried signs that encouraged residents to "Vote. Share. Visit."
Milestone events that generated PR along the way included an open-house weekend that had all 24 sites on the ballot opening their doors to visitors; a celebration of all the sites, in D.C.'s Farragut Square Park that included people dressing up in full period regalia that related to each place on the ballot and the final closing event at the Decatur House, which contains one of the few slave quarters still preserved in an urban area.
Days after the announcement of winners, PiP garnered more press when First Lady Michelle Obama visited the Decatur to celebrate a $1 million grant to the house that was awarded from the foundation.
The milestones of the event were specifically spread out so that the different sites would have time to generate additional media coverage.
Lowie notes that bloggers were a key component in generating press between milestones, pointing out that the blogs worked as a constant content engine, posting video, locales and back stories of locales throughout the entire 20-day voting period.
A TREASURE TROVE
All that work paid off with a fair amount of media coverage, the bulk of it in local media outlets. While the American Express Foundation and the National Trust certainly desire national press, the main thrust is all about local engagement. "Of course, we wanted people to know about the program, but we really wanted them to take action: vote, tweet, Facebook, etc., to give a voice to the discussion," Middendorf said.
In more than 20 days, the campaign successfully used today's technology to help preserve the past, generating the following results:
• More than 350 media placements.
• More than 60 blog posts.
• More than 13,000 tweets.
• More than 2,000 posts on Instagram.
• More than 50,000 people registered in D.C. to take action in support of their favorite historic places.
While American Express was happy with the numbers, it was the deeper study of how D.C. residents engaged with the idea of historic preservation was where real success was found.
"We looked at social chatter, how many times were the different hashtags used, what were the different tonalities to that, what was the social scale of our different posts and how we are communicating, so many things," Lowie said. "What we want to get down to, though, is what is their appreciation for not American Express as a company, but the program itself and historic preservation in general."
CONTACT:
Caitlin Lowie, Caitlin.m.lowie@aexp.com, @AmericanExpress; Audrey Chang, audrey.chang@harbourgrp.com, @HarbourGRP; Jordan Middendorf, JordanM@mbooth.com, @jordanlines for @MBoothPR.
American Express and the National Trust for Historic Places used the most popular forms of social media to get their message out. Jordan Middendorf, digital strategist for M Booth, shares the PR strategy that they employed.
1. Use platforms that make sense for your audience. Know your target and build your strategy around those insights: Fish where the fish are. If you're selling jewelry, Pinterest might make sense for you. If you're a news organization, the lightning-fast pace of Twitter will be where your readers are going to stay informed.
2. Create content that's authentic to your brand. If your brand was a person, how would they speak? Finding a personality for your brand that your consumers can relate to is a great way to build a following and connect with them.
3. Be timely and relevant. Find ways to connect what's happening in current events to what your brand or audience is doing.
4. Respond. Monitor online conversation about your brand and talk to the consumers who are talking about you. Identify your existing advocates, show them your appreciation, and solidify them as fans for life.
5. Be nimble. Measure and refine strategy. Analyze how each platform is performing for you and optimize strategy as needed.
This article appeared in the June 24 issue of PR News. Subscribe to PR News today to receive weekly comprehensive coverage of the most fundamental PR topics from visual storytelling to crisis management to media training.