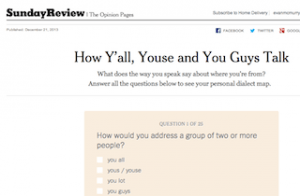 The New York Times' list of most visited content in 2013, which was released late last week, bolsters the growing argument in media precincts that so-called "listicles" and "charticles" are the most shareable type of content online.
Exhibit A is the most visited of all the Times' content in 2013: a dialect quiz titled, "How Y'all, Youse and You Guys Talk" (December 21).
The winning entry is an indication for communicators and PR pros that consumers are most engaged with content that they can "lean into"—in this case, what someone's way of speech says about where he or she is from—rather than read an article about XYZ subject that, while important, doesn't resonate with the reader on a gut level.
Another takeaway for PR pros: Your most successful content may come from unlikely places. The "How Y'all, Youse and You Guys Talk" quiz was created by Times' intern, Josh Katz (who has reportedly landed a full-time gig with the media company as reward for generating the most popular post of the year).
As one top PR executive told us last year, PR and marketing agencies are now living in the age of the "jump ball," in which brand managers don't really care where the ideas for the most shareable content originate, so long as the content being distributed is relevant to the brand message and extends the company's reach with new audiences.
Communicators need to be on the lookout for content that may be lurking on the desktop of someone who is not necessarily in the communications' hierarchy.
The Times' list shows that the most successful content may not be what you think, but it probably involves people immersing themselves in the information.
Follow Matthew Schwartz on Twitter: @mpsjourno1