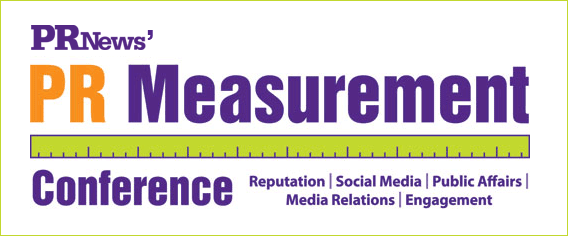 Bonuses for Attending:
Tip Sheet on How to Measure
Social Media Engagement
Executive Summary - we take
notes for you!
Unlimited and exclusive access to
all conference presentations online
Certificate of Attendance
Attendee Only Workbook
Wednesday, April 18, 2012, JW Marriott, Washington, DC
This one-day conference will show you how to measure all the key areas of your communications initiatives.


Providing solid, meaningful results of all PR initiatives has never been more critical for communicators—in this era of tight budgets, all activity must have a clear connection to organizational goals and the bottom line. Join PR News at the PR Measurement Conference on April 18 in Washington, D.C., where top measurement experts will show you how to effectively capture the full impact of your PR efforts. This unique day focused on measuring the impact of your work comes just once a year—it's a day of learning that you cannot afford to miss.
The one-day PR Measurement Conference is packed with practical lessons in measurement—from measuring traditional media relations efforts and social media to linking PR efforts to business objectives and measuring effectiveness of employee communications. You will also learn how to measure the effect of a crisis on your brand's reputation and how to identify and engage with the influencers in your market.
The PR News PR Measurement Conference brings together top measurement
experts—from agencies, corporations and nonprofits—to share practical advice and innovative strategies and tactics to help you prove the value of PR to senior management. The interactive setting is designed to allow ample time to ask questions during panels. And, as a bonus, we'll provide an Executive Summary covering the key points of each session to all attendees following the event. Join us for an information-packed day of learning, discovering and networking.
Space is limited, so register yourself and your team today.   
---
Sponsored by
---
In one day you'll become an expert in: 
Tying PR Efforts to Business Outcomes
Making PR Part of the Sales Process
Integrated Communications
Proving PR's Value
Media Relations Measurement
Social Media Metrics
Reputation Management
Internal Communications
Research Tools, Vendors and Resource Allocation
Speakers: 
Agenda: 

What we'll cover:
Opening Keynote Presentation: How to Create Visionary Measurement
Why is measurement always on the last slide of a powerpoint presentation? In a world where almost anything CAN be measured, what is really worth paying attention to? And perhaps most importantly, how do you REALLY know if what you are doing is working or it isn't? 
Most of us imagine ourselves working in an organization with visionary leaders. We might even make visionary products. But would you ever use the word "visionary" to describe your measurement? Probably not ... but perhaps you should. In this short keynote, bestselling author, Ogilvy marketing strategist and Georgetown University marketing Professor Rohit Bhargava will introduce the idea of visionary measurement and why your organization needs it. Highlighting some of the most common mistakes made by corporate communications teams when it comes to trying to track results in social media - this talk will inspire you to think differently about how you look at what really matters in social media measurement.

Rohit Bhargava
Senior Vice President
Global Strategy & Planning, Ogilvy
and 
author of forthcoming book Likeonomics
---
What You Need to Know Now About PR Measurement
Are you concerned that your PR metrics are selling your efforts short and not conveying their effectiveness well enough? Are you looking to move away from impressions to more concrete outcomes? In this interactive opening session, we'll illuminate measurement initiatives that resonate with stakeholders—and turn out the lights on ones that don't. Starting with a status report on the influence of the Barcelona Principles, our panel of experts will cover the latest trends and strategies in building a concrete measurement program—from defining objectives, staffing and budgeting to gaining an understanding of the most common definitions of social and traditional metrics and of the state of measurement standardization. Be prepared for plenty of "a-ha" moments that will touch on all the hot issues and trends in PR measurement.
You'll learn how to:
Apply the Barcelona Principles to your PR measurement strategies
Define meaningful and measurable objectives that tie into your organization's business goals
Create a plan for daily application of measurement tactics
Budget for sufficient measurement resources
Determine what to manage in-house and when to hire outside experts
Which metrics clients and senior management ask for most
---
Measure Your Media Relations Initiatives to Generate Truly Impressive Data
One million media impressions may not mean much if that metric is not tied to some kind of audience action or outcome. That's why proving the value of your media relations efforts is entirely dependent on your ability to know what outputs to measure, how to measure them—and then tying those outputs to bottom-line goals. Using real-world, proven examples, our panel of measurement experts will show you how to use primary research, surveys and traditional metrics to measure the outcomes of your media relations efforts. You will learn how to determine which media will generate the greatest number of meaningful impressions; how consumer data can determine which media mix will deliver the largest returns; and how to measure outcomes that demonstrate positive changes in consumer behaviors and relationships with your brand.
You'll learn how to:
Take your media measurement beyond counting clips
Create consistent messaging between paid and earned media
Determine the influence and reach of various media including print, social media platforms and blogs
Align media relations goals to business objectives, including sales and enhanced reputation
Integrate traditional and social media metrics
Use Web analytics to link media metrics to business outcomes
Conduct content analysis to measure messaging, sentiment and positioning
How to Measure Your Brand's Reputation During and After a Crisis
Being nimble—as well as smart—is a requirement when dealing with a PR crisis, particularly one that explodes on social media. The ability to respond quickly and transparently to stakeholders often determines success or failure during a crisis. Being proactive about measuring your communications—in real time—can go far in alleviating a crisis and reestablishing your organization's reputation. In this case-study driven session, you'll hear how three organizations proactively measured online conversations; how their real-time, two-way dialogue established credibility; and how they adjusted their response strategies and tactics on the fly. You'll learn how to measure the impact of your communications, mitigate the damage and rebuild your organization's reputation following a crisis. This panel will also lay a foundation for the afternoon interactive crisis clinic.
You'll learn how to:
Determine the strengths and weaknesses of your crisis communications
Track and analyze traditional and social media mentions, including impressions, reach and Web site traffic
Measure the reputation of your CEO or senior leaders
Respond to negative comments online
Rebuild confidence among key stakeholders following a crisis
Tie PR to the Bottom Line and Communicate Its Value Throughout Your Organization
To finally gain a seat at the table with senior management, PR professionals need to put all of their communications skills to work—within their organizations. This panel discussion will show you how to break down the walls between functions within an organization and communicate the tangible value of your PR efforts to key decision makers. Close and regular collaboration with top executives, marketing, sales, HR and just about any other business function not only can drive increased sales, membership, brand awareness and employee productivity, it can also reaffirm the role PR plays in business success. This session will show you how to use the communications skills you already possess to demonstrate the value of PR and work across an organization's silos to promote new products, drive Web traffic, generate leads and highlight key spokespeople.
In this session, you'll learn how to:
Effectively communicate PR's value to sales & marketing teams
Determine which metrics and measurement terms will resonate best within your organization (focus on ROI or KPIs?)
Avoid turf wars by regularly interacting with key business functions
Develop a content strategy to support every step of the sales process
Focus on strategic business outcomes first and your PR strategy second
Establish and manage internal expectations
Network with your peers and make new connections during this luncheon, which will feature a thought-provoking keynote presentation by Jonathan Collegio, director of communications, American Crossroads and the PR News PR Measurement Hall of Fame induction ceremony.
Keynote Presentation:
Beyond Conventional Tactics: Leveraging Your Organization's Unique Inputs to Generate Positive (and Measurable) Results
Sometimes public affairs executives use the same strategies and tactics so often that they miss the forest for the trees. They forget that the best campaign tactics often aren't conventional, but rather are the unique set of inputs the client can bring to the table through his or her organization. Executives who can step back and look at goals of a campaign, instead of the usual tactics, can often design campaigns that have lasting and measurable results. In this keynote presentation, Jonathan Collegio of advocacy organization American Crossroads will discuss how to search out opportunities that are unique to your organization, and how to leverage those opportunities to create winning PR and public affairs campaigns.
Linda Childers Hon, PhD
Executive Associate Dean, College of Journalism and Communications;
Professor, Department of Public Relations
University of Florida
@linda_hon
Jackie Matthews   
Communications Research   
General Motors
@jackiemat
David Rockland
CEO, Ketchum Pleon Change; Partner/Managing Director, Global Research Network, Ketchum 
 
Linda Rutherford
VP, Communication and Strategic Outreach
Southwest Airlines
@SWAfollower
Don W. Stacks, PhD
Professor of Public Relations
Director, Public Relations Graduate Studies School of Communication
University of Miami
@donstacks
Louis C. Williams, Jr.
Chairman
The Lou Williams Companies, Inc.
Interactive Clinic: PR Measurement in the Early Stages of a Reputational Crisis
Work in small groups with your fellow conference attendees as you immerse yourself in a mock crisis that threatens the reputation of an organization. Our workshop leader will define the crisis and begin his stopwatch—then it will be your team's job to create a strategy that will measure the impact of the developing crisis in real time and point the way toward an appropriate response. Team leaders will share their strategies with all attendees, and our workshop leader will analyze the results to arrive at a set of best practices.
In this session, you'll learn how to:
Choose metrics and key performance indicators to measure reputation
Select tools for data collection and measurement
Determine the most effective ways to report outcomes and adjust your communications strategy
Monitor social media channels for viral messages that may harm your organization's reputation, and respond accordingly
Leverage social media platforms including Facebook, Twitter and blogs, to manage—and save—your organization's reputation
Quick Study: How to Identify and Engage Influencers
Measuring conversations by influencers is not only more effective than tracking the universe of social media, it's less time-consuming and less expensive. In this case-study driven session, you'll learn how to identify key influencers, build relationships and engage with consumers, bloggers and the media that hold sway in your market.
You'll learn how to:
Create an influencer map to identify and organize key influencers
Identify and use keywords relevant to your market to find the most important influencers
Search social media channels like Twitter and Facebook to find followers and fans actively engaged with your brand
Determine how often to update your list of influencers
Use tools including Twitalyzer, Twitter Grader, Twinfluence and Klout to monitor who is talking about your brand and about your competitors
Plus! You'll walk away with an Influencer Identification Checklist
Measure the ROI of Your Social Media Efforts
Having a social media program that engages with your customers is no longer optional—it's a requirement. In fact, it's vital to enhancing and protecting your brand's reputation and presence. The good news is that social media platforms are metrics-driven, and meaningful measurement can often be achieved without using expensive tools. The bad news: Even the leading measurement experts can't agree on what social media ROI really is. But we're here to help: In this session, you'll learn how to tie Twitter promotions to sales, how Facebook posts can be linked to increased membership and fundraising and how to use YouTube Insight to measure the success of video campaigns. Whether you are a global organization or an army of one, you'll walk away with a social media strategy that is working and measurable.
In this session, you'll learn how to:
Establish key metrics for social media measurement
Integrate social media with traditional measurement methods
Use Facebook Insights to track engagement and reach among your fans
Measure the value of online engagement
Conduct analysis of online messages, conversations and communities
Use TweetDeck to track comments across the digital spectrum
Link social media efforts with larger business goals
Use social media measurement tools including Sprout Social, Spreadfast, Google Analytics, Facebook Insights and Twitter tools
Who Should Attend? 
If you spend at least a quarter of your time in any of these areas, you should attend the PR Measurement Conference:
Public Relations
Measurement
Research & Analysis
Public Affairs/Issues Management
Media Relations
Crisis Management
Digital and Social Media
Community Relations
Corporate Communications
Word of Mouth Marketing
SEM/SEO Management
Brand Marketing
Video Production
Marketing Communications
Employee Communications
PR Business Development
PR Budget Creation/Management
Human Resources
PRSA Accreditation: 
This program qualifies for PRSA APR Maintenance credit: 1.0 Registrants that are Accredited by PRSA need to keep track of their points and submit their activities every three years. Please keep a copy of the event description with the date/time listed and submit when you are required to.
Pricing: 
Group = Two or more from the same company. Group price is per person.
>>Hotel Information:
The JW Marriott, Washington D.C.
1331 Pennsylvania Avenue N.W.
Washington, DC 20004
Phone: 506-474-2009  /  800-266-9432
>>Room Block Information: 
PR News' room block at the JW Marriott  has sold out, but you can still book your room at the regular hotel rate - Book your room now.
>>Questions? Contact Saun Sayamongkhun at saun@accessintel.com; 301-354-1694.
Justification Letter to Attend: 
The PR News Measurement  Conference will help you discover and implement ideas that deliver results. It will train your mind to search for innovative solutions. It will provide opportunities to make valuable connections with other PR and communications professionals who have solutions you need. And, it will prepare you for the road ahead.
You probably already recognize the value of attending this conference and we'd like to offer some assistance to help you convince your supervisor and organization to approve the costs. Download the "Justification to Attend" letter – everything you need to present your business case. The template is simple to fill out and drop off with your supervisor for approval.
Download Word Doc.
Certificate for Attending:  
Attendee Testimonials  
What past attendees had to say about PR News' on-site conferences:
"Great conference, speakers and venue!! Loved the clean, candid approach of all speakers towards the challenging environment."
- External Relations, US Operations and Marketing North America, Procter & Gamble
"This was a great event.  Not only were the speakers knowledgeable and engaging, but the attendees were awesome.  And networking was great!"
- Communications Directer, CIGNA
"I thought it was a wonderful event and I learned a great deal. It was an incredibly valuable seminar."
- VP of Marketing, Retirement Living TV
"I was also so impressed with the overall event. The quality of the presentations was top-notch, and the ability to network with like-minded people during the breaks and at lunch was invaluable."
- Director, Global Media Relations, SAP AG
"This was one of the best conferences I've ever attended."
- Public Relations Dir., Combe Inc.
"Very helpful topics. The presentations were informative and entertaining."
- VP of Marketing & Communications, Weir Minerals
"Great event! I'm taking away valuable information and am excited to put the new knowledge to use! Well executed. Thanks!"
- Communications and Organizational Effectiveness Analyst, Hostess Brands, Inc.
"Wonderful and insightful event in which I would like to have my entire team participate, including some clients."
- Account Executive, Digital Brand Architects
"Fantastic keynote. The energy was perfect for a mid-day pick-me-up. Loved that PR is so well represented - rarely the case at other social media conferences."
- Executive Director, PR & Communications, Jackson Spalding
"This summit was excellent, with great content."
- Coordinator for Special Projects, Department of Public Information

 

 

 

 

 

 

 

 

"I thought it was incredibly relevant to the audience.  I walked away with several key ideas that I can't wait to implement on my clients behalf. "
- Chief Public Affairs Officer, Clemson University
"Today went beyond the 'how to' tactical side of digital media and really digs in to the strategy behind today's public relations industry. The speakers, presentations, case studies and takeaways will be helpful for both our agency and our clients."
- Account Director, GroundFloor Media
"The Summit brought together just the right mix of experts to discuss opportunities in an industry that's experiencing a fundamental shift."
- Vice President, Gibraltar Associates
"Very helpful ideas that I will be able to use right away. Thanks!"
- Staff Services Director CalPERS
"I very much enjoyed the day - speakers were interesting and the conference was well worth the time."
- Director of Corporate Communications, MVP Health Care
"Fantastic and inspiring!"
- Program Marketing Manager, Pacific Gas & Electric Company
"I learned more in one day than I've learned all year!"
- Director, New Media, American Heart Association
"It was a fantastic event, and many of the strategies delivered today will inform our company's social media policies moving forward."
- Online News Producer, Education Week
"Engaging speakers. Valuable, practical information that crossed all PR business functions, Session length was perfect."
- Media Relations Professional
"The Summit assembled interesting and knowledgeable speakers who presented a large body of practical information for PR and marketing professionals. I came away with a much better understanding of social media and all it uses."
- Director, Public Relations, League of American Orchestras
"The conference was absolutely eye-opening. I consider myself a savvy Internet and social media person, but the speakers put a whole new light on it for me. I'm not easily impressed, and have been to many conferences like this, but I remain amazed at the event and its compelling speakers."
- VP, Communications, International Trademark Association (INTA)

 
Location / Room Block / Questions: 
>>Location:
The JW Marriott, Washington D.C.
1331 Pennsylvania Avenue N.W.
Washington, DC 20004
Phone: 506-474-2009  /  800-266-9432
>>Dress Code: Business Casual
>>Hotel Information:  PR News' room block at the JW Marriott  has sold out, but you can still book your room at the regular hotel rate - Book your room now.
>>Questions? Contact Saun Sayamongkhun at saun@accessintel.com; 301-354-1694.
Sponsors: 
MEET OUR SPONSORS
Get to know the PR Measurement Partners!
Presented by PR News, this conference offers a limited number of sponsor and exhibitor opportunities to connect with these communications professionals. To find out how to become a sponsor, contact Diane Schwartz, SVP & Group Publisher, PR News at dschwartz@accessintel.com or 212-621-4964.
About PR News 
The PR News family of products includes the weekly publication PR News, PR News Webinars and Workshops, the Platinum PR Awards, PR People Awards, CSR Awards, Nonprofit PR Awards, The 100 Best Case Studies Book, Guidebook to Best Practices in CSR, Guidebook to Best Practices in Measurement, Digital PR, Crisis Management and Media Training Guidebooks and PR News Webinars.