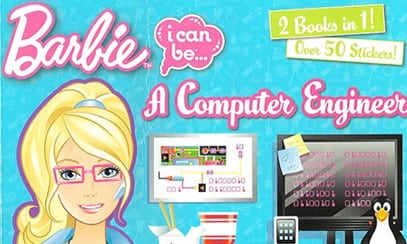 Mattel's Barbie has been the subject of numerous controversies since it was first introduced in 1959. Generations have grown up loving Barbies, but many have worried about the effect of projecting the image of the tall, thin, blonde-haired and blue-eyed figure on young minds.
The "I Can Be" series, a line of Barbie dolls and books designed to focus on female empowerment, is the latest Barbie product to spark outrage. One of the books in the series, Barbie: I Can Be A Computer Engineer, features the iconic doll struggling to reboot her computer and infecting a friend's computer with a virus. Eventually, she has to enlist the help of two male computer engineers to fix the problems she created—as Stephen, one of the male characters, explains in the book, "It will go faster if Brian and I help."
Author Pamela Ribbon first exposed the book, which has been out since 2010, in an impassioned post on her website that was subsequently reprinted on Gizmodo. Then the Internet caught on and created this Tumblr parody, which features Barbie further ruining people's digital lives, and the Feminist Hacker Barbie website, which invites users to "fix" the Barbie book by editing them to be more progressive.
As a result of the bad press, Mattel pulled the book from Amazon (where it was quickly racking up 1-star reviews and derisive comments) and issued an apology, saying, "The portrayal of Barbie in this specific story doesn't reflect the Brand's vision for what Barbie stands for." It's clear that the company has some serious catching up to do.
Follow Brian Greene on Twitter: @bw_greene