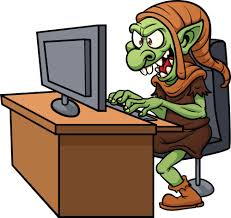 A new piece of research confirms a pattern that we always suspected was the case, based on anecdotal experience (and maybe our own behavior). That is that Facebook users (and by extension, all those who post and comment under their own names) are less likely to be uncivil than those who have the freedom to post anonymously. And Facebook has a second mechanism that inhibits nastiness: Friends and all those in a feed get notified when someone makes a post.
 The study, by Ian Rowe, of the University of Kent, in Canterbury, England, found that comments on Washington Post stories posted to Facebook were significantly less likely to be uncivil than anonymous comments on the same stories on the Washington Post's own Web site. Most of the comments on both sites were not uncivil.
 "Of the 498 Website comments which were analyzed, only 30 (6%) were coded as containing at least one form of democratic incivility, while just 13 (2.7%) Facebook comments were coded the same way," the study said.
So if Facebook does kill trolls, as the research suggests and this TechCrunch article explores, does that mean communicators should stop deploying content in places that allow anonymity? It's something that many media organizations and brands are struggling with, and including, recently, YouTube.
TechCrunch points out that eliminating comments from a website hurts community, and prohibiting anonymity misses out on important and thoughtful insights from anonymous contributors. It also cleans up the sewer.
What's your policy, and what do you think?
Follow Tony Silber: @tonysilber