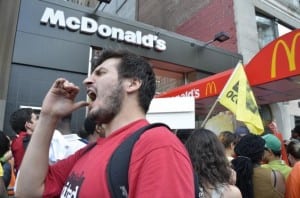 Organizers of a movement demanding a $15-an-hour wage for fast-food workers say they will sponsor one-day strikes in 100 cities on Thursday. It's debatable whether wage strikes have a negative impact on the bottom line. But PR pros certainly need a strategy in place to respond to such protests and potential crises.
Organizers said strikes were planned for the first time in Charleston, S.C., Providence, R.I. and Pittsburgh, according to The New York Times.
The movement includes groups such as Fast Food Forward and Fight for 15, which are trying to put the spotlight on what the groups say are inadequate wages among fast-food restaurants. They're backed by the Service Employees International Union.
Officials with the National Restaurant Association warn that increasing pay to $15 an hour when the federal minimum wage is $7.25 would cause the restaurants to rely more on automation and hire fewer workers, the Times said.
This week's planned protest expands on a similar protest that took place last summer in more than 50 cities.
As the movement for higher wages at fast-food restaurants starts to accelerate, communicators affiliated with the industry need to be on their toes.
First and foremost, they need to maintain strong ties of communication between the brand and the people who are protesting for higher wages.
And, of course, there is a media relations element to consider.
With that in mind, here are several time-tested principles for dealing with a crisis cum media relations with a hat tip to Steven Fink, president and founder of Lexicon Communications Corp. and author of "Crisis Communications: The Definitive Guide to Managing the Message" (McGraw-Hill Education).
> Train telephone gatekeepers to keep accurate records. In order to develop effective strategic-communications plans, it's important to keep accurate records of all media calls.
> Assign one spokesperson to communicate with journalists. Companies need strong leadership during a crisis and should rely on public-relations counsel to develop written statements, manage media inquiries and train one executive to serve as spokesperson.
> Never say "no comment." Studies have shown that when executives are quoted as saying "no comment," 38% of the public will believe the company is guilty.
> Send written statements in response to reporters' queries. Communications strategists should develop three- to four-paragraph statements that outline the facts and demonstrate that the company is properly addressing all current concerns.
> Issue news releases selectively and strategically. When it becomes appropriate to issue a news release, it should outline the facts and convey the message that the company acknowledges the situation.
Care to chime in? What would you add to the list?
Follow Matthew Schwartz: @mpsjourno1