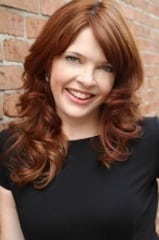 Kathleen Henson
Leaving the big agency world behind over a decade ago and hanging my own shingle when I had a toddler and another baby on the way was probably considered a rather bold move by my PR colleagues and friends, but I saw it as a big opportunity.
Today's economic climate is one in which the six- and seven-figure PR budgets I knew well in my agency heyday have been replaced with clients cutting back and seeking more interesting and creative ways to get a return on their PR investment. What has kept my agency not only afloat but also growing over the past decade has been the decision that I'm going to be "unapologetically me" in my professional career. What does that exactly mean? In addition to always having a passion for the written and spoken word, I have always tapped into my natural instincts to connect with people, find ways to collaborate with other strategic thinkers and infuse creativity in everything I do. I've found that when you concentrate on that perfect trifecta, magic always seems to happen and business abounds.
To effectively breathe life into your career, I recommend you keep these "C"s of PR in mind.
Continually Connect
In my day-to-day life, whether it is at the office, at an industry or client event or at my kids' school, I'm instinctively seeking ways to find a shared bond with whomever I meet. It is no coincidence that as PR professionals, we are very often referred to as connectors or networkers. I'm not talking about merely passing out business cards. While it's still important, these days a card swap alone just won't cut it. In order to be successful in this business, we must find ways to seek a connection that could potentially benefit a client's business or your firm's bottom line.
You would be surprised by the number of new business leads I've found by paying attention to who is volunteering with me at the school pancake breakfast or spending a moment to get to know better the person sitting next to me at charitable function. I often get calls from countless contacts that got my name from a common thread. If your firm does good work and has a solid reputation, people are always glad to pass along your name because connecting others makes good business sense.
For instance, my team participated in a fun charity kickball tournament this summer and competed in a friendly game against a local organization. We had a great time, shared a bit about what we all do for a living. I followed up afterward to express my appreciation for the time spent with them. Not two months later, my firm became agency of record for Ronald McDonald House Charities of Chicagoland and Northwest Indiana. We realized we had a bunch of smart synergies, similar contacts and a joint desire to do good.
Collaborate—Don't Compete
Some of the best work gets done when you take off your competitive hat and get into a collaborative mindset. As a small firm, we have the luxury of playing in anyone's sandbox, and we often do. I always say there is plenty of good work to go around and I'm still in contact with former colleagues who are doing great things at other agencies across the country. We regularly take a look at how collaborating with other brands and complementary agencies would further the greater good of a project or often tie into a charitable cause.
We have seen this work time and time again—when both parties team up and generate press coverage or consumer engagement for a common cause, everyone wins. So whether it's pairing together a hot restaurant client with another brand that needs to host an event at a buzz-worthy locale, or a nonprofit account that can be supported by a for-profit consumer product, it's a simple matter of trying to figure out who matches up well and getting to work.
Every time I meet a new person I immediately think, "How can we help one another's business?" In most cases, this philosophy works to everyone's benefit.
Create Creativity
Coming up with big ideas and sustaining creativity throughout the lifespan of an account makes the client see that we're invested in them, helps our agency continue to be successful generating news and keeps my colleagues excited to come to work each day. Creativity is a skill that requires constant refining and nurturing—for some people it's a natural gift, whereas for others it's a daily challenge. To get inspiration, I often pick up a few magazines in the airport that I might never otherwise read to stimulate new thinking for a client. Or, I'll ask everyone in the office to share a new insight on an account that is not their own to invite new approaches to a product launch or a slow sales period for a client.
I'm always watching the news or talk shows for great ideas that other brands are implementing (and saying in my head, "why didn't I think of that?"). And anyone who knows me will attest that I'm jotting notes all day long in my trusty leather notebook that will later remind me to share a random idea or connection with the client or my team. The bottom line is that creativity is currency in PR. You have to have it to survive and prosper.
So, are you looking to breathe life into something you're working on? Scour your client roster or contact list, look for the synergies and then figure out how you can play nicely together. And if you can do that, you'll certainly "see" PR in a whole new way.

Kathleen Henson is founder and CEO of Henson Consulting, a boutique public relations and communications firm and 2010 and 2011 finalist for PR News' Platinum PR Awards Small Agency of the Year. She is also a wife and mother to five beautiful children. You can reach her at Kathleen@hensonconsulting.com.