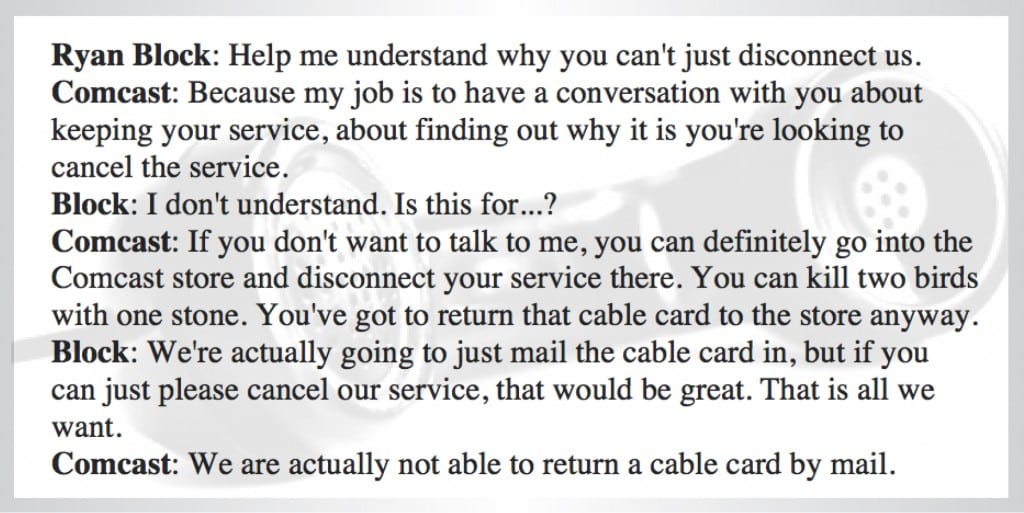 For every senior PR manager, there are times when it's necessary to spring into action because the company or an individual employee has made a boneheaded move that causes embarrassment to the organization. However, the recent episode involving a Comcast customer service representative may be particularly cringe-worthy for communicators. Earlier this month, Ryan Block, a technology journalist, and his wife called to cancel their Comcast account after they switched to another provider. When they were transferred to Comcast's customer retention agent, the Comcast employee wouldn't accept that for an answer and proceeded to badger the couple for wanting to cancel their service (see excerpt, right).
The conversation, which was recorded by Block, went viral and Comcast was left to wipe the egg from its face. "We are very embarrassed by the way our employee spoke with Mr. Block and are contacting him to personally apologize," the company said in a statement, adding that it is investigating the episode. "While the overwhelming majority of our employees work very hard to do the right thing every day, we are using this very unfortunate experience to reinforce how important it is to always treat our customers with the utmost respect."
Indeed, the Comcast exchange could be a case study for why HR and PR executives—who, at many companies, are like two ships passing in the night—need to work together more closely.
HR and PR execs view their companies through different lenses, with HR focused on internal training, evaluation and legal obligations, and PR execs concentrating on external communications. But their goals overlap when it comes to customer engagement.
"There are organizational and budgetary issues to deal with, but it's up to senior management to redefine and integrate the goals of HR and PR," said Paul Vosloo, senior VP and partner at FleishmanHillard, who leads the agency's Change Communications and Employee Engagement capabilities. "You can't just check the box for 'PR/HR working together.' These changes have to be operational."
The Comcast debacle demonstrates that HR and PR execs need to work together (if they're not already) to define corporate culture, create behavioral models, and gauge how incentives affect performance, particularly for employees who are on the front line with customers and prospects.
"What behavior is acceptable and what behavior is unacceptable?" Vosloo said. "That gets right to reputation and how the company wants to be seen by other people."
A mandate from the C-suite can certainly facilitate alignment between HR and PR. Absent that, PR execs need to take the initiative, said Steven Fink, president of Lexicon Communications and author of "Crisis Communications: The Definitive Guide to Managing the Message" ( McGraw-Hill, 2013).
Fink recommended three ways for how PR and HR execs can work together, with an eye on the greater good.
▶ Have regular one-on-one meetings to see what unique challenges each department faces.
▶ Work in concert to determine how sales quotas and other incentives could backfire on the company.
▶ Work together to communicate to call-center employees and sales reps that the microphone is always hot. "In today's environment you need to assume that everything you say is going to be taped or videotaped and may be used against you," Fink said.
He also stressed that PR pros also can help to train employees who regularly interact with customers, but with a caveat: "Don't try to tell HR or sales reps how to do their job," he said. "The job is to make sure the public has a positive image" of the company.
For communicators, training employees who are on the front line is more about tonality and being able to reflect well on the brand.
"PR and HR can work collaboratively to train employees for difficult interactions, much like you would train a leader for a difficult interview," said Carreen Winters, executive VP, corporate communications and reputation management at MWW.
She added: "Messaging and content provided through customer service channels should be considered public information and approached with the same eye you would approach a press release."
The Growing HR-PR Nexus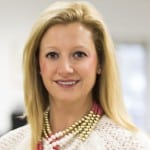 A mentor of mine once shared that the HR and PR professionals in any corporation must work together in an "intricately linked collaboration." Throughout my years working at both the corporate and agency levels, these words have been a guiding principle of integrated communications.
With HR's skills in people management and PR's understanding of outbound/inbound messages and corporate positioning, these two groups have the ability to arm those on the front line of any organization with the communications tools to best represent the company. An organization can best empower internal teams on how to articulate a message, with the right tonality, and secure a favorable outcome, if communication connections are made across functions. HR and PR combined play a key role.
Here are few tips to ensure communications success:
1. Engage front line leaders with a communications playbook. Bring together the key audiences and guide teams on the how to's of communications, per discipline. Define how to communicate with your audience; supply talking points and key messages that are consistent and support the corporate platform.
2. Train. Test. Repeat. Conversational role-playing and response scenarios are key to success. Invest in communication planning tools and training to equip internal audiences with process and skills required to engage customers and partners, and master communication best practices.
3. Create a feedback funnel and share. Knowledge is power. And so is the experience. The best way to set communications practices is to share key insights and lessons learned so the experiences of one become learned knowledge to the larger group.
Building synergies between HR and PR adds tremendous value to the organization, from the inside out. Leveraging and aligning the strengths in each of these areas improves business results and is key to influencing powerful communication behavior across the organization.
This sidebar was written by Karen Clyne, VP at Eastwick. She can be reached at karenc@eastwick.com.
CONTACT:
Steven Fink, sfink@lexiconcorp.com; Paul Vosloo, paul.vosloo@fleishman.com; Carreen Winters, cwinters@mww.com.
This article originally appeared in the July 28, 2014 issue of PR News. Read more subscriber-only content by becoming a PR News subscriber today.