Comcast is no stranger to bad press generated by its customer service team. The story of the retention specialist who badgered a customer this past summer has been filed under "Things to Never, Ever Do" by customer service specialists and trainers everywhere. This week, a new story about Comcast's poor customer service is making the rounds, creating another PR headache for the company.
Here's the story: Ricardo and Lisa Brown of Spokane, Wash., had been Comcast customers for two years and recently decided to cancel the cable portion of their service. When Lisa called Comcast to cancel the service, she was informed that she would be charged a $60 fee and was eventually put on the line with a retention specialist, who tried get her to agree to a new two-year contract. Lisa declined, and when the Browns' next cable bill came, it looked like this: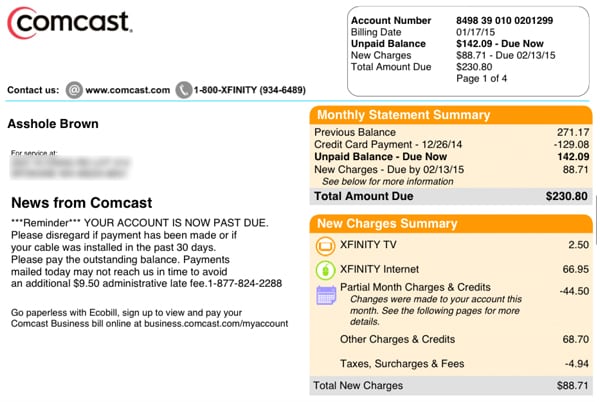 Someone at Comcast had changed the name on the account from "Ricardo Brown" to "A**hole Brown," a sophomoric if not uncreative dig at the customer.
Lisa Brown wrote to consumer advocate Christopher Elliot, seeking his help in getting some answers—and a name change—from Comcast. After determining that Brown was not playing a practical joke on him, Elliot quickly got in touch with Comcast's vice president of communications for the Washington region, Steve Kipp. "We have zero tolerance for this type of disrespectful behavior and are conducting a thorough investigation to determine what happened," Kipp told Elliot.
As the story found its way onto the Internet, Comcast went into damage control mode, first agreeing to waive the Browns' $60 cancellation fee and eventually agreeing to fully refund their two years of service.
But the headlines were already written and the damage was already done, again. The obvious takeaway here: If your customer service representatives aren't consistently conscientious—even after being badgered by customers all day long for issues beyond their control—your company's image will suffer.
Follow Brian Greene on Twitter: @bw_greene