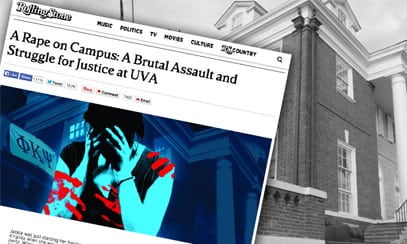 Rolling Stone made national headlines in November after publishing an exposé about a gang rape at the University of Virginia. Doubts about the article surfaced shortly after its publication, when author Sabrina Rubin Erdely seemed to avoid questions from The Washington Post and others about whether or not she tried to contact the men accused of rape in her story.
Eventually, the whole piece was called into question, and by December 5, Rolling Stone issued a lengthy apology for not reporting both sides of the story. After that, the world continued to spin, other crises sucked up the news cycle oxygen, and the Rolling Stone debacle faded from the national narrative.
On Monday, Rolling Stone inserted the disputed story back into national headlines by announcing that it has asked Columbia Journalism School to perform an independent inquiry into the editorial process behind the article. According to The New York Times, the journalism school will produce a report on the article, and Rolling Stone will publish that report unedited on its website.
From a communications standpoint, Rolling Stone's decision is an interesting one. For the University of Virginia, this episode is still very much an open wound, and people in and around Charlottesville want answers to what (if anything) the article had right and what went wrong. An internal review, a common crisis management tactic, would seem less credible to those looking for real answers to what happened with the story.
The decision to have Columbia handle the inquiry has people talking about the bungled report once more, and when the report comes out the magazine will face the specter of further criticism. While the independent review will not excuse the debacle entirely, by submitting itself to the scrutiny of a highly regarded journalism school, Rolling Stone is again acknowledging its fallibility and desire to get the story right, even at the expense of more bad press.
Follow Brian Greene on Twitter: @bw_greene