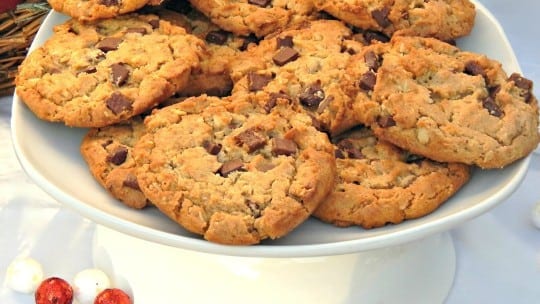 Chick-fil-A wisely halted sales of its moist, chewy Chocolate Chunk Cookies April 22 when one of its its suppliers, CSM Bakery Solutions, informed it that the flour supplied to make the cookies contained a trace of peanuts in it. That's in contrast to dietary information Chick-fil-A supplies to customers at its restaurants and online. Chick-fil-A says the cookies are peanut-free. As a result, CSM is recalling the flour and, in turn, Chick-fil-A is halting cookie sales.
Wisely, both Chick-fil-A and CSM issued brief statements explaining the voluntary move to stakeholders. In CSM's statement, it says, "Consumers and wholesale customers who have purchased the product are urged to return it to the place of purchase for a full refund." Chick-fil-A does the same. In reality, as Chick-fil-A is a fast-food establishment and most people's penchants for Chocolate Chunk Cookies being what they are, it's unlikely too many consumers will have the cookies available to return. Still, these are good words to include in a statement.
CSM takes a few more steps. It accepts responsibility for the miscue. In addition, it offers a 1-800 hotline for consumers with questions. Last, it also provides the name of its VP of communications for those, media presumably, seeking more information.
Some quibbles with both brands' statements, though: While offering a full refund is great and being upfront about the recall also earns high marks, it's surprising neither brand offered an apology. While both point out that nobody has become sick from ingesting the cookies—the peanut content in them is said to be minuscule—it's a good bet that someone has worried, at least temporarily, about issues stemming from the cookies. In fact, CSM says, "People who have an allergy or severe sensitivity to peanuts run the risk of serious or life-threatening allergic reaction if they consume these products."
So why not be a bit more human about it and apologize for any inconvenience the recall may have caused customers with peanut allergies? Is apologizing an admission of guilt? Perhaps, but CSM has admitted to the trace of peanuts already and both it and Chick-fil-A apparently acted quickly in response upon learning from a supplier to CSM that there were trace elements of peanuts discovered.
As crisis guru Gene Grabowski, partner at kglobal,  wrote in PR News' Book of Crisis Management, Vol 8:
"Think like your consumer. In a crisis, concerns about issues such as a company's stock price, loss of business, an institution's legacy, individual job security and personal health often override everything else. But the organizations that do the best job in a crisis are those that immediately adopt the mindset of, 'What is my customer thinking?' If you start with the idea of satisfying the fears and demands of those who ultimately buy or use your product or service, you are far more likely to craft solutions that put you back on track."
Last quibble: Chick-fil-A's recall was voluntary. While its statement's subject line leads with the word "voluntary," as does its headline on the statement, rushed journalists, and readers generally, often skip an item's headline. It probably would have been a good idea to include the word "voluntary" in the lead sentence, too. An issue with Chipotle's E. coli crises was that initially, the news of its voluntary closure of more than 40 restaurants on the West Coast was garbled. Most people at the time, maybe even still, think the brand was forced to close those restaurants.
Another tip from Grabowski is relevant in light of a recent survey from PR News that shows only about half of brands and organizations have crisis plans. Even fewer rehearse them on a regular basis:
"Focus on planning more than the plan. As a rule, 80% of your time preparing for crisis should be spent testing and rehearsing your written plan. The time and effort your team puts in considering all the possibilities during 'tabletop' exercises and mock crises will pay huge dividends in a crisis because you will have learned how
 to work together under pressure and more easily summon creative solutions to developments that arise. Harvard University, known for managing its crises extremely well, schedules and executes tabletop crisis exercises several times each year for all of its schools."
"Your plan is a blueprint, not a bible. Crisis craves structure, of course, but successful emergency management often depends on the agility and creativity of your team. Your plan should cover the basics, including internal communications protocols, phone trees, contact information and statement templates. But your system must remain flexible enough to allow for improvisation."
Follow Seth Arenstein: @skarenstein