As proven again with the case of Yahoo's former CEO Scott Thompson, a company's top leadership is a magnet for media attention. But based on a content analysis of opinion-leading domestic news outlets, "media magnetism" can be good or bad, depending on the circumstances: During his short term as Yahoo's leader, Thompson experienced both extremes before his resignation on May 13 amid allegations that he'd padded his résumé.
According to Mark Weiner, CEO of PRIME Research, the global communications research firm which conducted the analysis, "The presence of a CEO who understands the dynamics of news and social media can be a reliable source for delivering corporate positioning in ways which are much more easily controlled." As such, savvy PR pros provide media training and interview support to manage the best possible result. But just as the media focus can be used to positively represent a company, it can also work against those who get caught in crises.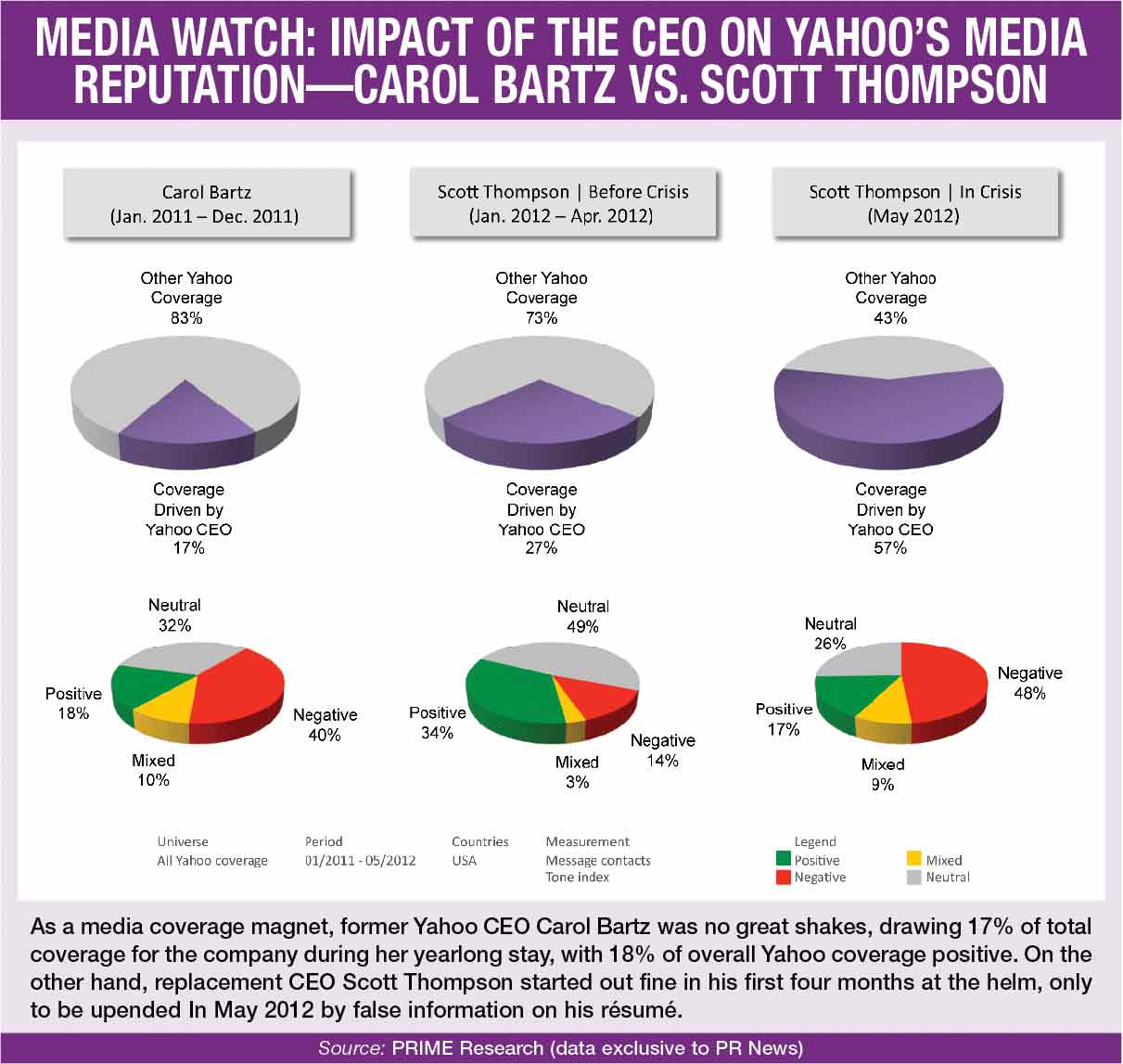 The threshold for Thompson was low: Yahoo's reputation in the media had deteriorated to the point where the company's share of voice was 18% positive and 40% negative. Carol Bartz, Thompson's predecessor, accounted for 17% of the company's coverage (see chart below). During the first four months of Thompson's tenure, Yahoo's image improved to a much more favorable view with 34% positive/14% negative coverage driven in part by his media image.
Since the disclosure of Thompson's résumé error, positive momentum reversed course. As of May 18, the company's reputation had plummeted to 48% negative, with 57% of all coverage dominated by news of Thompson.
According to the data, the departure of Thompson achieved the desired effect for the company: In the days following his exit and the naming of Ross Levinsohn as interim CEO, Yahoo's negative coverage had practically disappeared. PRN
CONTACT:
Mark Weiner, weiner@prime-research.com.

Follow Scott Van Camp: @svancamp01