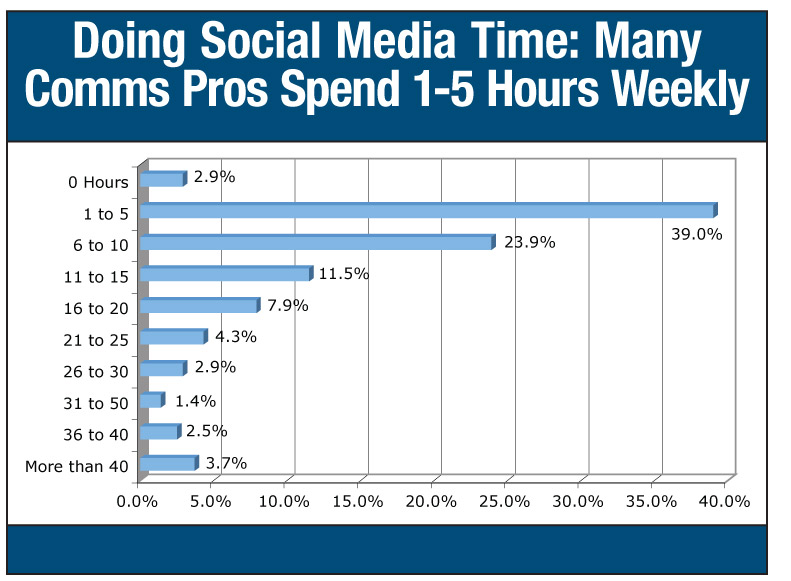 An April 2011 study of communicators and social media revealed the time spent on a weekly basis on social platforms: Nearly 40% of the 3,300 respondents spend up to five hours on social media activities. Source: Social Media Examiner
An April 2011 study by Social Media Examiner of more than 3,300 communicators tackled a number of issues around social media. One of those topics was time spent on social media platforms. From feedback PR News receives from readers and its conferences, having the time—as well as the resources—to set up, monitor, provide content for and act upon social media posts is a big concern among PR professionals, particularly as budget and staffing issues have reared their ugly heads.
PR News discussed this issue with three PR pros with plenty of social media experience. Their take: Time—more of it, actually—is of the essence when it comes to social media.
Time for social media is something that Grace Leong, managing partner at Hunter PR, feels was underestimated in the digital platforms' formative years. Today, however, "times" have changed. "Most of our clients realize that effective social media marketing initiatives do, in fact, demand a significant investment of time, and they are willing to invest in this medium."
Perhaps this realization runs parallel to another study finding: Those communicators with more years of social media experience spend more time each week on social media activities than less experienced communicators.
For example, 63% of people with three or more years of experience spend more than 10 hours a week doing social media activities. Only 41% of those with one to three years experience spend that much time.
For Gayle Weiswasser, VP of social media communications and Discovery Communications, the more time spent on social media—particularly on the engagement side—the better. "We can always be doing more to connect individually with our fans across platforms," she says.
To address time and resource issue, Melanee Hannock, VP at ALSAC/St. Jude Children's Research Hospital, recently added one person to her social media team and now has two people completely dedicated to the platforms. Counting PR and Donor Care teams that are also heavily involved in social media, there are now five key people involved, says Hannock.
If you do feel time-crunched by social media, and new employees are not an option, consider these tips from Leong:
• Establish social media outreach guidelines and protocols, which improve efficiency and allows for quicker engagement with social media audiences.
• With Facebook, develop an editorial calendar with pre-approved content at least one month in advance. This type of planning will help you avoid the mad rush to post in a timely manner.
• Keep up with technologies that help manage and monitor social media channels. Free and paid services can help monitor conversations in the 24/7 social media news cycles.
"Social media is not a fad; it is the amplification of human behavior across a connected network," says Hannock. "Organizations need to be watching, listening and participating in the discussion," says Hannock.
In other words, plan on spending more, not less, time on social media as your programs develop. PRN
[Editor's Note: Catch Melanee Hannock at the PR News Facebook Conference, set for May 24 in NYC. To register go to www.prnewsonline.com/conferences/facebookconference2011.html.]
CONTACT:
Grace Leong, gleong@hunterpr.com; Gayle Weiswasser, gayle.weiswasser@discovery.com; Melanee Hannock, melanee.hannock@stjude.org.