PR and advertising have always had a tenuous relationship. But a finding from a recent study has the two agreeing on something: Both PR and ad executives think PR is using social media more effectively.
The joint study by the Worldcom Public Relations Group and the Transworld Advertising Agency Network (TAAN), an organization of ad agencies, finds that 84% of PR respondents are pleased with their profession's approach to social media campaigns, with 20% saying it was an "innovative marketing communications leader" and another 64% saying it was "keeping pace."
By contrast, only 52% of the advertising respondents rate their profession either "innovative" (12%) or "keeping pace" (40%). Moreover, another 40% said the advertising industry was "falling behind."
Asked to rate their sister professions, the results were similar. The advertising respondents gave PR a positive rating of 67%, with 13% calling it "innovative" and 54% "keeping pace"—higher grades than they gave themselves. In fact, the PR respondents gave advertising higher marks than did the ad chiefs, with a positive rating of 68% from 20% "innovative" and 48% "keeping pace."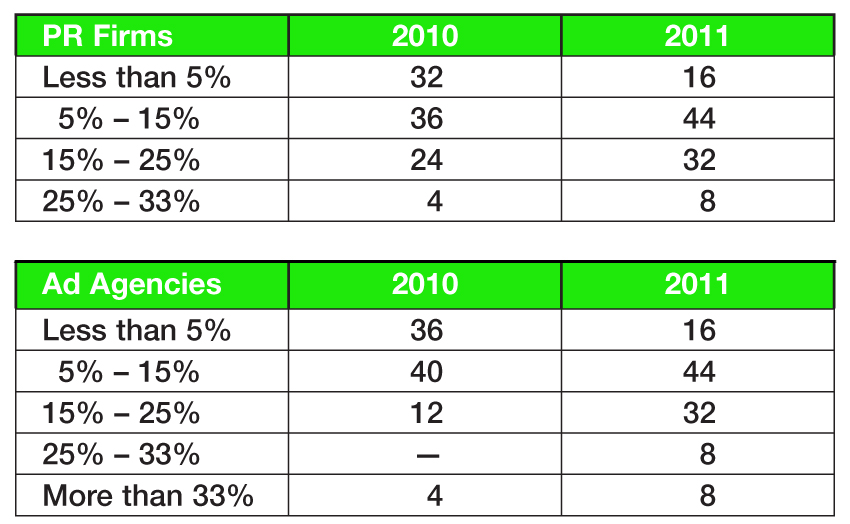 Both PR and ad agencies forecasted growth in their social media via estimated fees for 2011, proving that there's enough work to go around for both parties. Note: Numbers are agencies that responded to the survey; % equals percentage growth in fees. Source: Worldcom PR Group/TAAN
THE ARGUMENT
To Steve Cody, cofounder and managing partner of PR agency Peppercom, these findings validate what he's been saying all along. "Even ad people realize that we are best equipped to lead the social media revolution," says Cody. "We're conversation experts, and it's all about engaging in conversation. Traditional advertising is all about inside-out thinking and talking at people."
Both parties, says Cody, are fighting tooth and nail for a piece of the social media pie—for some time he has seen ad agencies hiring out-of-work PR people for their social media divisions.
A SOLUTION?
Yet the study finds that the pie is large, and both parties should each have a big slice. Both PR and ad agencies see good returns on social media business (see charts). Which means neither will yield an inch on acquiring clients with social media needs. That, says Elizabeth Sosnow, managing director/director of social media, at BlissPR in New York—Sosnow directed the study on behalf of Worldcom and TANN—means there's room for collaboration.
"While PR and ad agencies want to protect their territories, a lot of money is at play here, and it behooves both parties to be collaborative," says Sosnow.
Ilya Vadrashko, VP of research and development at ad agency Hill Holliday in Boston, agrees with Sosnow's assessment. "PR and ad agencies are in the same business of telling brand stories, but historically they have developed relationships with different kinds of partners to support their own work, says Vadrashko. "These types of professional networks are the main distinction between the two industries, and they are what each side brings to the table when they sit down to work together."
But to Cody, sitting down with an ad agency would be akin to the reconciliation after the Civil War. "PR ends up like the South—the junior partner," he says.
Peppercom does collaborate with ad agences on social media initiatives, says Cody. He's found that the ad agencies jealously guard the market research, "meting out research in dribs and drabs," he says. Cody adds that conducting market research is something that PR could improve upon.
And yet, PR pros should be proud of what they've accomplished with social media—now that there are some findings to prove it. PRN
CONTACT:
Steve Cody, scody@peppercom.com; Elizabeth Sosnow, elizabeth@blisspr.com; Ilya Vedrashko, Ilya.Vedrashko@hhcc.com.