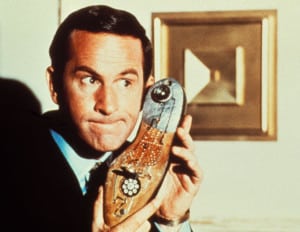 As expected, wearable technology has stolen much of the spotlight in Las Vegas this week at the 2015 CES show. Just when brand communicators started getting used to the idea of the small mobile device being the only available conduit for their messages, now they'll have to contend with shoe technology.
Here's a look at some of the notable wearable announcements out of Vegas.
1. LED-lit dresses and connected belts (via Mashable)
2. Intel's "Curie" computer-in-a-button (via MIT Technology Review)
3. Smart inner soles for shoes (via BBC News)
4. The Audi/LG smartwatch, running on LG's Open webOS (via android central)
5. The Nixie wearable drone camera that can fly and take selfies (via brandchannel)
6. Multitasking jewelry (via psfk)
7. myBrain's brain-wave measuring Melomind helmet (via CNET)
When he's not in his Cone of Silence, you can follow Steve Goldstein at @SGoldsteinAI.