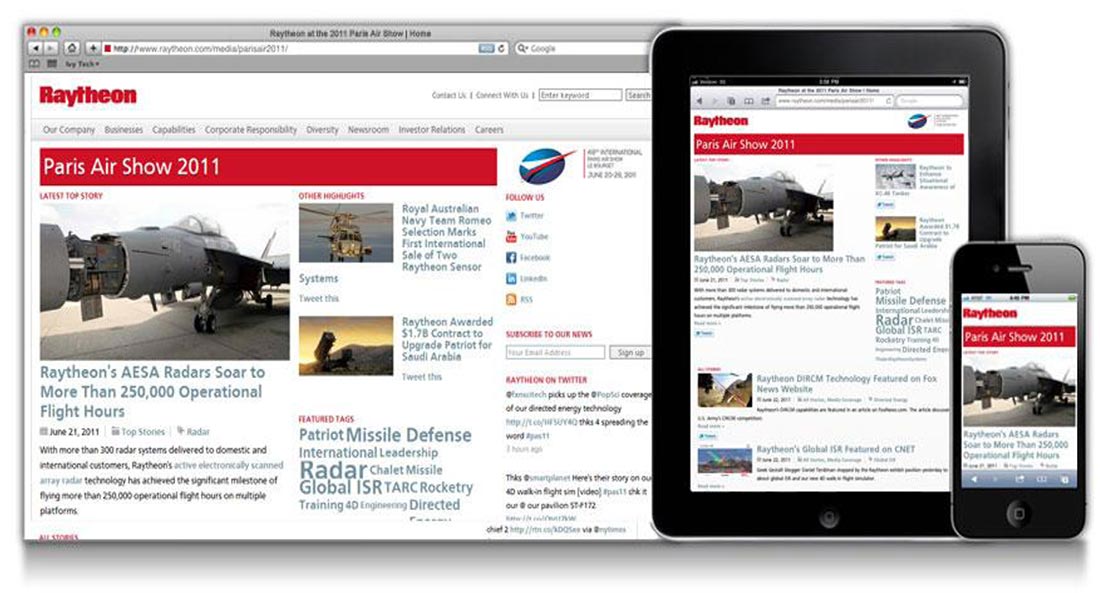 Raytheon optimized its Paris Air Show microsite for both tablet and smartphone. Content was updated or changed multiple times each day.
Image courtesy of Raytheon Company
Company: Raytheon Company
Timeframe: Feb. - June 2011
Held every two years at Le Bourget exhibition center in Paris, the Paris Air Show is not just a destination for aviation lovers from around the world. It's also considered the top trade event for the aerospace industry. In fact, more than 2,000 international exhibitors display their wares and, hopefully, seal deals among the some 150,000 trade representatives who attend the show each year.
It's no wonder that the Paris show is like the Super Bowl for Raytheon Company, the Waltham, Mass.-based defense and aerospace systems firm. "It's where the world comes together in aerospace and defense," says Corinne Kovalsky, Raytheon's director of digital and social media. Which means all hands on deck for every Raytheon business unit every other year (the Farnborough International Air Show in England is held in alternating years).
Since both the Paris and Farnborough shows are of such importance, Raytheon looks to raise the communications bar each year. "We try to outdo ourselves every show," says Kovalsky.
Planning for the 2011 Paris show, to be held June 20-26 in 2011, began in February. As the digital leader at Raytheon, one of Kovalsky's goals was to develop a more online-friendly content strategy. "We also decided to approach the project as brand journalists," she says. "These changes in approach would enable us to demonstrate technology leadership—and we wouldn't have to tell our audiences that we were innovators."
Specific communications objectives for the show included:
1. Design a Web site that served as a brand differentiator among major competitors.
2. Align storytelling with key strategic business priorities (air and missile defense, air traffic management, global intelligence, surveillance and reconnaissance, radar leadership, math and science education and community relations).
3. Provide targeted audiences—including the media—with frequently updated and refreshed content designed to appeal to their specific areas of interest throughout the air show.
4. Increase the level of audience engagement with a Raytheon microsite using social media (Twitter, Facebook and YouTube).
5. Increase overall Web site visits from the prior year's show and increase the number of repeat visitors on the site.
AUSTIN POWERED
To do some research and troll for ideas for these largely digital objectives, in March two Raytheon Web designers/developers traveled to where digital is king: SXSWi (the interactive portion) in Austin, Texas. And what did these employees find? Well, the large number of SXSWi attendees perusing smartphones and iPads made a big impression.
"The new technologies that make it easy to optimize your Web site for all devices really stood out," says Doug Bonarrigo, manager of digital and social media at Raytheon, who attended SXSWi. And while about 4% of visitors to Raytheon's main site access it from mobile devices (the global figure is about 7%), Bonarrigo and Kovalsky decided that mobile optimization at Raytheon would be a priority, given the global proliferation of such devices, and because the company was beginning to deploy more mobile devices to its employees.
HUB AND SPOKE
The content strategy for Paris centered around the "hub and spoke" concept. A plethora of multimedia content (text, videos, photos and infographics) and a dedicated Paris microsite served as the hub, with digital and social platforms—including Facebook, Twitter, YouTube and others—as the spokes.
But just how would this content be presented with a look and feel that would grab attendees' attention? The microsite would be the critical content platform, and in studying other content-delivery sites on the Web, the Raytheon team determined that the Mashable blog was the best model for the Paris site. "Its simple design, user friendliness, use of share buttons, images, video and infographics really stood out," says Kovalksy. Thus, the building began.
To enable critical compatibility with the iPhone and iPad, Bonarrigo virtually eliminated Flash (which famously, Apple doesn't support). Where Flash couldn't be eliminated, the team developed a workaround that enabled Apple product users to interact with the site.
Meanwhile, Kovalsky set out to gather content for the show among Raytheon's six businesses. Convening biweekly meetings at first (which turned to weekly as the show neared), Kovalsky collected story ideas, content and pitches from assigned business unit points of contact. Editorial packages were designed that featured choice nuggets that would then lead show attendees to a longer story on the microsite.
"We know that during the show people don't take the time to read content in its entirety," says Kovalsky. In addition, Web vignettes were created that could be embedded by bloggers and online news outlets.
TAG TEAM
Stories themselves were varied in length and type to keep audiences interested and engaged. To enable easy access of Raytheon content via categories, Bonarrigo used tag clouds that grouped stories with special keywords. "It's a way of archiving coverage, but it also highlighted the key messages in different areas of business," says Bonarrigo. When readers clicked on a particular tag, all stories of the same topic appeared. "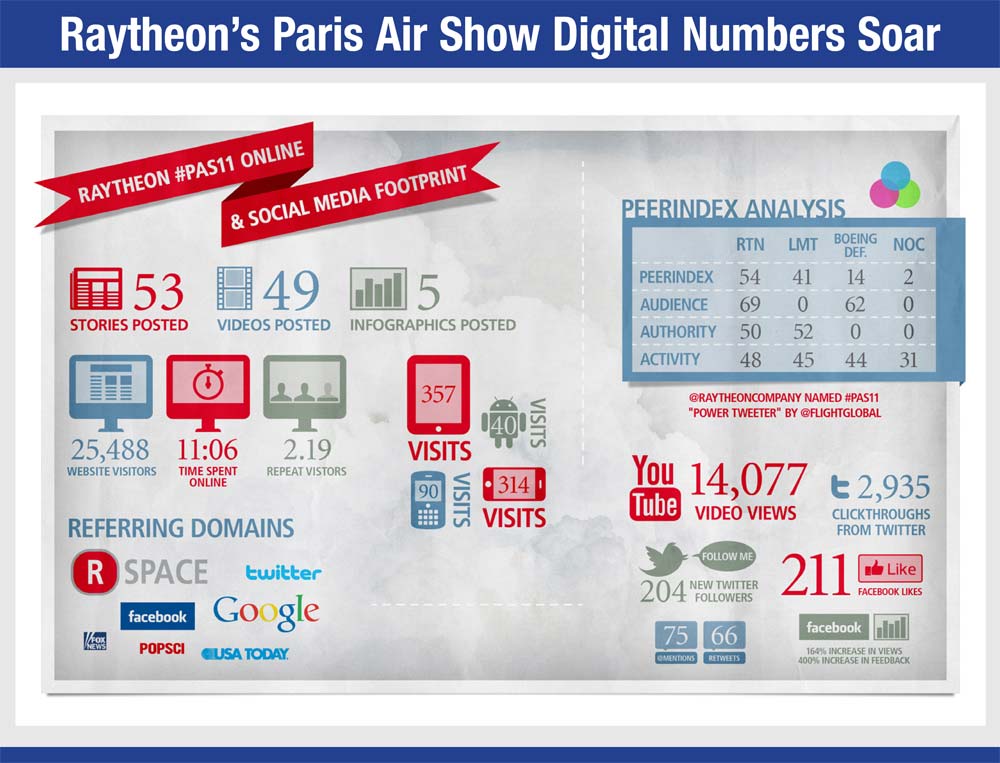 Defense and aerospace company Raytheon used a two-pronged strategy that lifted its digital outreach at the 2011 Paris Air Show to new heights. First, Raytheon optimized an air show microsite for mobile; and second, it deployed a hub-and-spoke model with carefully packaged content. Source: Raytheon Company
HIGH-FLYING RESULTS
In 2010, at the Farnborough Air Show, Raytheon posted 12 stories and 16 videos. In 2011 in Paris, 53 stories, 49 videos and 5 infographics were posted (see the infographic for a full results rundown). One might think Raytheon had a content sweatshop operation, yet there were four core in-house people leading the digital/social effort—Kovalsky, Bonarrigo and two developers—plus two more digital assistants helping when needed with the content.
Kovalsky was most pleased by Web site visits during the show. They were only slightly up, but there's a story around the results. "Last year (at Farnborough) we had a major news cycle when we announced that our lasers had shot down a drone during testing," she says. That story brought 6,000+ visitors alone to the site. With no major news story in 2011, Raytheon still beat the 2010 numbers.
SECURITY CONCERN
One missing component that might be implemented for the next show: live Web streaming of Raytheon briefings and special events. "We could offer this to people who might not be able to be at the show," says Kovalsky. However, for a company like Raytheon, security is paramount, and live streaming won't happen without complete participation with IT.
In the aerospace industry in particular, the key is to stay ahead of the competition. In that respect, Raytheon reached its goal, as no major competitor had its digital platform optimized for mobile. In a way, says Bonarrigo, the Paris Air Show mobile optimization/microsite effort was a test case to apply more broadly later. You can be certain Raytheon will be ready to raise the bar once again at Farnborough in 2012. And then, on to Paris. PRN
CONTACT:
Corinne Kovalksy, cjkovalsky@raytheon.com; Doug Bonarrigo, dbonarrigo@raytheon.com; Stephan Spencer, stephan@stephanspencer.com.