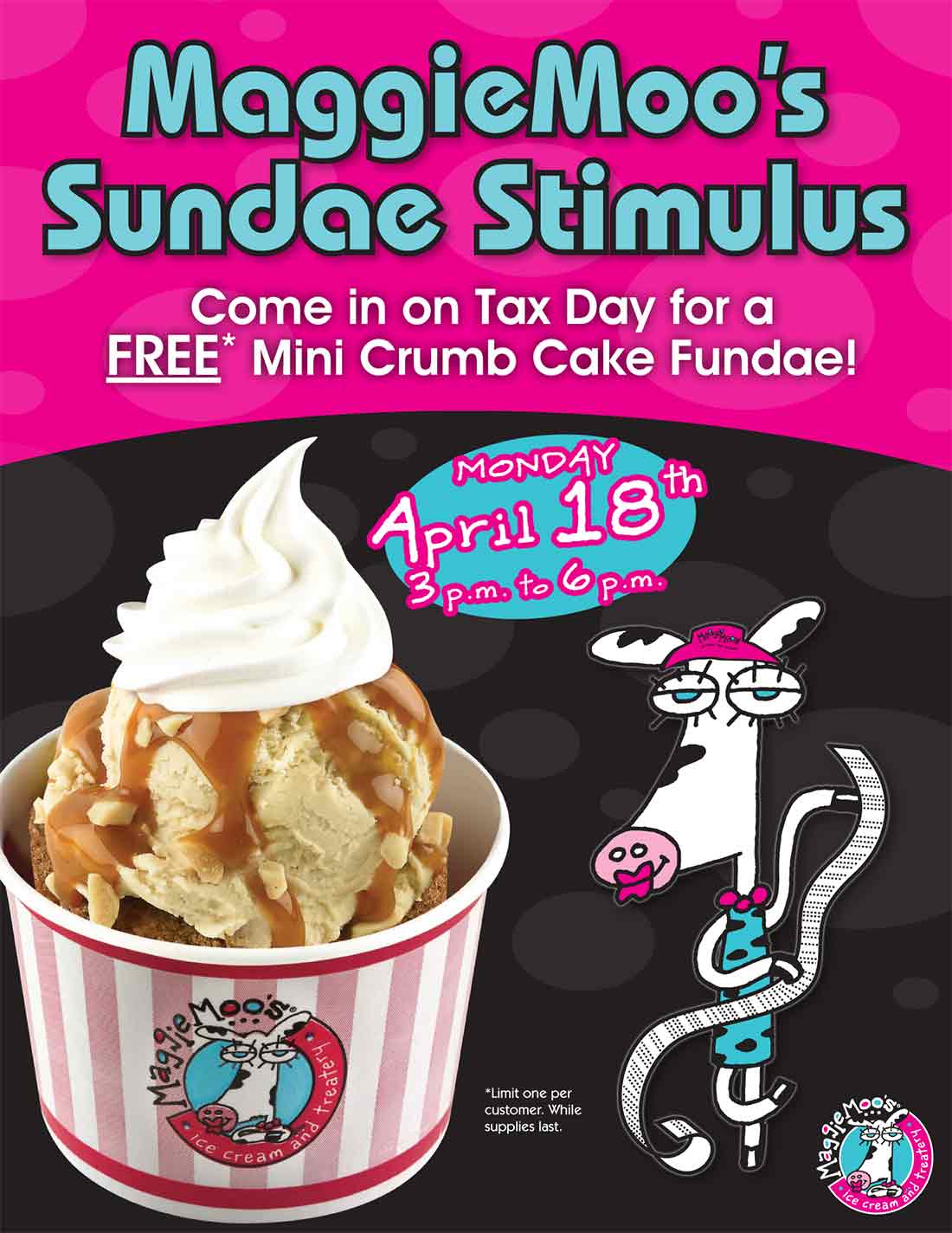 Thanks to a two-pronged media relations strategy, the MaggieMoo's Ice Cream and Treatery Tax Day Giveaway campaign moo-ved sales upwards. Image courtesy of Ogilvy PR Worldwide
After inevitably writing that yearly check, what better way to offset the feeling of taxpayer pain than getting free food? And not just any free eats, but the quintessential comfort food: ice cream. In an effort to build brand awareness and boost sales, MaggieMoo's Ice Cream and Treatery tapped Ogilvy Public Relations Worldwide for a combination of long-term national media relations efforts, local market press blitzes and a PR recycling act to give sullied taxpayers a free sugar boost on April 18, 2011.
With no other advertising or marketing support for the giveaway, titled MaggieMoo's "Sundae Stimulus" program, the company relied strictly on Ogilvy to publicize the event near and far to reward hard-working, taxpaying customers with a free treat.
STIMULATING OBJECTIVES
A combined four-person team from MaggieMoo's and Ogilvy PR began preparing six months prior to Tax Day 2011 for the Sundae Stimulus, in which mini Crumb Cake Fundaes were given away on Tax Day to all visitors to MaggieMoo's stores. This was the third year of MaggieMoo's Tax Day giveaway program.
Jenn Johnston, chief marketing & operations officer for Global Franchise Group Management, LLC, which manages MaggieMoo's Ice Cream, says that the main goals for MaggieMoo's were to build traffic and drive sales. "To take advantage of the traffic that would come into the stores as a result of the PR outreach, we wanted to focus around a new product to incentivize trials," says Johnston.
Specific 2011 objectives included:
1. Develop a program to build brand awareness, gain national media exposure and differentiate the brand from its competitors.
2. Increase sales from Tax Day 2010 by 10%.
3. Secure one national media placement in one of the identified top three targets: USA Today, The Associated Press and a national morning show.
MEDIA RESEARCH
Ogilvy monitored media coverage of consumer brands in the current economy and researched past successful giveaways and promotions. "Lesser-known brands can earn valuable, widespread media coverage by being part of a trend," says Steven Rice, senior VP, Ogilvy PR.
Ogilvy PR also extensively researched the top three national morning shows—NBC's Today Show, ABC's Good Morning America and CBS' The Early Show —to determine the best approach for securing a product mention or segment. The research indicated that using a third-party spokesperson to speak on behalf of a larger story was the most effective way to book a segment that would incorporate the client into the story. Research also showed that the vast majority of third-party spokespeople were representatives or editors from long-lead lifestyle magazines.
TREND SETTING
To build brand awareness on the national level, Ogilvy first worked to land a Tax Day trend story with print media outlets. Ogilvy PR account manager Christopher Potter contacted other PR managers from companies that offered similar deals in 2010 to find out who was participating and who wasn't; what product promotions and giveaways they were doing; and if there were other companies jumping on board for 2011. "We then had a list of Tax Day participants that we could take to the national print outlets," says Potter. Ogilvy then pitched a trend story, providing journalists with a background on how companies are creating giveaways to further engage consumers and get them in the door in a unique way.
Although the team issued a national press release, it actually limited national pitching while ensuring that all pitches were as concise and as place-able as possible. "If you're going to be pitching USA Today, you can't be pitching everyone else because if they end up running a story that you've pitched elsewhere, that will quickly ruin a relationship," says Rice.
PITCH PARTNERSHIP
After landing a mention of the Tax Day giveaway in the April 2011 issue of Kiplinger's Personal Finance, Ogilvy followed up with Kiplinger's PR manager, Laura Stevens of the Rosen Group, to gauge whether the magazine would be interested in a joint pitch to the national morning shows for a Tax Day segment. Stevens suggested a larger roundup piece would be better for pitching efforts, which led to a full Kiplinger's story on all the Tax Day giveaways.
On April 1, 2011, Kiplinger's writer Cameron Huddleston posted a more complete online article about Tax Day and mentioned all the brands participating in 2011. Leveraging the article, Ogilvy PR pitched a segment for CBS' The Early Show using Kiplinger's editor Janet Bodnar as the spokesperson. "The majority of morning show segments have a third-party spokesperson from a magazine—whether it's Women's Day or Cosmo —and they serve as on-air experts," says Rice. Bodnar would do just that.
PITCHING LOCAL
For local media, Ogilvy pitched strictly the MaggieMoo's giveaway in the company's markets including San Diego, Jacksonville, Fla., Indianapolis, Annapolis, Md., Charlotte, N.C., Omaha, Neb., Nashville, Centennial, Colo., and Arlington, Va. "We felt that MaggieMoo's could carry a story on its own in these markets, so we contacted local papers as well as morning show producers and news desks," says Potter, adding that local broadcast outlets were picked because they could mention the giveaway within several different time slots, including morning and noon talk shows, and 4 p.m. and 6 p.m. news programs.
In addition, MaggieMoo's Tax Day giveaway pitch went to mom and deal bloggers (for more on pitching to deal bloggers, see sidebar). "We managed the messages in our release, but in terms of driving the actual conversations in the social spaces, the bloggers took care of that through their influential Facebook pages and Twitter handles," says Rice.
THE FUNDAE PART
For Rice, the biggest challenge for a giveaway campaign is finding the right product that is both engaging for consumers to come in and try and for the media to cover. The team has done a better job each year selecting the right product, evolving from a plain ice cream cone to an ice cream pizza the second year, and in 2011 the Crumb Cake Fundae.
While the team was happy with the results of the campaign, Potter says that if they were to replicate it, they might have tried to land other long-form stories leading up to Tax Day. "We got a ton of hits, but you always want more, and another long-lead story leading up to Tax Day could have helped spread the story further," says Potter. The results, however, were still scrumptious, including:
• MaggieMoo's "Sundae Stimulus" program received 289 million media impressions, and was a main feature trend story in USA Today and the Associated Press. The Crumb Cake Fundae was featured on CBS' Early Show featuring Kiplinger's editor Bodnar.
• MaggieMoo's Tax Day sales were up 15.5% compared to April 18, 2010.
• On Tax Day, MaggieMoo's Web site received 17,949 unique visitors, 90% of which were first time visitors.
• The Tax Day giveaway was featured on national broadcast outlets including Headline News with Robin Meade, Headline News Weekend Express, Fox & Friends and on more than 150 regional broadcast outlets.
• Other coverage included Time, Esquire, CNNMoney, CBS News, ABC New s, U.S. News & World Report, MSNBC, Yahoo, Chicago Tribune, The Denver Post and The Miami Herald as well as more than 300 blog/social media posts.
Rice says Ogilvy PR takes pride in being a strategic and scrappy agency. "We figured out how we could leverage [the Kiplinger's situation] and turn it into something else—that sort of thinking is a big part of our DNA," says Rice.
For Johnston, using a reservation system where customers could go online to reserve a place at their MaggieMoo's store could have helped predict store traffic and elicit more consumer information. The company is considering this strategy for 2012, when it will include another GFG brand, Marble Slab Creamery, as part of its Tax Day promotion. The two brands are currently doing kitchen R&D to find the perfect product for 2012. One question: Do they need any product testers? PRN
CONTACT:
Christopher Potter, christopher.potter@ogilvy.com, Steven Rice, steven.rice@ogilvy.com, Leah Ingram, leah.ingram@comcast.net.