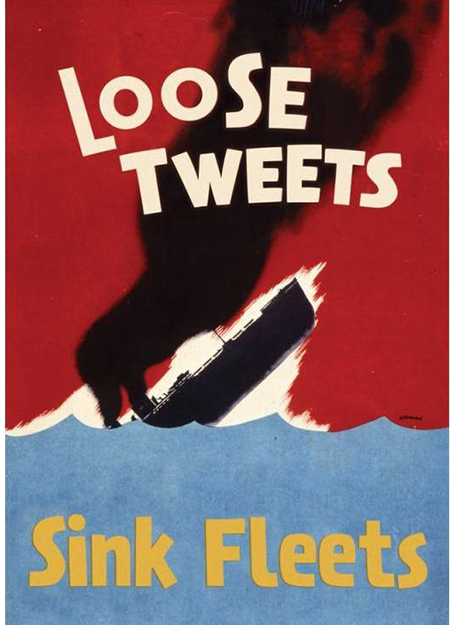 As part of its social media education program for its sailors, the Navy created collateral based on memorable World War II messaging. Photo courtesy of U.S. Navy
Organization: U.S. Navy
Agency: Booz Allen Hamilton
Timeframe: August 2010- Present
Often when we think of companies that have emerged as leaders in social media, energetic start-ups such as Zappos and innovators like Starbucks come to mind more than government organizations and, least of all, branches of the armed forces. However, through the establishment of the @NavyNews Twitter account and subsequent social media platforms, a small communications team from the U.S. Navy and consultants from Booz Allen Hamilton have proven that new forms of digital media can help serve nearly any organization if leveraged properly.
Citing a desire to position the U.S. Navy as a trusted, credible and response source for current information on Twitter, the @NavyNews Twitter account was created to publicly engage with Navy stakeholders and generate and sustain interest in the Navy. "Social media is an effective channel to communicate relevant, aligned and targeted information to the stakeholders that we want to reach, including some we have had a hard time reaching before," says Navy chief of information Dennis Moynihan. "As with the advent of other communication technologies—phone, fax, e-mail, Web sites—we must exercise caution to use these tools safely and effectively, and we must educate our sailors and families to do the same."
PIRATES CHANGE GAME
The Navy's social media efforts kicked off in February 2009 with the @NavyNews Twitter feed, a seemingly natural outlet for broadcasting original content and reaching new audiences. It wasn't long however, before a band of Somali pirates hijacked the ship Maersk Alabama and took Capt. Richard Phillips hostage, prompting an overwhelming desire by the general public for up-to-the minute information. In response to its Twitter audience's interest in the unfolding drama, Navy public affairs reevaluated its bare-boned digital media strategy. Capt. Dave Werner, U.S. Navy Office of Information, Communication Integration & Strategy, and the creator of the Navy News Twitter account, says, "The hostage event was two months into our foray into social media, and it became quickly apparent to me that we needed a more comprehensive approach to address the changing communications environment in which we were sharing the Navy's stories."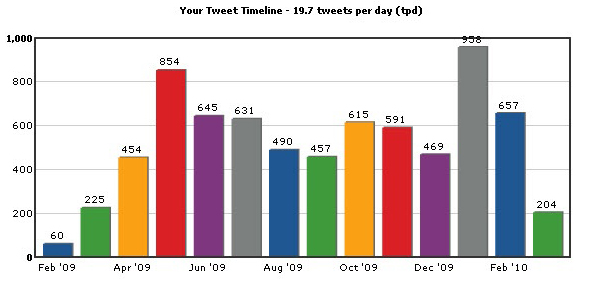 After @NavyNews launched in February 2009, two incidents—a ship hijacking off the Somali coast in April 2009 and the Haiti earthquake in January 2010—helped compel the Navy to further ramp up its social media efforts.
Source: U.S. Navy
From there, the Department of the Navy's Office of Information set up the Office of Emerging Media to coordinate social media efforts, develop a roadmap with the best practices and educate and train public affairs officers on how to use the platform effectively and incorporate it into their daily lives.
CONTRACTOR ENLISTS
Werner's three-person team was dramatically understaffed in serving the 330,000 active duty sailors, and by extension their family members and the members of the reserve forces. A year-to-year contract with Booz Allen Hamilton was forged for a full-time Booz employee to help orchestrate a campaign among several digital platforms. "My role was stacking up all the cards so that when we would go into approval meetings, we would get the green light," says Booz Allen Hamilton senior consultant Tracy Johnson. "They had the advocate at the leadership level in Capt. Werner, who had a personal interest in Twitter. He realized its value, and it takes that type of leadership to get something moving in the military," she adds.
Werner points out that having outside help isn't just about putting up more status updates. "It's about policy development, and understanding and operating responsibly in the environment with whatever guidance is available," he says. As Naval officers, Werner and his team members get orders to change jobs and move around frequently, so having a contracted, knowledgeable professional helps mitigate communications issues between the officers.
KINDER, GENTLER NAVY
Managed chiefly by Werner, the @NavyNews Twitter account is updated approximately 140 times per week with timely and accurate updates. Werner believes the most important thing is an authentic presence.
The Navy, continues Werner, is still tasked with enforcing country's laws and edicts when needed. Sometimes its global force engages in partnership development and humanitarian assistance after earthquakes and tsunamis, but sometimes it is engaged in forceful efforts abroad.
"While not offending that expectation of what the Navy is—honor, courage and commitment—we still have a little bit of a bite and little sense of humor that people will appreciate," says Werner. "Twitter is a way for us to look more genuine to people who wouldn't know about us otherwise."
The @NavyNews account is used to promote and show gratitude toward other Twitter users and followers who promote Navy-related topics. "It's not just a 'corporate' account," says Johnson. "Capt. Werner makes a concerted effort to respond to everyone that reaches out to him, and proactively retweets and promotes other Navy commands on Twitter with great personality."
And that personality seems to be shining through, as proven by the following results:
• The @NavyNews Twitter account receives an average of 200-600 weekly retweets and @replies.
• All links posted to Twitter are tracked and receive an average of 100 click-throughs per link, with the highest number of clicks received in the days following the 2010 earthquake in Haiti (see the graph for details). In one day alone, links posted to the @NavyNews account received over 20,000 clicks.
• @NavyNews is listed on over 1,000 Twitter user lists under categories such as military, U.S. government and defense.
• The activity on the @NavyNews account has resulted in Twitter serving as one of the top five referring sites into Navy.mil for the past six months.
• Specifically following the relief efforts in Haiti, the White House retweeted Navy News Twitter content and posted it on their Facebook page. They have featured @NavyNews as a guest link on the official White House blog.
MEASUREMENT ON A BUDGET
Metrics continue to be a hot topic in the social media front, and the short-staffed and minimally funded Office of Information team monitored the @NavyNews arcs and troughs using several economical tools. "We always have to be sure we're getting the most bang for the taxpayer's buck, and we have to be really conservative," says Johnson.
Among using a bevy of free resources, including Bit.ly and certain Hootsuite functions, the team uses Radian6 for tracking trends and following what people are saying about the Navy, whether it's on Twitter, Facebook or in blogs. "These types of tools are force multipliers for a very small investment that allow us to do a lot more," says Werner.
WEIGHING THE RETURN
While social media programs have quickly becoming the standard for any organization, Werner warns that many are too quick to try to realize return on investment from their efforts. But it's still too early in the game for Werner to link @NavyNews to any bottom-line goals. "I look at this as an obligation to be guardian of the Navy's reputation—a reliable steward of public trust," says Werner. He relates social media to conversations and relationships, and says organizations can't just push what they want people on Twitter to hear. "In this environment, control is an illusion," he says. "If you don't manage your reputation, public momentum will."
And Werner is managing the Twitter platform well. An indicator of success is the attention the @NavyNews Twitter account has received from other branches of the armed forces. After developing a Navy social media handbook, the Army adapted it and used it for guidance in their own social media efforts. PRN
CONTACT:
Tracy Johnson, johnson_tracy@bah.com; Dave Werner, David.Werner@navy.mil; Dennis Moynihan, Dennis.Moynihan@navy.mil