In 2010 Toshiba America Business Solutions (TABS) ran a contest for its electronic dealers to generate energy and good feelings within the organization, with the winner landing a "technology makeover" of all-new Toshiba products. The contest was also used as a springboard for a larger campaign promoting the company's role as a highly engaged corporate citizen that helps people and organizations whose mission, in turn, is to help society.
TABS took the makeover concept and created the Helping the Helpers Technology Makeover contest, which pitted nonprofits against one another to win a full-blown technology makeover.
The campaign was designed to put the spotlight on TABS' CSR efforts. More specifically, it sought to:
• Create goodwill by providing goods and services to a variety of nonprofit organizations.
• Bolster positioning for Toshiba on social media by leveraging an in-house contest.
THE INSPIRATION
TABS' executives who work with nonprofits noticed that many of the organizations use outdated, donated equipment and wanted to do something about it. Hence the contest, which kicked off in 2011 and ran through spring 2012; a separate contest ran from fall 2012 through spring 2013.
To enter the contest, a nonprofit produced a two-minute video making its case on why it deserves a technology upgrade. The videos were then posted on the Toshiba for Good Facebook page, where people vote on which nonprofit gets the technology makeover.
The video for last year's winner, Save-A-Pet Adoption Center (Grayslake, Ill.), titled "A Paw Behind: A Tale of Failed Technology," was "narrated" by Kade, a dog, and it informed viewers that the agency had saved 40,000 animal lives throughout the last 40 years but needed some serious technology upgrades in order to continue its work.
Plenty of images showed just how far behind Save-A-Pet was on the technology front.Toshiba granted the company $102,000 worth of products, including six computers, two printers, a 50-inch HDTV, a camcorder, two tablets and several other goods and services.
Four runners-up received Toshiba technology products and services worth $31,000.
"Winning the Toshiba Helping the Helpers Technology Makeover contest has had such a tremendous impact on our operations," said Dominique Allion, president of Save-A-Pet's board of directors.
She added: "These much-needed technology upgrades and equipment donations have allowed our staff to be more efficient and, as a result, help even more animals."
Sally Anderson, TABS' director of marketing and communication, stressed that corporate social responsibility (CSR) is one of the company's vital business components.
"Having interacted with many nonprofit organizations, we realized that the majority of them are conducting their efforts with old, outdated equipment that was donated," she said. "It became apparent to us that having new office technology could help them do their jobs better."
In order to sweeten the prize, TABS collaborated with other Toshiba companies, such as Toshiba America Information Systems and Toshiba America Electronic Components, to develop a comprehensive prize package.
The package included color and black-and-white multifunctional printers, desktop computers, notebook computers, tablets, LED TVs, camcorders, memory cards and LED lightbulbs.
HELPING THE HELPERS
Because Toshiba corporate had run the campaign before, the PR team there felt the need to raise the campaign profile in 2013 and convince nonprofits to put the energy and time into creating great videos showing why they should be selected.
Not only did Toshiba distribute frequent contest reminders, but also some of the aforementioned Toshiba sister companies helped to spread the word.
"Our team was tasked with creating persuasive-enough content to compel nonprofit representatives to take the necessary time and steps to participate in our Helping the Helpers Technology Makeover," Anderson said.
She added: "Our other primary focus was increasing the volume of contest reminders on our four social media platforms on Facebook and Twitter."
The TABS contest reminders ran on TABS' Facebook account, the company's two Twitter accounts and corporate website.
Contest information and links were also posted on LinkedIn groups targeting nonprofits and charitable organizations.
TABS also made an effort to reach out to consumer and trade media as well as its extensive network of dealers, distributors and business partners.
Each reminder included the details of what the video needed to include, the deadline for the contest and directions on how to upload the video.
TABS dealers were given promotional fliers, email templates for easy and simple distribution and inserts for customer billing.
TABS also delivered monthly emails to its dealers and subsidiaries updating them on how the contest progressed.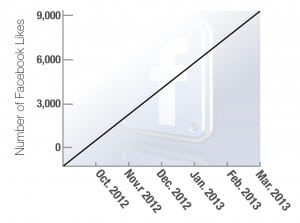 THE RESULTS
The contest generated the following results:
• For the contest's nearly five-month duration, more than 9,000 people expressed their appreciation for TABS' willingness to help nonprofits by "liking" it on Facebook.
• Several elected officials engaged with the program and spoke at the contest-winner ribbon-cutting ceremonies.
• TABS also secured myriad citations, certificates and congratulatory letters from U.S. and state senators, members of U.S. Congress, governors, state representatives and mayors.
• The governors of Ohio and Hawaii, mayors of Richmond and Grayslake, the supervisor of Contra Costa County, a California state senator and state representatives from Ohio issued Helping the Helpers Day proclamations.
For PR departments and agencies considering such a "cause" marketing-based program, it's crucial to have a completely drawn-out game plan with a full timeline, Anderson said.
She also stressed the importance of creating partnerships with other companies in order to enhance the prize package while simultaneously using additional resources to promote the event.
"As is the case with a team making adjustments during a sporting event, a PR agency must also be agile enough to adapt," she said. "In other words, if the amount of entries is fewer than expected at any given time, the team must be adaptable."
Despite the success of the contest, Toshiba decided not to run the Helping the Helpers program this year. "We are in the process of reviewing our CSR plan," Anderson said, "and may develop a contest or initiative relating to environmental consciousness."
5 PR Tips to Maintain CSR
In the current climate, companies should strive to become more than simply good corporate citizens. Rather, that should be a baseline expectation. With this in mind, I have created my top five best practices for how to maintain and grow corporate social responsibility programs.
1. Ensure your business recycles and properly disposes of its toxic materials. This should be a minimum expectation.
2. Benefit the community or communities your company serves. This may include donating products that would benefit needy schools and nonprofits which, more often than not, operate on shoestring budgets.
3. While perhaps counterintuitive, a company's public relations department or PR agency should only communicate a fraction of the positive aspects their business or client is fulfilling. In short, focus on helping those in need rather than promoting that your actions.
4. Place an emphasis on creating a more sustainable environment while also providing a better quality of life for your employees, as well as those in the communities you serve.
5. Create a companywide emphasison developing more sustainable and eco-conscious products and services. This initiative should also include operating in a fundamentally environmental manner with respect to the manufacturing process.
This sidebar was written by Sally Anderson, director of marketing and communications at Toshiba America Business Solutions.
CONTACT:
Save-A-Pet, exec.director@saveapetil.org; Sally Anderson, sally.anderson@tabs.toshiba.com.
---
This article originally appeared in the May 19, 2014 issue of PR News. Read more subscriber-only content by becoming a PR News subscriber today.