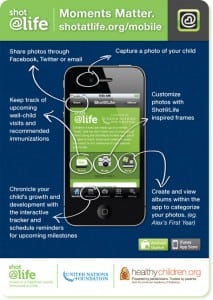 Every hour, nearly 300 children die of vaccine-preventable diseases such as pneumonia and measles. Domestically, childhood immunizationrates are going up, but globally, roughly 20% of children don't have access to the same life-saving vaccines that are available in the U.S. The United Nations Foundation—supported by the Bill & Melinda Gates Foundation—wanted to change that.
The Foundation enlisted APCO Worldwide to help in the cause, which included conducting extensive research to building a brand that galvanized American mothers to join the fight against vaccine-preventable childhood deaths. The final result? The award-winning Shot@Life campaign, which launched in 2011.
The process began with APCO's in-house research and development team, called APCO Insight, which created the following objectives:
1) Build a significant, broad-based constituency for global vaccines in the United States.
2) Raise funds among U.S. audiences to support childhood-immunization programs globally.
3) Secure sufficient, sustained interest and support by U.S. policymakers for global childhood vaccines.
Focus group findings uncovered a unifying characteristic across cultural and societal lines: A unique relationship between mother and child, and the widespread regard for that relationship.
While a mother in Seattle who is balancing carpools, cheerleading practice and a full-time job may struggle to comprehend the daily pressure on a mom who is her age and living in Mozambique, she can easily relate to all mothers' love for their children.
"This wasn't about guilting people into an issue," says Aaron Sherinian, VP of communications and public relations at the UN Foundation. "It's about rallying people behind the hope of an issue."
Both quantitative and qualitative focus groups gave the highest ratings to the following message, which resulted in the name of the campaign: "Every child should have a shot at a healthy life."
CREATIVE ELEMENTS
APCO found that the strongest method of motivating moms to get involved with Shot@Life was through an emotional approach. Creative elements of the campaign featured children in developing countries engaged in various universal rites of passage, like taking their first steps or learning to talk.
Upon viewing such images, focus group participants began to see vaccinations as an investment in childhood. The UN Foundation and APCO then refined these messages into pillars of the Shot@Life brand: A celebration of life that centered on photography of children from around the world.
The UN Foundation and APCO started from scratch, crafting everything from brand basics (name, logo, tagline, etc.) to infographics and the Shot@Life website (shotatlife.org).
The website serves as a social network, connecting members of the community across the country and enabling users to distribute videos and advocacy alerts.
Another way of unifying Shot@Life fans is through the campaign's blog, which reflects the newest developments from partners including UNICEF and the Global Alliance for Vaccines and Immunization (GAVI).
It also highlights the activities of "Champions"—local advocates who host events and raise awareness with resources provided by the campaign. "The most important credential of this campaign was, 'How does this relate to me and what are the tools I can use?'" Sherinian says.
A crucial piece of the brand building is the communications strategy, which revolves around the following elements:
1) Participate in events across the U.S. to build a grassroots network: Most recently, in honor of World Immunization Week, Shot@Life participated in more than 30 events around the country. The functions ranged from themed birthday parties and walks, to in-district meetings with members of Congress.
2) Enlist celebrities to champion the cause: Two of the most prominent celebrities involved in the cause are actress Amanda Peet and photographer Anne Geddes.
3) Secure nonprofit partners to promote the campaign to key stakeholder groups: UNICEF, The World Health Organization and The American Red Cross are among Shot@Life's nonprofit partners.
4) Partnering with the private sector as a way to broaden awareness for the campaign and its goals: Diapers.com, Lux Mobile Group and Real Simple are some of the brands that have partnered with Shot@Life.
5) Secure top-tier media coverage targeted at American moms: Shot@Life editorials have run in major media outlets such as The Huffington Post, Real Simple and The New York Times.
Another key element in connecting U.S. mothers with the cause was the Shot@Life smartphone application. Aimed at helping parents document their children's "firsts," it is a milestone marker for young kids that simultaneously builds program awareness and forges a personal connection to the cause—and it's a great communications channel.
The official launch was in April 2012, marked by countrywide celebrations and events hosted by "Champions."
THE RESULTS
So far, the campaign has garnered solid results. For example, the launch of the campaign last year garnered 80 media mentions and culled more than two million media impressions. In its first month, Shot@Life's email database saw an uptick of 2,037 email subscribers, 682 Twitter followers and 854 Facebook friends.
Other launch-related digital endeavors were the Shot@Life Champions participation in a blog carnival, which produced more than 40 blogs posts. A Twitter party got Shot@Life's community involved and resulted in the #vaccineswork hashtag being mentioned 2,007 times.
At the end of 2012 the results of Shot@Life's campaign had garnered the following results:
▶ Shot@Life has more than 190,000 registered supporters, including more than 7,000 followers on Twitter and more than 30,000 Facebook fans.
▶ After a successful 30-office pilot in 2012, Shot@Life will be rolled out in 200 pediatric offices in 2013 (in partnership with the American Academy of Pediatrics).
▶ Shot@Life's latest event, held in late March, garnered more than 400 attendees, from mothers with their children to health leaders and celebrities.
THE ROAD AHEAD
With more than 10 Shot@Life events scheduled through the next six months, 8,515 followers on Twitter and 31,139 Facebook likes, campaign awareness is thriving.
Sherninian is especially excited about the second annual Blogist, a month-long virtual "rally and relay" that allows for moms, parents and people who care about the issue to come together to tell their stories and share them with their peers.
"Blogist comes out of an important lesson we really embraced after working with our community of online moms," Sherinian says. "When it comes to building awareness, it's not just about the clicks and likes, you have to listen to the comments."
Sherinian adds that Shot@Life's community of moms was quick to make one thing clear: "Authenticity really matters," Sherinian says.
He adds: "Spend more time listening than you do talking. When you're working arm-in-arm with advocates who have a lot going on in their lives, you have to be attuned to what they're saying." PRN
CONTACT:
Aaron Sherinian, asherinian@unfoundation.org, @ASherinian; Ann Saybolt, asaybolt@apcoworldwide.com.
Building a New Brand That Keeps on Giving
How can you build a brand that goes beyond awareness to engagement, and sustains that engagement over time? Here are some tips.
▶ Invest in research. Your campaign creative needs to make an emotional connection and drive action. Research can identify the opportunities to connectand how best to drive your audience to act.
▶ Focus on one or two key audiences. A campaign that tries to speak to everyone often inspires no one. Start off with a core audience that you know you can activate and build from there.
▶ Make engagement easy and fun. Give audiences simple ways—online and off—to join the effort. Co-create and test these ideas with real people before your campaign launches.
▶ A movement happens one person at a time. Be sure you have what it takes to make a personal connection and drive individual actions in support of your cause.
Ann Saybolt is senior director of APCO Worldwide.