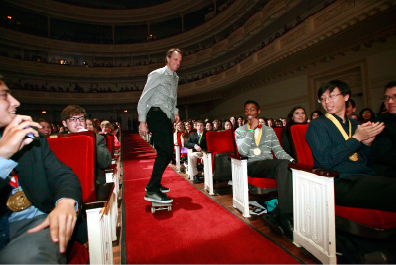 PR Stuntman: Tony Hawk, skateboarding legend and judge of the Video Game Design category of the 2011 Scholastic Art & Writing Awards, rolls into New York City's Carnegie Hall to address 800 creative teens on May 31, 2011. Photo courtesy of Scholastic
Company: Scholastic Corporation
Organization: Alliance for Young Artists & Writers
Timeframe: Sept. 2011 - June 2012
For almost a century, one of the most prestigious awards programs in the U.S. to recognize, honor and encourage creative teens has been the Scholastic Art & Writing Awards. Scholastic founder M.R. Robertson established the program in 1923 to celebrate the creativity of America's teenage students at a time when most awards and scholarship programs were focused on athletic and academic achievements.
The competition continues today and, after a partnership formed in 1994 between Scholastic and the nonprofit Alliance for Young Artists & Writers, is expanding and reaching more students.
Scholastic and the Alliance are continuously looking to raise the awareness of the competition. Scholastic has been relying on its communications team and almost solely on public relations to drive a publicity campaign where validation/recognition for those students receiving the awards is integral. Also, elementary to the campaign is a media outreach strategy that targets regional as well as national press, with a focus on the students' stories.
"We want more students to know about the program and we want the students who win the awards to get the recognition and validation they deserve," says Kyle Good, senior VP, corporate communications, Scholastic Inc., who oversees all corporate communications projects at Scholastic. "A very important piece of this program is validation," says Good. "Many times, some of the greats who have come up through this program tell us, 'This was the first time that I really believed that maybe I could make it as an artist or a writer because somebody, my teacher or my parent, told me I was good.' Public relations can add to that validation when kids are recognized in their local paper, on the radio or on their local television station."
Year after year, the campaign's major objectives remain:
• To raise awareness of the program through national and local media outreach and increase the number of students, educators, funders and the art and literary communities who are aware of the awards, so that each year there is an increase in the number of submissions.
• To honor and recognize creative teens—for the students who win the awards to get the recognition and validation they deserve.
• Spread the overall message of the importance of supporting the country's arts programs and creativity in teens.
A CALL FOR ENTRIES
The 2011 effort began in September with a call for art and writing entries. Judging takes place throughout the year, winners are selected and then the competition culminates in an awards ceremony at Carnegie Hall in New York in late May/early June. Since the awards program is essentially about the teens, the focus and strategy of the campaign has always been to put the students and their accomplishments front and center.
Once the teens are selected, the communications team moves quickly, diving into the backgrounds of the winners and identifying compelling stories and creating an overall plan of attack. For the 2011/2012 campaign, the strategies/tactics included:
â–¶ Define the best media angles centered on the national 2011 winners and take local media outreach further than before for the regional winners by pitching 40 local markets, garnering a significant increase in print, TV, radio and online coverage.
â–¶ Provide media training to students participating in media interviews.
â–¶ Work with the Alliance to draft and distribute template press releases and media alerts to all affiliates. Scholastic would also provide media workshops that detailed PR best practices, pitch strategies and tactics and community engagement tips, an ongoing resource for affiliates.
â–¶ The Scholastic global headquarters in New York would act as a permanent exhibit space for awarding-winning artwork, exposing the program to employees and external visitors. Additionally, employees would engage with the Alliance through regular updates via Scholastic's intranet.
â–¶ The Alliance and Scholastic would work side-by-side to promote all milestones and arts news via social media by coordinating editorial calendars and cross-posting news on Facebook pages, @artandwriting, @Scholastic, the Alliance blog and Scholastic's corporate blog, On Our Minds.
KEEPING IT FRESH
With an ongoing annual program lasting close to 90 years, virtually no budget for marketing and a dedicated team of two (one manager and publicist), Scholastic is presented each year with unique challenges. "After we've completed our main announcement of the award winners, we sit down together and reflect to see how in working together we can keep improving," says Virginia McEnerney, executive director, Alliance for Young Artists & Writers (see the sidebar for more campaign postmortem details).
Another important facet of the campaign that is helping extend its reach, which was not available just a few years ago, is social media. "Teens are heavy users of Facebook, Twitter, Tumbler, etc., and these platforms are making a huge difference," says McEnerney
LOCAL FLAVOR
Outreach to national publications is beneficial for building the program and for fundraising purposes, but the local recognition is also equally as important.
The Scholastic team reports that it finds its greatest success when it discovers a local education or feature writer that appreciates the story of the student. With this, Anne Sparkman, manager, content and special projects, Scholastic, points out that bringing out some of these stories requires some sensitivity on the team's part.
"Very often the type of winning artwork or story is brought about because of some experience in a student's life," she explains, "and so the team needs to help that student out in the places where he/she feels comfortable to tell their story." While pitching their stories is a lot of work, Sparkman says prepping the kids and the local affiliates is a fun assignment.
GREAT EXPECTATIONS
As the team evaluates its success each year by looking at the quality and quantity of the work as well as the reactions from the public and benefactors, it is seeing a positive progression.
"We not only look to see if we've got that great national story," says Good, "because we do get those. Within the year of submission we've definitely had an amazing story of a young writer that was told by The New York Times. She was also featured in O, The Oprah Magazine and we have some other students who were featured in national press."
Results are also measured in how well the competition plays in local markets, by engagement in social media and in the number of entry submissions. And in 2011 that number was exceptional, with an increase of 20,000 entries from 2010.
In the end, the team met and exceeded expectations, with outstanding results:
• In addition to the aforementioned articles in The New York Times and O, The Oprah Magazine, another media highlight was an in-depth interview with another top winner on National Public Radio's The Takeaway.
• Local reporters found interest in their communities' award winners, generating hundreds of clips from print, TV, radio and online outlets that focus on that teen's creative work, accomplishment and their trip to Carnegie Hall.
• Over 185,000 student submissions were received in 2011 and 10 new affiliates joined the Alliance for 2012.
• Celebrities involved included actor Jesse Eisenberg and skateboarding legend Tony Hawk, who tweeted about the program to his 2.7 million followers.
Each year, a new crop of teens joins an elite group of past award winners that includes Andy Warhol, Robert Redford, Joyce Carol Oates, Truman Capote and Sylvia Plath. Next year, as the organizations prepare for the program's 90th anniversary, there will be a whole new set of challenges but, more importantly, successes in the continued mission to raise awareness of America's young artists. PRN
CONTACT:
Kyle Good, kylegood@scholastic.com; Anne Sparkman, asparkman@scholastic.com; Virginia McEnerney, vmcenerney@artandwriting.org.