For several years after its debut, Facebook was viewed by brands and organizations as a relatively cost-effective way to promote their products and services. Companies could run branded Facebook pages—without necessarily dropping a lot of coin for Facebook advertising—and watch the needle move. Case in point: Hudson & Marshall, which is one of the nation's top real estate auction companies specializing in bank-owned foreclosure listings.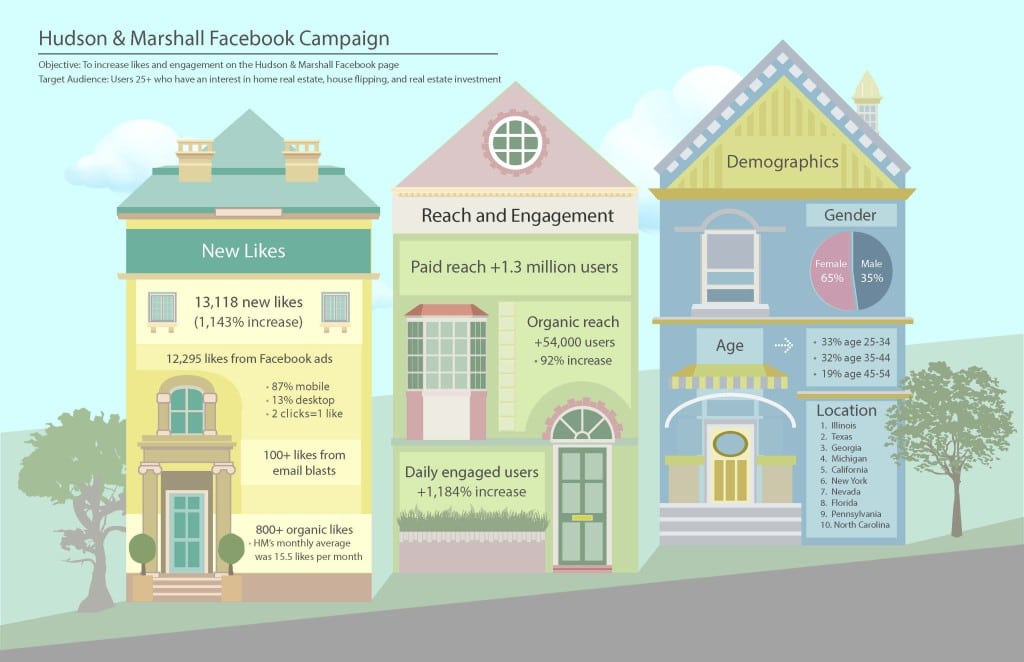 Starting in July 2010 Hudson & Marshall teamed up with PR agency M/C/C to connect the real estate company with potential home buyers, sellers and investors by promoting their services and auctions via social media platforms, including Facebook.
The overriding objectives of the social media program were to expand the company's online presence, engage in ongoing dialogue with investors and home buyers, drive traffic to auctions and provide an outlet for feedback from customers and agents.
Soon after it rolled out, Hudson & Marshall's Facebook page began to reach (and engage with) nearly 20 percent of its audience.
But things changed drastically in 2013, when Facebook changed its algorithm and morphed into what is essentially a "pay to play" platform.
The change had a serious effect on Hudson & Marshall's ability to reach new customers, real estate agents and homebuyers, as well as how the company got its message in front of existing fans and prospects.
"We started to notice that our overall reach was decreasing," said Bret Richards, auctioneer and sales and marketing manager at Hudson & Marshall. "We were progressing nicely and then it came to a halt," when Facebook changed its algorithm.
BLURRING LINES
To get around the Facebook obstacles, M/C/C in August 2013 created a Facebook advertising campaign, augmented by traditional PR tactics such as storytelling, messaging and strengthening relationships.
Call it the paid-earned equation, which, in a social media age, is becoming de rigueur among brands of all stripes.
"The line is blurring between advertising and PR," Richards said. "We needed to integrate social media and PR tools with paid marketing in order to monetize our social results and meet Hudson & Marshall's business objectives."
Advertisements were created for each target demographic: homebuyers, home sellers, investors, home flippers, real estate agents and newlyweds/engaged couples.
Users were also targeted based on location and their respective friendships with anyone who was established as a brand fan. Facebook deems this demographic "friends of fans."
The Facebook ads were strategically placed in the right-hand corner of the desktop news feed and mobile news feed locations.
Ads were optimized on a weekly basis by altering messaging and images in order to maximize the results for the company.
CONTENT AT THE CORE
The ads were surrounded by content designed to boost consumer engagement and grow mind share among homer buyers, sellers and real estate agents.
Along with the various ads, content was posted on the Facebook page up to five times a day. Indeed, roughly 75 percent of Hudson & Marshall's PR budget is devoted to its Facebook page.
"We had to do as much as we could, from a proactive standpoint, to stay in front of our audiences," Richards said.
The content was multipronged:
▶ Promotional content of real estate listings, with localized aspects of various homes up for auction baked into the content and highlighting Hudson & Marshall's product mix.
▶ Educationl content designed to help homebuyers make better purchasing decisions.
▶ "Fun," enagaging content showcasing Hudson & Marshall's personality and encouraging consumers to share the content.
The content on the Facebook page was customized on the fly to respond to changes in the marketplace as well as drive conversation about certain properties about to be auctioned.
"The role of incorporating videos and images, as well as educational posts is a high priority," said Kevin Krekeler, account supervisor at M/C/C. From a consumer standpoint, "it's saying, 'This is something that's important.'"
In addition, Hudson & Marshall's Facebook page introduced "Flashback Friday," an image-based series featuring homes from popular movies and TV shows. The idea was to connect with Facebook fans by displaying homes that they recognize, giving them the option to mix-and-match when styling their own homes.
All of the Facebook content was supplemented by email marketing campaigns—distributed to a list of 50,000 consumers—and cross-pollinated with Hudson & Marshall's website.
Through the various content tentacles and the paid promotions on Facebook, "We now know who is doing what on the website and can adapt the content to see who's pushing those buttons," Krekeler said.
The paid-earned strategy paid off for Hudson & Marshall.
When the advertising campaign began, the page had approximately 1,050 likes. Within eight months, the page grew to more than 13,000 likes, marking an increase of 1,143 percent, at an average cost of $1.47 per like.
Before the campaign, there was an average reach of 612 users on a weekly basis. After promoted posts and optimizing content, that grew to an average reach of 31,642 users weekly.
"We're able to see the impact of social advertising and generate business for Hudson & Marshall," Richards said. "People have been acting [on the content], going from the Facebook page to the website to buy a home."
3 Tips for Bolstering Your Brand's Online Presence
Every brand and organization wants to be on the coveted first page of a Google search. SEO gurus know the path to the first page, but PR professionals can help achieve this aspiration with a few extra steps:
1. Content, content, content. Nothing is more important to bolstering an online presence than good content in all owned materials, including the website. Using words that precisely describe a brand and accurately connects the brand with the appropriate audience will help a brand achieve first- page status.
Be sure to tailor messages to the brand's key audiences: people who will want to search for the brand as well as the people the brand wants to search for it. These custom messages will be what are searched (kind of like SEO keywords), thus shooting the brand to the top results.
2. Social media platforms. Quality content posted on a regular basis to social platforms has shown to enhance search results, especially when using Google Plus.
Although there may not be as much engagement on your Google Plus posts as on Facebook or Twitter, Google recognizes your brand as more credible when a Google Plus page is maintained. It is also important to remember that each social platform has a search function. Using multiple social platforms ensures more people are able to find a brand, no matter which search function is used.
3. Traditional media relations. Don't put traditional media relations to sleep. With the demand for a 24-hour news cycle and fewer reporters than ever, it is more important for PR professionals to secure coverage online and even contribute articles to publications. Not only do most publications allow links back to a brand's website, which increases site traffic, it is easier to control the message with a contributed article.
Be sure to use the tailored messages in these articles. Also, do not forget to share this coverage on social platforms to extend the life and reach of each story.
Deploying these PR tips will assist brands aspiring to boost their online presence. Remember to tailor the brand description to key audiences in all owned materials. Use multiple social media platforms to be more credible and use traditional media relations tools ingrained in PR professionals.
This sidebar was written by Sarah Chollar, PR Coordinator at M/C/C.
CONTACT:
Sarah Chollar, sarah_chollar@mccom.com; Bret Richards, brichards@hudsonandmarshall.com.
This article originally appeared in the October 27, 2014 issue of PR News. Read more subscriber-only content by becoming a PR News subscriber today.