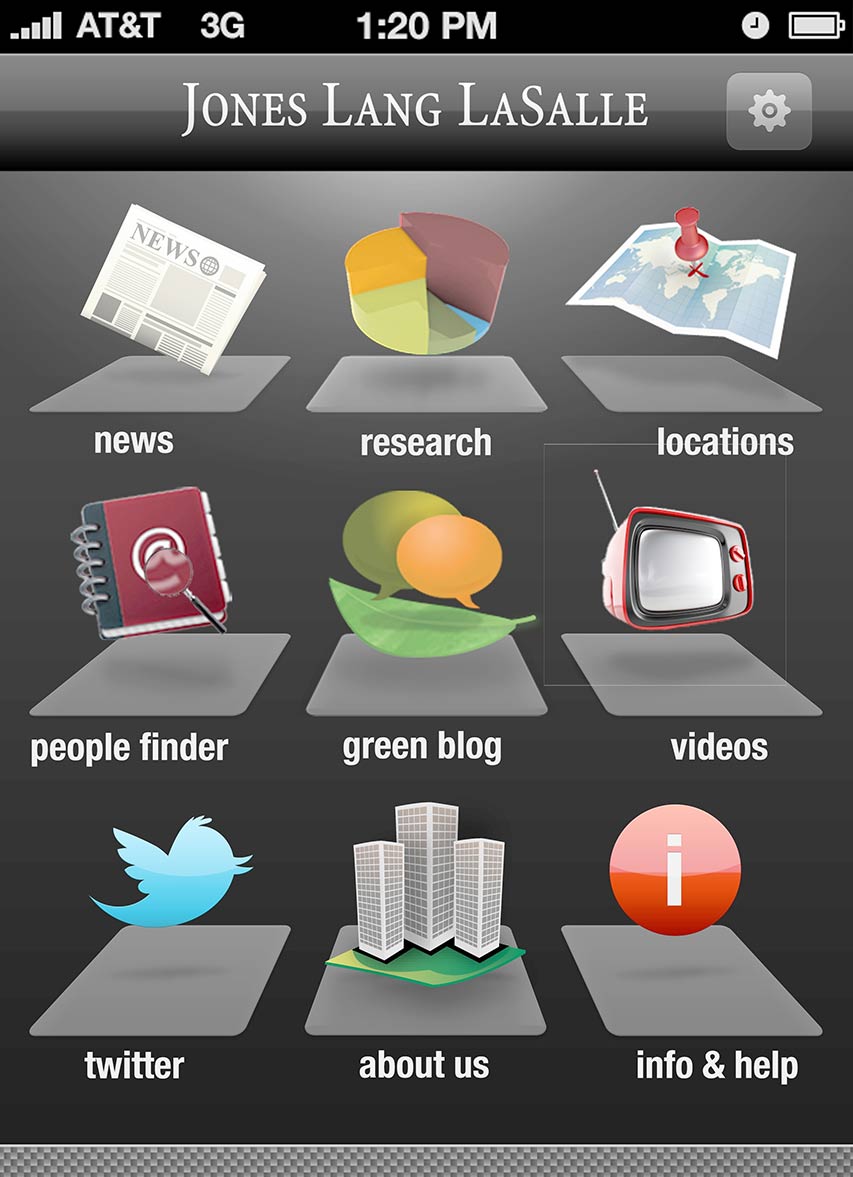 Jones Lang LaSalle's iPhone app (home screen shown here) allows employees, clients and prospects access to important company info and real estate research. Photo courtesy of Jones Lang LaSalle
For Jones Lang LaSalle (JLL), a Chicago-based financial and professional services firm specializing in commercial real estate, the final frontier wasn't constructing or acquiring new properties, but securing prime property on users' iPhones.
In April 2011, with the goal of positioning the brand as innovative and at the forefront of technology, JLL marked its entry into the mobile phone application arena with the launch of its own app for the iPhone: the JLL Commercial Real Estate iPhone App.
LAND SURVEY
Prior to the launch of the application, Joanne Bestall, senior PR manager for JLL, performed a competitive analysis of B2B apps, how they were positioned on iTunes and what made them marketable. Bestall found that within the commercial real estate business, there weren't many other apps in the marketplace. "We wanted to provide the ultimate go-to portable source of information for our clients, our employees, potential clients and anybody who's involved in commercial real estate," says Bestall. "We thought an app was a new and innovative way to do it." JLL hired EffectiveUI, an agency that creates custom Web, desktop, mobile and touch-enabled applications.
The free application was made available for download from the iPhone App Store and to serve as a companion to the firm's Web site, bringing JLL news, resources and industry insight to its users. With the completed product, which took five weeks to complete, an eight person promotional team—with Bestall at the helm of the PR-specific efforts—designed three-tiered launch strategy with the following specific objectives:
• Position Jones Lang LaSalle's app for iPhone as the most robust and reliable portable commercial real estate industry resource.
• Generate buzz and download volume for the new app.
• Promote the app to all key audiences including clients, employees and commercial real estate executives through concise key messages to run throughout all communications.
• Leverage unique selling points as a key differentiator to set Jones Lang LaSalle's app apart from the competition.
"Our employees, clients and others looking for leading-edge research and expertise on commercial real estate markets—or who need to find a Jones Lang LaSalle professional in their market—can get what they're looking for in seconds, whether they are in the office or on the go," says David Johnson, chief information officer, Jones Lang LaSalle. "There are other commercial real estate apps, but nothing that provides the same scope and quality of information that ours offers."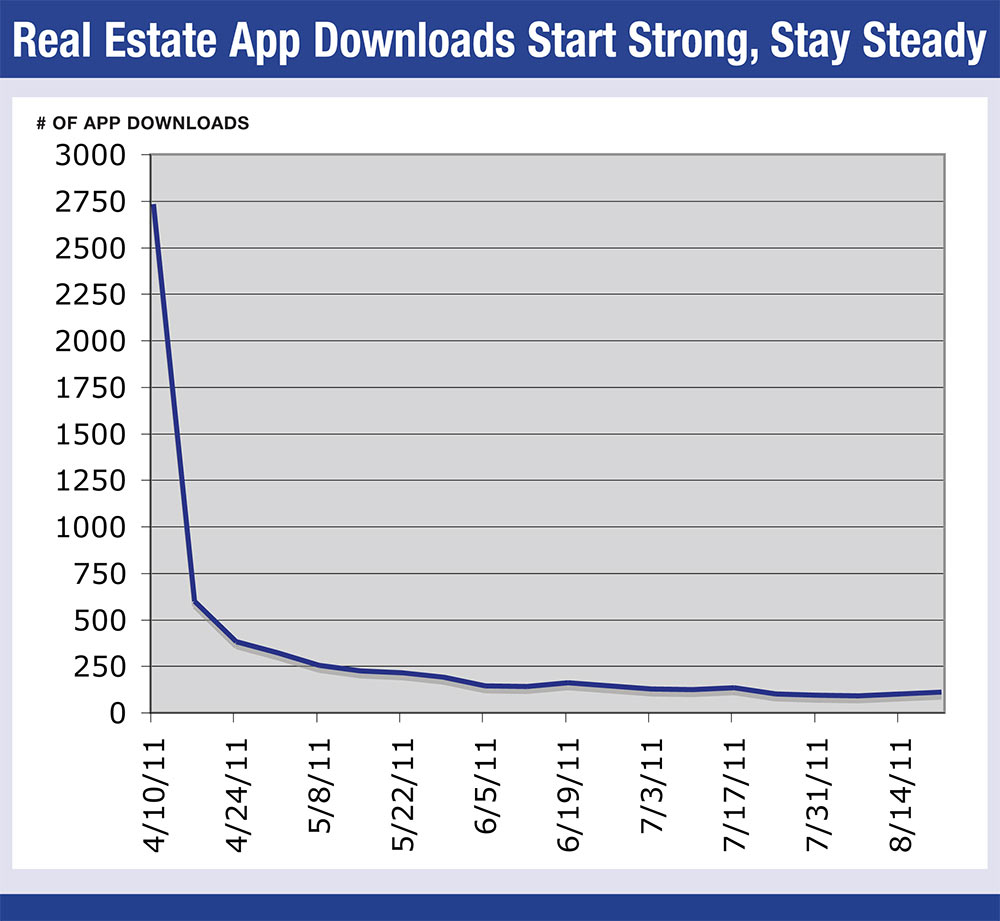 Promoting an iPhone app takes a sustained PR effort, says Joanne Bestall, senior PR manager at commercial real estate company Jones Lang LaSalle. "Fresh messaging is critical in keeping the momentum going," says Bestall. "Your app can get buried in a sea of apps, and people can easily forget about it." At launch in early April 2011, weekly download counts were understandably high. Then, the inevitable drop-off occurred, yet JLL has managed to keep the download rate at more than 100 per week since—respectable for a B2B company. Source: Jones Lang LaSalle
APP-PROPRIATE CHANNELS
Bestall says that usually when JLL launches something to the media, the PR strategy centers around using traditional channels to distribute a press release, and/or giving an exclusive to one of the real estate industry's top-tier publications. But, with this nontraditional offering from JLL, a range of platforms was embraced in order to reach a more digitally savvy audience.
In March 2011, a few weeks prior to the app's release, Bestall and her team initiated an aggressive Twitter, blog and YouTube tease campaign highlighting the new product's features and differentiating factors, which generated chatter, questions and retweets—all before the app even came to market. "We used social media to link from Twitter, our corporate Facebook page and our Green Blog—a corporate blog that talks about environmental issues surrounding our buildings—and linked back to the app's landing page," says Bestall. A YouTube video was also launched showing the app's features and how it can be best used.
SELLING THE PRESS
News releases were issued about the new app highlighting its strengths, innovation, uniqueness and how user-friendly it is while pointing to the landing site and offering user instructions.
Press outreach included both national and local technology, commercial real estate, industry and client-focused publications. "We pitched with the angle that the app was an innovative, at-your-fingertips and direct on-the-go link to our research, which is what a lot of our clients use to look at buildings and markets," says Bestall.
She and her team also encouraged key reporters to download the app themselves.
INTERNAL OUTREACH
For the app's English-language launch, the communications team sent to JLL staffers an invitational e-mail that included the app's goals and functions, a rigorous Q&A addressing all the questions about the technology. Peter Roberts, JLL's America's Region CEO, announced in his Q1 2011 earnings report and Town Hall report to all of JLL's America employees that the company had released a new and innovative app, and encouraged every employee to download it. Other JLL leaders promoted the app in meetings and encouraged their own teams to sign up, says Bestall.
A feature in the internal newsletter, "This Week," provided an in-depth description of the app while pointing to the landing page, YouTube instructional video and FAQ document. The newsletter's Tweet of the Week—a corporate tweet that employees are encouraged to retweet—also included an announcement about the app and drove users to its landing page.
"It was important to have our internal communications people on board from the beginning to know all about the app and its technology," says Bestall. Questions abounded, such as, "I don't have an iPhone, will it work on the Android?" And, "Will the company be paying for me to get an iPhone?"
PR around the launched garnered the following results:
• Media outreach resulted close to 50 press hits in industry, commercial real estate and technology publications.
• The overall campaign drove traffic to the JLL Web site, leading to nearly 6,500 app downloads by August 2011 (see the chart for a weekly breakdown from launch).
• 92% of customers who reviewed the app rated it five stars in the iTunes App Store.
Although the campaign has not generated direct revenue, the promotions—and the app itself—positioned Jones Lang LaSalle as an industry leader in the mobile space, set JLL apart as an innovative, forward-thinking company and raised the Jones Lang LaSalle brand's visibility.
For Bestall, the biggest challenge was keeping the app fresh in people's minds and communicating its unique value. "Business apps are tricky to publicize since people don't always want work-based apps to overlap with their personal ones, so we had to be mindful publicizing around the key points of why it's innovative, useful and easy," says Bestall.
Non-English-language versions of the iPhone app are in development, as well as versions for the BlackBerry device and Droid-based platform, all of which will keep Bestall and her team busy as they keep their focus on the commercial real estate media that covers new apps and technology.
CONTACT:
Joanne Bestall joanne.bestall@am.jll.com, David Johnson, david.johnson@am.jll.com; Patrick Kerley, pkerley@levick.com.