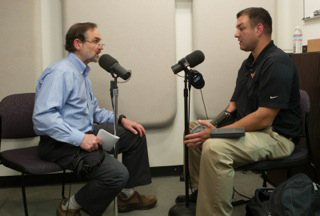 Host Dave Ross (left) interviews Medal of Honor recipient Leroy Petry for "A Grateful Nation," Bloomquist Media's branded audio content programming for Fisher House Foundation. "A Grateful Nation" aired on 65 stations and XM/Sirius over Memorial Day weekend in 2012. Photo courtesy of Bloomquist Media
Organization: Fisher House Foundation
Agency: Bloomquist Media
Timeframe: Sept. - Dec. 2011
When college student Matt Zajak joined the military, he was known by family and friends back home in New Mexico as an outdoorsman, enjoying rock climbing, skydiving and scuba diving. But in 2007, during a mission in the south of Baghdad, Zajak and fellow soldiers met head on with several mines and more than 50 pounds of explosives. Zajak, while able to remain conscious and alive, suffered extensive injuries, resulting in the loss of both his legs and a severely wounded hand.
Zajak spent the following year with his dad recovering in a specialized housing facility provided by the Fisher House Foundation. According to Zajak, "The mental part of recovery is an incredibly important thing. Having dad there meant the world to me."
Zajak's story was one of over a dozen told in a 2011 holiday season radio campaign, the centerpiece of which was a broadcast called "The Gift: A Holiday Tribute to Military Families." Hosted by radio personality Gil Gross, the program was the brainchild of Randall Bloomquist, president and founder of Bloomquist Media, whose company harnesses the power of radio to help clients achieve their marketing and communications goals. In this case, Bloomquist promoted the Fisher House Foundation, which builds and operates "comfort homes" at military and Veterans Affairs hospitals. These facilities provide no-cost housing and other services to the families of wounded soldiers for the duration of their loved ones' treatment.
In order to stay on target with its mission, Fisher House needs to continuously raise funds. To accomplish its goals, Fisher House began working with Bloomquist Media several years ago, putting forth two simple objectives:
1. Raise awareness of Fisher House's mission.
2. Increase funding for Fisher House.
David Coker, president of Fisher House Foundation, says, "We don't like to spend money on advertisements and promotion, so we tend to be a best-kept secret. Once you create awareness, though, good things are going to happen, and they have."
Bloomquist, with a long history in both radio and journalism, had a prior working relationship with Fisher House from his early days as program manager at Washington, D.C., station WMAL Radio.
As Bloomquist's own media company grew, he created PSAs, prerecorded interviews and other radio-based projects for the foundation. However, these initiatives had predominantly been centered around Memorial Day and Veteran's Day. It wasn't until mid-2011 that Fisher House decided to extend its outreach to the December holiday season, a crucial time for charities, as many Americans make their annual tax-deductable donations that time of year. Fisher House sought an earned media strategy to raise awareness among likely donors and drive a year-to-year increase in giving during the last week of 2011.
TALK IS CHEAP
To execute on that strategy, Bloomquist would develop a campaign that would target the talk radio audience. This group fits the foundation's donor profile of middle-aged and older Americans who have a strong sense of patriotism. "Talk listeners have a proven record of supporting military charities," says Bloomquist.
According to Bloomquist, talk radio stations commonly broadcast holiday music over Christmas in order to minimize staffing needs. Based on interviews with radio executives at the local and corporate levels, Bloomquist identified a strong desire among those executives to replace the music with spoken-word material.
Bloomquist decided to put his own branded audio content (BAC) concept to work for Fisher House and create quality programming for talk radio stations to air during that holiday week.
"These are not paid programs or hard-sell infomercials, but rather content that radio stations actually want to broadcast because it provides both excellent programming and a service to the community," says Bloomquist.
However, as Bloomquist began to develop the campaign, he faced several challenges:
• Fisher House had a small communications budget and did very little paid advertising, so the campaign needed to be cost-effective.
• Though the campaign would involve some type of original programming, it would somehow need to be distributed and marketed to the talk radio stations across the country.
• The subjects Bloomquist intended to interview for the programming were located all over the country; it would be difficult to acquire quality interviews without incurring exorbitant travel expenses.
A LITTLE HELP FROM HIS FRIENDS
With the help of other radio professionals, Bloomquist was able to work around the obstacles, executing the following tactics:
1. Cumulus Media Networks agreed to work on a pro bono basis, and offered its services to help market the programming to radio stations, delivered the programs to the stations via satellite or Internet, and tracked which stations would carry it.
2. ABC Talk Radio opened its New York studios to Bloomquist for two days, allowing the team access to its high-quality audio technologies so they could do the interviews via phone.
3. Radio personality Gil Gross and voice talent Jim Cutler donated their efforts to conduct the interviews with the soldiers.
4. Chris Pendl, creative director at Road Kill Creative Inc., worked as audio producer, adding expertise in audio editing, sound effects, etc.
Bloomquist produced the three-hour branded content radio program and made it available for talk stations to air December 23-26, 2011. The show featured wounded soldiers and their families telling dramatic and uplifting stories of injury, recovery and renewal.
Because every interviewee had some connection to Fisher House, the organization and its mission were prominently, yet organically, woven into the show. In addition, there were two Fisher House solicitations (commercials) in each hour of the broadcast.
In exchange for the right to air "The Gift," radio stations were required to broadcast a total of 20 30-second Fisher House PSAs during the week of Dec. 26 to Dec. 31. As a result of these guaranteed-placement PSAs, Fisher House maintained its visibility with the talk radio audience throughout that crucial time of giving.
Pendl admits the project was time-consuming, explaining that, "on the logistical side, we interviewed people all over the country and captured hours of audio." Yet the real work started when the team began editing hours upon hours of audio into the three-hour program. The work, however, was worth it, says Pendl.
"We are now believers in the effectiveness of radio to tell our story, and to generate support for a worthy cause," says Fisher House's Coker.
POWER OF RADIO
Bloomquist tracked the campaign's success through one central metric: media exposure value. That figure is based on the audience size of the 84 stations that carried the show and the resulting average price the stations would change to buy an hour of their airtime plus 20 one-minute commercials. The media exposure value for the campaign: $334,000. And there were other impressive results:
• "The Gift" aired in 29 of the top 30 radio markets, almost exclusively on the top-rated talk station.
• Eleven stations ran the program more than once during Christmas weekend.
• Fisher House saw a 30% increase in donations during the last week of 2011 compared to the same week in 2010, and has committed to producing a 2012 edition.
• "The Gift" paid an unexpected last-minute dividend in December when USAA, which sells financial services to military members, donated $200,000 to Fisher House in exchange for sponsorship mentions in the broadcast.
• Because of the success of "The Gift," Bloomquist created a similar program for Memorial Day 2012, called "A Grateful Nation ," which aired on 65 radio stations and XM/Sirius and, more importantly, inspired a 15% increase that week in giving to Fisher House from the same period in 2011.
Bloomquist has one regret about the campaign: "I would've started approaching radio stations sooner to run the programming," he says. With 84 stations in 2011, his goal is to have 120 this coming holiday season. Now that truly would be a gift.
CONTACT:
Randall Bloomquist, randall@bloomquistmedia.com; David Coker dcoker@fisherhouse.org; Chris Pendl, chris@roadkillcreative.com.