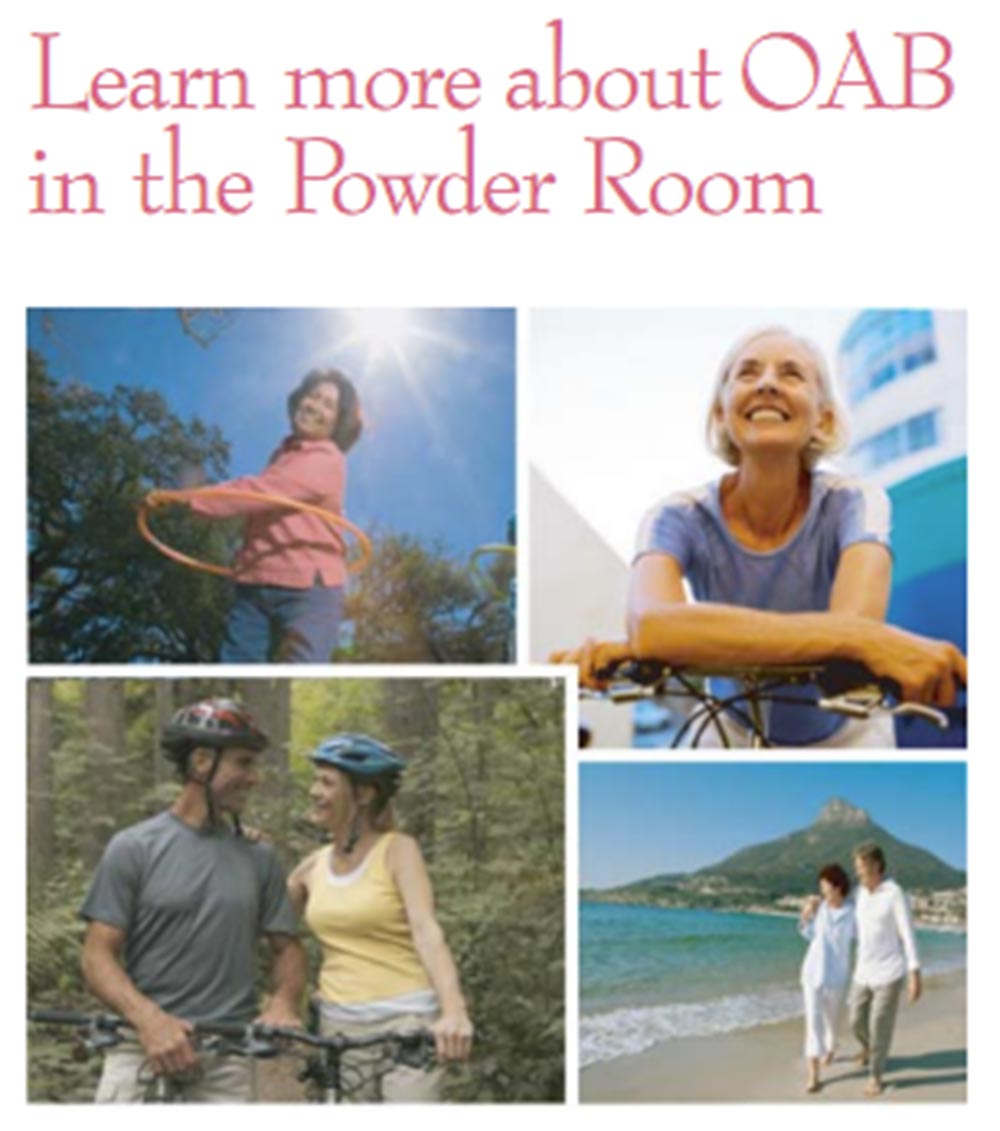 Astella Pharma Canada's Powder Room initiative provides sufferers of overactive bladder (OAB) with helpful information online and encourages them to speak up about their conditions to their doctors. Photo courtesy of energi PR
Organization: Powder Room (Astellas Pharma Canada, Inc.)
Agency: energi PR
Timeframe: January - March 2010
With Vancouver set to host the two-week-long 2010 Olympic Winter Games and invite the masses for a fortnight of competitions and medal celebrations, traffic and crowd control issues emerged for residents and travelers alike. Since many of the Games' events were being held at Whistler, 85 miles from Vancouver, long lineups and intense traffic along the Sea-to-Sky Highway seemed unavoidable.
For the estimated one-third of Canadians who suffer from overactive bladder (OAB)—a chronic medical condition that causes the constant urge to urinate, even when the bladder is not full—a traffic-laden 85-mile journey might nix any plans of attending an Olympic event. To help provide relief and further enjoyment of the Olympic experience, energi PR worked with the Powder Room, a national patient education program for individuals suffering from an overactive bladder, to create an education campaign to provide relief to travelers and raise awareness of the condition through media outreach.
The Powder Room is an interactive online community launched in 2006 for Astellas Pharma Canada, Inc., a leader in the field of urology. "Each year, we've developed creative ways to exceed the primary objective of the Powder Room program—to raise awareness and understanding of overactive bladder in Canada, and encourage sufferers to speak to their physicians about it," says Lindsay Peterson, VP of energi PR.
Since 2008,the Powder Room has encouraged Canadians to add and rate public restrooms on the Cross-Canada Powder Room Map (see map next page). Built with Google's interactive mapping technology, the map allows OAB sufferers to make traveling more comfortable by being able to plot their trips around suitable, user-rated restrooms.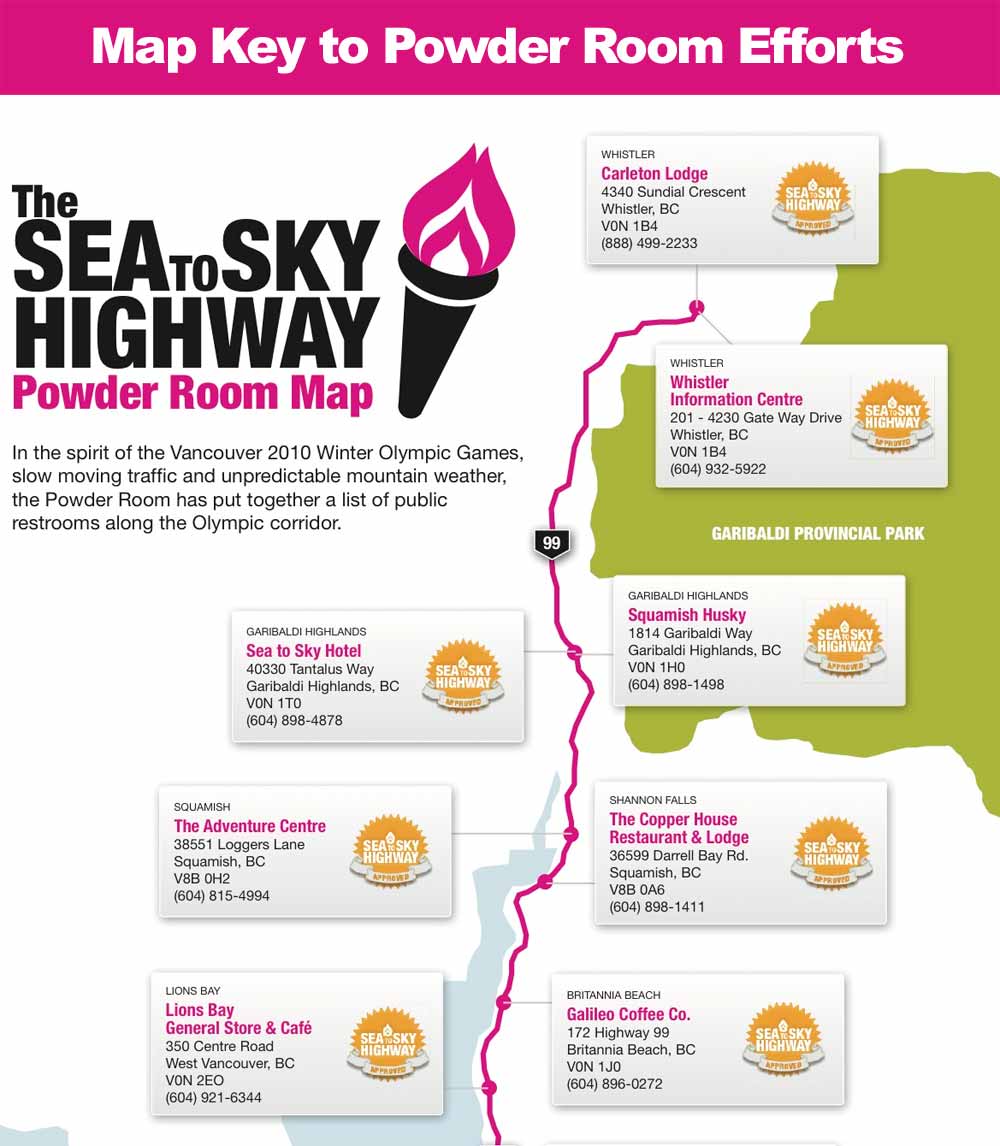 An interactive map that details restroom locations across Canada served as the centerpiece of the Powder Room campaign around the 2010 Vancouver Olympics. In 2010, PR efforts drove a 38% increase in Web traffic for www.powderroom.ca. Source: energi PR
A MAP AND A GOAL
For the 2010 Olympics campaign, the Cross-Canada map was to be leveraged as a field guide for individuals with OAB traveling from Vancouver to Whistler, and as a unique awareness-raising media story during an overly saturated media market in February 2010.
While the overarching goal of the campaign was to leverage the Olympics as a platform to generate awareness of OAB in Canada, the specific objectives were to increase Web traffic from the previous year and generate 20 million impressions from positive national media coverage throughout February and into March.
Beginning in January 2010, a four-person core team began PR outreach through multiple tactics to a myriad of audiences around three key messages:
• The Powder Room is a national program for individuals suffering from an overactive bladder; visit powderroom.ca for more information.
• The statistics highlighted by research: 28% of Canadians have the urge to urinate that is sometimes difficult to put off, and 30% urinate more than eight times in a 24-hour period.
• Finding a bathroom can help people with OAB feel less stressed and frustrated.
TARGETED APPROACH
Peterson says a major strategy in working with the Powder Room is to target travelers. "Travel is a huge struggle for OAB sufferers," she says. "They are often very frustrated and embarrassed with trying to find bathroom locations while on the road, so they map out bathroom locations in advance as a coping mechanism." Going beyond the key audience of OAB sufferers, Peterson says the other demographic target was women aged 25 to 65 and families traveling with kids.
Key media targets included local consumer, lifestyle, health/wellness and news media from Vancouver to Whistler and the surrounding area.
"We decided to run the campaign around the Vancouver Olympics because from a traffic perspective, the roadway from Vancouver to Whistler would breed a situation where a lot of people would need to use the bathroom," says Barbara Reynolds, director of marketing for Astellas Pharma Canada.
"This campaign is an example of how we can create a sustainable and proprietary public education program and help take a relatively unknown medical condition mainstream." — Carol Levine, managing partner, energi PR
LAND SURVEY
Interviews with senior managers in tourism offices along the Sea-to-Sky Highway were conducted to gain information on where the road's public restrooms were, and if they could be included on the Cross-Canada Powder Room Map.
A news release titled "The Powder Room Lights a Torch to Canada's Best Bathrooms" was distributed on Canada NewsWire on February 4, 2010—timed for the start of the Olympic Winter Games on February 12, which Peterson described as the "critical period."
To reach individuals with OAB or experiencing symptoms, an OAB expert panel was tapped to act as spokespeople for the Powder Room across Canada, with representatives in Edmonton, Ontario and Montreal speaking about OAB and the impact on a person's quality of life (for tips on preparing spokespersons, see the sidebar).
"We developed a national spokesperson—Fran Stewart, a nurse continence adviser—who is often referred to as the 'Bladder Queen.' This term that accurately describes her dedication in the field, to perform press interviews and talk about overactive bladder from a patients perspective," says Peterson.
HIGH-TRAFFIC PR
Peterson says the hardest part was managing the interest from the media and trying to schedule interviews. "The campaign was very strategic in our targeted area, but once we started to get the national coverage it became more labor-intensive from an interviewing and scheduling perspective."
Peterson says that if they had to do it all over again they would have worked to increase the mobile functionality of the Powder Room Web site. While the map was smartphone accessible, it wasn't fully optimized for mobile devices at the time. Peterson says the technology has since been improved, allowing individuals to upload bathroom locations and rate them on the go.
"This campaign is an example of how we can create a sustainable and proprietary public education program and help take a relatively unknown medical condition mainstream," says Carol Levine, managing partner of energi PR.
NOISE REDUCTION
Despite fighting the noise of other Olympic-related stories, the media campaign successfully reached its key audiences —Canadians dealing with OAB—through targeted media coverage. The results included:
• energi PR reached more than 44 million Canadians through 75 positive stories in print, broadcast and online media—exceeding their objectives by more than 50%
• Coverage appeared in a range of top-tiered and targeted local media outlets, such as 680 News and The Canadian Press, Vancouver Province and the Whistler Question.
• Web traffic to www.powderroom.ca increased significantly for the year, exceeding the objective with a 38% increase in 2010 over 2009.
"It was a campaign that was really strategic—we looked specifically at a time and place for travelers, found a need and helped fill it," says Peterson. Energi PR continues to guide Astellas Pharma Canada's PR efforts, and the Cross-Canada Powder Room Map was used in a 2011 partnership with Yummy Mummy, a famous blog and support group for moms, to help Moms suffering from OAB symptoms by using the map while traveling on summer vacation.
A male component to the Powder Room—called the Locker Room—is also in the works to specifically target men with OAB. PRN
CONTACT:
Lindsay Peterson, Lindsay.Peterson@energiPR.com, Carol Levine, Carol.Levine@energiPR.com; Jill Allread, jallread@pcipr.com.