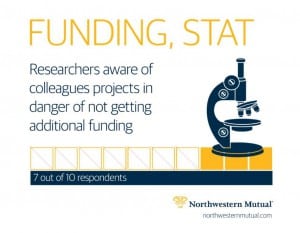 Flashing a cancer survivor tattoo on a bare chest and throwing crutches off the side of a building, kids defy sickness, sadness and pain as they grapple with childhood cancer. These bold scenes are not usually associated with a financial security company, but that's exactly the kind of emotional messages that Northwestern Mutual conveys in its latest video, as it helps families fight the number one disease killer of children. A total of 15,780 children and adolescents will be diagnosed with cancer in 2014, according to the American Cancer Society. That's about 43 kids per day. Unfortunately, less than 5 percent of the National Institutes of Health total funding for cancer research supports childhood cancer research.
In fact, nine in 10 childhood cancer researchers say a lack of funding is the biggest obstacle to finding a cure, according to research commissioned by Northwestern Mutual.
In addition, there are the emotional and financial burdens that families deal with as they battle for their child's life.
That's why Northwestern Mutual launched its Childhood Cancer Program. The program, which debuted in July 2012, is designed to accelerate the search for cures to childhood cancers by providing research funds and supporting families facing the daily struggles of these diseases.
NEW CAUSE
Founded in 1857, Northwestern Mutual has a deep legacy of supporting a variety of community programs both in Milwaukee, Wis., its corporate headquarters, as well as the communities that have satellite offices.
For the first time, the company created a national philanthropic effort that rallied its employees and nationwide network of more than 10,000 financial representatives behind one social cause—childhood cancer.
In the last two years, the results have been significant, as Northwestern Mutual has contributed more than $6 million to the cause, funded more than 35,000 hours of vital research and provided support to more than 3,000 families. The company was able to leverage social media (for the first time) to support a cause by curating content that told an authentic brand story, championing funds for childhood cancer and creating compelling, simple opportunities that empowered people to make a difference.
THE GOALS
The company's most recent social media campaign in 2014, called #MyHeroMom, was able to leverage the spirit of the Mother's Day holiday by celebrating all moms as heroes, especially those brave mothers who help their kids battle cancer.
The effort aimed to achieve the following objectives:
• Increase awareness of Northwestern Mutual's Childhood Cancer Program
• Grow social media fans and increase overall engagement
• Elevate awareness of the need to support childhood cancer research
• Drive funding for childhood cancer research (up to $50,000)
Northwestern Mutual initiated #MyHeroMom, a two-week campaign, with a $25,000 donation to Alex's Lemonade Stand Foundation for Childhood Cancer (ALSF), encouraging consumers, employees and financial representatives to support the cause by helping to raise an additional $25,000.
Each time a consumer uploaded an image of his mom to Twitter, Instagram or Facebook with the hashtag #MyHeroMom, a $5 donation from Northwestern Mutual Foundation was sent to ALSF.
Northwestern Mutual also created a one-minute how-to video for YouTube about #MyHeroMom so consumers could be guided in their engagement options.
Northwestern Mutual rallied employees and financial representatives to send images and messages to honor their moms, and some of these images were featured in the how-to video.
"The campaign offered an easy, yet profound way for consumers, employees and financial representatives to celebrate the positive impact their moms have in their lives, while supporting innovative research aimed at developing cures to improve the lives of children battling cancer," said Nichole Lecher, director of strategic philanthropy and community relations at Northwestern Mutual.
The campaign launched on April 29 on Facebook, featuring a digital mosaic of a mom and her child surrounded by a collage of campaign photos.
The press release illustrated how support of #MyHeroMom would help moms like Dash Wallooppillai and her 11-year-old daughter, Ishani, as she battles a cancerous tumor.
Wallooppillai rallied her family to stay strong when Ishani was diagnosed at age three and underwent numerous rounds of surgery, chemotherapy and radiation—and when she relapsed at age six.
She worked with doctors to make sure Ishani was taken care of during the treatments. Ishani is now off treatments and in remission.
THE RESULTS
#MyHeroMom was launched using an earned/owned/paid media approach, including two paid blogger partnerships and a Thunderclap partnership. The Mother's Day effort achieved all campaign goals, including the full donation of $50,000 to ALSF and funding 1,000 hours of childhood cancer research.
The campaign launched with a feature story on Examiner.com and a link to the video. More than 500 images were uploaded, and about 3,000 more social actions (shares, likes, retweets) were taken. The campaign also generated 130,000 YouTube views and about 53,000 impressions from LinkedIn.
More than 330,000 people viewed the #MyHeroMom content, and 21,000 people engaged with the content during the first week of the campaign.
The partnership with Thunderclap engaged 415,184 people, and the campaign exceeded typical benchmarks by both blog partnerships, garnering nearly 1.5 million impressions.
Mom bloggers—and even a few dad bloggers—generated dialogue about the importance of supporting the cause and Northwestern Mutual's commitment to raising awareness and donations among a key business audience: moms.
Sidebar: 3 Tips on Driving Cause Programs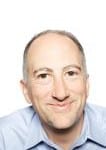 Social impact programs are strategic investments that can successfully communicate what a brand stands for, help drive positive societal impact and achieve a range of business objectives. These objectives include building and improving brand reputation, retaining and recruiting employees and increasing preference and purchase among consumers.
Having developing numerous successful cause programs throughout the last 25 years, we know there are numerous factors critical to a program's sustained success. When it comes to consumers, it is critical to ensure transparency of your mission and goals, demonstrate authentic alignment with the right social issue and communicate in a continual and compelling way the impact of your efforts. Equally important to a program's long-term effectiveness ensuring that critical internal stakeholders are engaged and aligned from the get-go. As we look back on cause programs that didn't garner a high-level of business or social impact, they most likely failed of one or more of what we call the "Four Cs."
▶ Consensus. Confirm alignment and agreement among internal stakeholders on the business objectives of the program and clarify the department and individual roles. Unfortunately, too often many programs fail due to lack of agreement and accountability among key leaders.
▶ Capacity. Ensure that you have enough talent and time allocated to the program to effectively execute. A truly successful program is embedded into the culture of an organization, with nearly all departments playing important roles. This cannot be a one-person operation.
▶ Commitment. Take a long-term approach and make the necessary investments to achieve your program goals. Success around cause programs does not happen overnight; it can't simply be a Q4 promotion. Programs can take up to three years to achieve strong momentum and maturity. Smart companies plan and act accordingly.
▶ Champion. Recruit internal leaders to be strong advocates for the program. The best programs are built from the inside out, relying on senior leadership, as well as front-line employees, to participate, promote and advocate on behalf of the program. —R.M.
CONTACT:
This article was written by Rich Maiore, senior VP for social impact/CSR Group at Cone Communications. He can be reached at rmaiore@conecomm.com.
This article originally appeared in the September 8, 2014 issue of PR News. Read more subscriber-only content by becoming a PR News subscriber today.