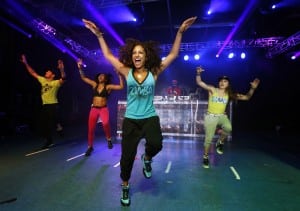 Since its 2001 debut Zumba Fitness has grown from a branded fitness class into a multi-faceted lifestyle brand with universal appeal. The fitness class, which caters to more than 15 million people in 180 countries, fuses entertainment and culture into Zumba's signature dance-driven workout. "One of Zumba's mottos is that it doesn't matter where you are, you can take a Zumba class anywhere in the world," said Allison Robins, PR director of Zumba. "So why not break into a space that fits so well into the brand and the culture of Zumba: music, lights and sounds."
Indeed, with their dance floors and built-in sound systems, nightclubs would seem to be a natural extension for the Zumba brand.
So, in the summer of 2012 Zumba partnered with PR agency MWW, celebrity DJ Lil Jon and celebrity Zumba instructor Gina Grant to create the Zumba Nightclub Series, a four-city, six-show tour highlighting the Zumba experience.
The series, which kicked off last summer, brought the Zumba experience to nightclubs in Boston, Pittsburgh, Queens, N.Y and Cincinnati.
"We wanted to pick cities which had a good base of [Zumba] instructors and could use an injection of Zumba," Robins said.
The effort, dubbed "Experience Zumba in the Club," was designed to:
• Build awareness of the Zumba workout.
• Bring consumers into the fold who otherwise might not be familiar with the brand.
• Expand the job opportunities for Zumba instructors, who have an entrepreneurial bent.
INTEGRATED PACKAGING
Zumba and MWW got the ball rolling by announcing the Zumba Nightclub Series at a Zumba Instructor conference in February 2013. From a communications standpoint, Zumba wanted to kill two birds with one stone.
"We knew we had the talent (instructors) already there, photographers and our social media messaging set up," Robins said. "So it made sense for a pre-announcement on when tickets would go on sale (early 2013)."
The campaign got the word out via numerous media channels, including email blasts, video, social media and messaging at countless Zumba classes throughout the country. Another way to promote the various events: a steady of stream of tweets from Lil Jon and Gina Grant plugging the four-city tour.
"What proved very effective in driving the success of the campaign was an interdisciplinary approach to promote the events before, during and after" the individual event, said Joe Cohen, senior VP at MWW.
He added: "Zumba did a really good job of spreading awareness both internally as well as through different communications channels and online forums that reach Zumba instructors."
Robins stressed that internal communication was mission critical. "It's important to support our instructors and make sure they get the inside scoop" on Zumba's PR and marketing activities, she said. "We want to attract new people and have instructors bring their colleagues and friends" to Zumba classes.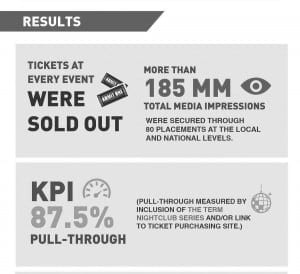 MEDIA CALISTHENICS
Media relations was also key in promoting the nightclub series, which took place last summer. In each market, for example, the PR crew identified select reporters who got a VIP Nightclub experience. This included bus transportation to the events, with Zumba instructor chaperones, who conducted media interviews during the ride to the club.
Zumba music—featuring Lil Jon's tune, "Work," was piped into the bus while healthy refreshments were made available to media reps.
Reporters were also given multi-dimensional press kits that included Zumba apparel and accessories, press materials and an advance copy of "Work."
Media reps also got backstage passes during the pre- and-post show activities and were able to conduct interviews and photo shoots with Lil Jon and Gina Grant.
What is more, to secure media at every stop, PR reps deployed the "Experience Zumba in the Club" strategy and made each show a media event. Take the Zumba gig at Amazura, a nightclub in Queens, N.Y. The week of that event Lil Jon was featured as a guest DJ during the fourth hour of NBC's TODAY show.
The PR team was also careful to promote the nightclub series in real-time, including videos and still images from the events that were posted on Zumba's Facebook page, live tweeting from every site and the dissemination of the hashtag #ZumbaNightclubSeries.
Zumba instructors were also encouraged to tweet, post and spread the word via their own social media channels.
"One of the things to look at when you do a campaign like this is to take existing resources to create more buzz," Robins said.
The campaign also deployed a post-event strategy, reaching out to reporters who covered the events and providing them with video (raw or pre-packaged), images, metrics and follow-up interviews.
THE RESULTS
The Zumba Nightclub Series was deemed a success, with all six shows selling out in just two weeks. The series established a new category for Zumba and a new channel for its instructors. Specifically, the series generated:
• More than 185 million impressions that were secured via 80 articles that ran in both local and national outlets.
• Coverage of the series ran in several major media venues, including The Boston Globe, Huffington Post, In Touch Weekly, the New York Post, SELF, as well on a handful of broadcast outlets.
• The campaign had KPI (key performance indicators) of 87.5% pull-through (as measured by the inclusion of the term "Nightclub Series" and/or link to the ticket-purchasing site).
The series also helped spur the number of Zumba classes as well as participants, Robins said. "If I had known how successful this would become I would have expanded in more locations and made it a lot bigger," she added. "When you have a really good concept and get people on board, you have to trust your instincts and go big."
Communications Tips for Multicity Campaigns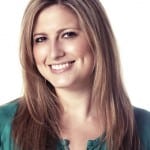 ▶ Know the market. Every city is different and so are its consumers and media. When mapping out your campaign and the cities you want to target, do your research so you know what to expect. For this campaign, we made sure we chose cities with a great media presence and high traffic of our licensed Zumba instructors to help elevate our story. We also made sure to make the event feel organic to the city, choosing venues that were relevant and popular with local residents, and could provide the ultimate "Zumba in the Nightclub" experience.
▶ Create a VIP experience. Creating a multicity campaign brings new opportunities to the table, but make sure you are creating a memorable experience for each city. By hiring a famous DJ, and bringing along one of the top Zumba instructors, we gave fans a one-time-only authentic experience, positioned as "a tour" blending Zumba's distinct style and brand personality with a VIP nightclub. From lighting and sound to music choice and class set up, the effort aligned stylistically with the Zumba brand and gave fans a turbocharged Zumba class experience.
▶ Leverage resources beyond PR. It takes a lot of manpower and time to execute a multicity campaign, so look beyond PR and leverage your resources to get the results you want. From choosing a venue, to finding partners, launching ticket sales (and a microsite) and on-site production, being able to have resources at your hands is an extremely valuable tool and really makes the campaign a 360-degree experience.
While launching a multicity experiential campaign can be daunting, the Zumba Nightclub Series gave us an opportunity not only to share a new chapter of the Zumba brand story on a larger scale but also expand our business in the nightclubs category both in the United States and abroad.
This sidebar was written by Allison Robins, PR director at Zumba Fitness LLC.
CONTACT:
Joe Cohen, jcohen@mww.com; Allison Robins, allison.robins@zumba.com.
---
This article originally appeared in the May 12, 2014 issue of PR News. Read more subscriber-only content by becoming a PR News subscriber today.