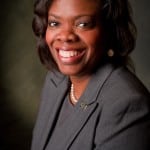 Though Ohio University was the first institution of public higher education in the Northwest Territory with a national and international sphere of influence, many of its most positive aspects were not well known and it was often confused with Ohio State University.
When Ohio University learned in March 2012 that it was a contender in the NCAA Sweet 16 basketball tournament for the first time in 50 years, there was a media frenzy in the state of Ohio.
President Obama visited the state during March Madness and was photographed forming an "O" with his hands, which is often a way of showing sports pride in the Buckeye state. The caption, "Which Ohio team is he cheering for?" was a turning point in Ohio University's brand transformation. Ohio University had been noticed and recognized as separate and distinct from the other university in the center of the state, which quite often had been the center of attention.
In comparison to the same time a year earlier, Ohio University's home page saw a 61% increase in new views and the athletics website saw a 102.3% bump in unique browsers.
IN THE GAME
In 2009, three years before March Madness, the university developed a brand message platform. The next year, the university conducted a perception study to obtain an objective assessment of its brand awareness and equity among its primary target audience—college-bound high school students—as compared to its major competitors in Ohio.
The intent of the study was to establish a benchmark to track the progress of branding efforts. Key measures were awareness, familiarity, overall brand impression and brand imagery.
The key finding was that, though the most important attributes among high school students lined up with the main points of the newly developed message platform, there was an opportunity to move away from the pack of second-tier universities in the state by owning a single attribute that only Ohio University could deliver.
A second study in fall 2012 revealed that the university gained 3 percentage points in unaided brand awareness, representing the largest increase among Ohio's largest universities. One of the implications of the change was that because the brand was on the minds of more college-bound students, the university might reasonably expect these target audiences to be more receptive to future marketing efforts.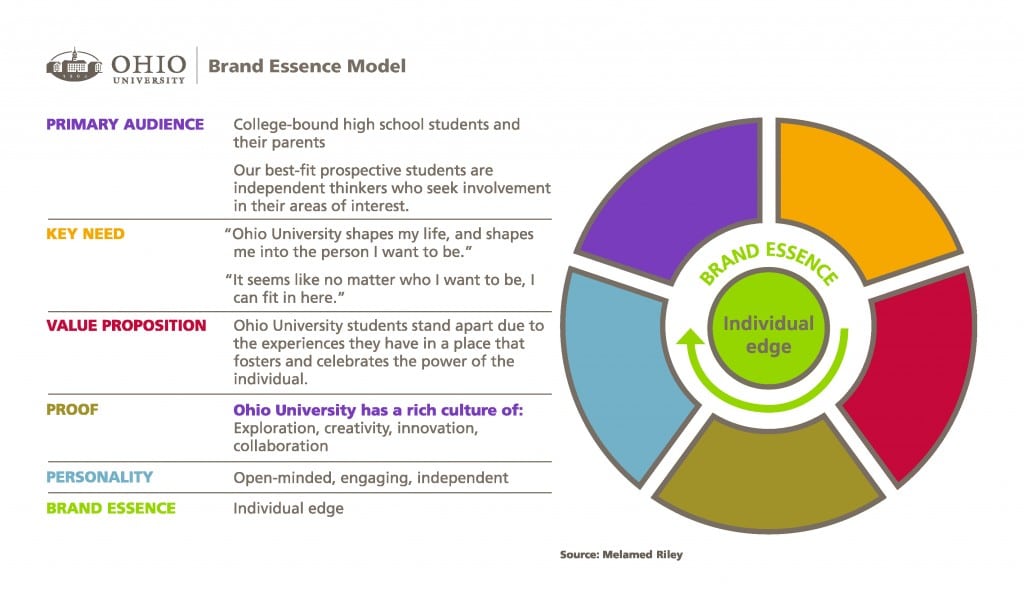 BRAND ESSENCE
The university president appointed a Marketing Advisory Council to help guide the rebranding effort. Using a tool called the "brand essence model," developed by an agency partner, the university was able to articulate its personality, key audience needs and value proposition.
Four concepts were developed, but when they were presented none of them were fully accepted. Additionally, the marketing department favored one and the admissions department liked another. All of this was unexpected and threw a monkey wrench in the timeline.
With the stalemate, it would be difficult to share a finalized concept with senior leaders by the end of the academic year, which was less than six weeks away.
Though not originally budgeted, in order to mitigate this issue the decision was made to test the concepts with prospective students as well as present them to the entire university body to gather feedback.
It was agreed upon beforehand that the process would move forward in whichever direction the pulse of prospective students and the campus community would lead.
The results yielded a clear frontrunner, which would enable the team to work on refining the creative direction during the summer. This step helped get the project back on track to meet a fall 2013 launch.
To increase transparency and help ensure certain stakeholders were kept informed as the creative process unfolded, a password-protected website was developed. When a significant update or change was initiated, the "OHIO Insiders" group received a message, alerting them to review the site and provide feedback, if desired. This method of providing "inside" information to a select group was well received and appreciated.
Once the research was complete and the creative direction established, six members of the marketing staff worked more than 12 months on more than 35 projects associated with the development of the creative assets, planning events and planning the official debut of the new brand.
Besides $50,000 set aside from another department's budget for the new creative—which included the production of television commercials and radio ads and $75,000 for the two research studies—there was not an established budget for the initiative.
The remaining projects were completed as a result of budget savings. Creative concept testing with prospective students in spring 2012 was $9,250 and about $25,000 was incurred in 2013 for printing and the development of a student-designed mobile app. In three years, not including media buys, $159,250 was spent on the rebranding initiative.
STAY ON BUDGET
One of the major creative outputs was the development of four television commercials. To ensure that the concepts would be authentic and inexpensive to produce, students and alumni heavily supported the project.
Four new commercials were developed using a crew of 13 students and 12 alumni. Themes emerged from interviews with 31 students, 17 of whom were featured in one or more of the 30-second spots.
Students, alumni and staff put in more than 3,500 hours developing the commercials.
Graphic design students created the letterforms used in a variety of promotional items, such as the admissions viewbooks for undergraduate recruiting, a microsite featuring 10 students sharing their university experiences, pole banners hanging throughout the campus and T-shirts used as giveaways for a semester-long "brand sighting" contest.
During the launch of the campaign in the fall of 2013, there was great appeal for the approach, creative design and brand messages.
Positive feedback from faculty, students and staff helped confirm what was suspected all along: that a disciplined process of qualitative and quantitative research, critical and comprehensive review, as well as methodical and meaningful refinement can reignite an organization with a brand focus that is relevant and well received by its most important audiences.
Steps to an Effective Brand Strategy
1. Identify your need. Do you need to revitalize your brand or identity? What are the common complaints or comments you hear at your organization about marketing?
2. Build a message framework. What do you want your audience to know about your organization? Establish three key messages and supporting proof points for each. This platform will help guide your description about the organization.
3. Gauge perception. Do your homework and your research. Data is the great delineator. It's OK to have an educated guess, but don't rely solely on anecdotal evidence to support your decisions.
4. Discover your essence. Every organization has a brand. If you spend the time honing in on the distinguishable factors that persuade your key audiences to rely on you, they will undoubtedly be tied to your values and organizational culture. Your core essence should have your competition in mind, too.
5. Develop creative concepts. How will you display your brand visually? What kind of emotional bond will you forge with your audiences? What are the most compelling ways to express your brand creatively, concretely and concisely?
6. Refine them. There are many ways to express the same message. Keep refining your creative "palette" until you have a concept that will work on multiple platforms for an extended period of time.
7. Express them. Now it is time to engage your customers. What media will you use? How often will you use it? What are the best ways to reach your intended audience over and over?
This article was written by Renea Morris, executive director of university communications and marketing at Ohio University. She can be reached at morrisr@ohio.edu.
This article is an excerpt from PR News' Top Case Studies in PR, Vol. 6. To order a copy, please go to www.prnewsonline.com/pr-press/.