WE Studio D's Hot Spots in Austin app offered SXSW Interactive attendees a color-coded heat map aggregated from Foursquare check-ins.
Organization: WE Studio D
Agency: Waggener Edstrom Worldwide Inc.
Timeframe: February - March 2011
It's not easy rising above the sea of noise at the annual SXSW Interactive festival and generate awareness for products, services and brands in the digital space. WE Studio D, the digital group within Waggener Edstrom, set out to make a splash at the March 2011 event—in its most popular year to date—to increase awareness for the Waggener Edstrom Worldwide brand, promote its Social Saloon SXSWi party, drive participation in its Mercy Corps fundraiser and make the case for PR's role in mobile app development.
And at heart of its overall SXSW splash campaign was its Hot Spots in Austin mobile app and the WEdig.it site.
Digital Evolution—PR Style
"It wasn't that long ago that the concept of a PR agency also being a software developer was as crazy of an idea as saying it was going to launch a rocket to Mars, powered by a juicer," says Kent Hollenbeck, Waggener Edstrom senior vice president of marketing and corporate communications. Now it's not such a crazy idea—at least not in WE's view.
Hollenbeck says a main objective for launching an app for SXSW was to raise awareness that the agency has made an investment in its mobile capability and has hired talented developers.
"We wanted to do something that not only highlighted our staff's skill and talent, but also provided value to the attendees at SXSW by giving them access to information and connections they may not have otherwise been able to get," says Frank D'Andrea, product owner at WE Studio D.
Brainstorming at the Hackathon
The mobile app concept for SXSW came from an employee "Hackathon," an event which pairs employees across the agency with developers for a day to try and solve a digital problem within the agency, or capitalize on an opportunity through the development of a new tool.
"The PR industry doesn't need to stand on the sidelines when it comes to innovating and developing new capabilities for software," says Waggener Edstrom's Kent Hollenbeck. "We should be right in the middle and driving its development, especially when you consider how influence works and what motivates people to action."
The idea behind the app was to provide a "heat map of main events" for SXSW attendees, and to use that as a talking point when interacting at the event to showcase WE Studio D's digital capabilities.
"We wanted to take our innovative internal ideas about mobile application development and take them to the marketplaces with a big splash at an event like SXSW," says D'Andrea.
In February 2011, a nine-person team—four developers, one designer and four communications pros—were assigned to the project with a limited development budget of $10,000, along with a delivery timeline of one month.
The Hot Spots in Austin app was designed to be the easiest way for people to maximize their SXSWi experience by highlighting the nearby talks, parties and events that are popular at that moment.
Based on an aggregate of Foursquare check-ins, Hot Spots showed users a color-coded heat map based on where people are located. In addition, the app showcased details regarding the WE Social Saloon party and offered users instructions on how they can contribute to Mercy Corps just by checking in on Foursquare.
"We had to make sure that no matter how popular other events were, the app needed to still have our event front and center, so we triangulated the mapping software so that the most popular activities were in eyeshot of our event," says Hollenbeck.
App-plicable PR Tactics
Once the app was approved and released on the iOS App Store and Windows Phone Marketplace, a series of promotional tactics was launched consisting of internal marketing, employee tweets, blog posts and on-the-ground marketing.
The team produced a Web site landing page at WEdig.it to provide more information about Hot Spots during promotion. Internal intranet stories were published to encourage WE employees to tweet and share the app with clients.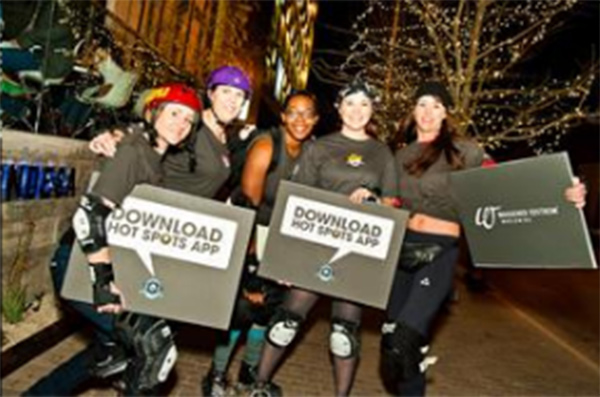 Some of the Texas Rollergirls of the flat-track roller derby league in Austin rolled through SXSW Interactive spreading the word about the Hot Spots in Austin app.
On the ground, a street team with sandwich boards greeted people as they arrived at the airport to promote the app, and some of Austin's Texas Rollergirls were seen around town sporting signage directing people to WEdig.it.
From a PR perspective, Hollenbeck says the campaign's biggest challenge was breaking through the intense informational clutter of SXSW.
"We felt having the app made us really unique—you don't see a lot of PR agencies putting this type of product and software forward that they've developed themselves," says Hollenbeck.
The app, coupled with the creative, more traditional on-the-ground buzz-worthy tactics led to the following results:
• Promotion leading up to the event resulted in early coverage by BBC Travel and CNN. Once SXSWi was under way, Hot Spots was covered by Marshall Kirkpatrick of ReadWriteWeb, leading to re-posts in Forbes, The New York Times and The Wall Street Journal.
• Hot Spots captured the attention of 4,139 conference-goers during the event.
• Roughly one out of every five of the 19,000 attendees had the app installed on their Windows Phone 7 and iOS devices.
• The app's success led to a jam-packed Social Saloon SXSWi party after receiving more than 800 RSVPs.
• The overall success of the event led to more than 450 digital sales leads, in addition to 305 Foursquare check-ins at the party, and a $3,000 donation to Mercy Corps.
• On Twitter, there were 915 mentions of either the app or the #wedig hashtag used to promote the app landing page.
• The WEdig.it landing page saw 3,558 hits over the course of the event.
Hollenbeck says the app successfully highlighted the agency's capability to make a similar, customizable app for any client, and that the team is already looking to build off its success for next year's SXSW.
"The PR industry doesn't need to stand on the sidelines when it comes to innovating and developing new capabilities for software," he says. "We should be right in the middle and driving its development, especially when you consider how influence works and what motivates people to action. Those are things that PR people should be driving, and we would encourage other agencies to take that similar approach."
This is a direct call to action to Hollenbeck's PR peers at other agencies and organizations. Just as nearly every brand and organization now has a Facebook presence, within the next couple of years they will all have their own branded apps. Now is the time for PR pros to go mobile. PRN
CONTACT:
Kent Hollenbeck, kenth@waggeneredstrom.com; Richard Ouyang, rouyang@peppercom.com.