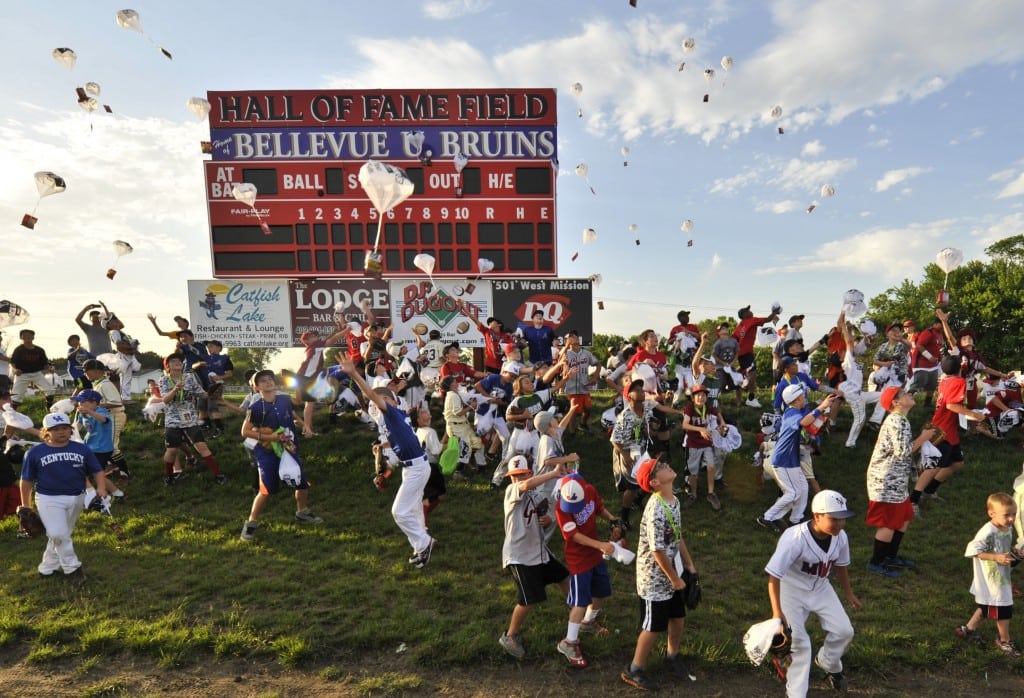 For years, meat snacks sat on gas station shelves or hung from wire displays, relegated to "man snack" category. But they were catapulted into the spotlight with the popularity of the high-protein Atkins diet. When the fad diet lost favor, retailers began consolidating competitive offerings, resulting in a three-way race for category dominance among three brands. At that time, Northern Wisconsin-based Jack Link's Jerky faced two major hurdles. One competitor had deep pockets and size (with its large parent company), and 90% awareness.
Another competitor had an exclusive agreement with a snack food giant that yielded national distribution. For the small, family-owned Jack Link's Jerky brand, there was only one chance for survival: plan a path to grow awareness and build its brand among consumers and reach mainstream status.
Fast forward to today. Meat snacks are now the fastest growing segment of the U.S. snack food market because consumers want protein-filled snacks that are low in fat and portable.
Now, Jack Link's Jerky is a leading U.S. meat snack brand and the No. 1 snack brand purchased in convenience stores.
The keys to Jack Link's success were developing and leveraging the "Feed Your Wild Side" brand position, and executing an annual media relations program to shift perceptions, build stronger consumer relationships, and drive sales.
A GREAT ADVENTURE
Jack Link's consumer target audience is broader than meat snack-loving males. Research shows that just as many women as men eat jerky.
Earned media efforts have been designed to reach an audience representative of mainstream adult snackers who do not currently purchase jerky and instead choose potato chips, pretzels or nuts for themselves and their families.
As a conduit to reaching the target, agency of record, Minneapolis-based Carmichael Lynch Spong creates an annual earned media program that focuses on a wide spectrum of consumer editors and bloggers who cover food, general news and pop culture trends, as well as meat, packaged food and convenience store trade media.
"We challenge Carmichael Lynch Spong to generate earned media coverage to communicate product benefits to a notoriously fickle audience—one that always expects fresh irreverence from our brand," said Kevin Papacek, director of marketing, Jack Link's Jerky.
The annual media relations program reaches consumers in a variety of ways. Here are some examples.
MEET SASQUATCH
In 2006, the "Messin' with Sasquatch" campaign was born. Rooted in TV advertising, it creatively demonstrated how Jack Link's lovers feel after devouring some of their favorite flavors and having a little prankster fun with the legendary Sasquatch.
Jack Link's and Carmichael Lynch Spong conducted ongoing media and blogger outreach—leveraging a variety of pitch angles for specific "Messin' with Sasquatch" campaign activities and branded media kits with product samples—and maintained an ongoing PR news engine of proactive and reactive outreach.
The earned media program also consisted of participation in relevant co-op satellite media tours, editor events for one-on-one media interaction and the creation and distribution of syndicated articles incorporating key messages.
In 2012, Jack Link's and Carmichael Lynch Spong established National Jerky Day to publicly celebrate jerky's proud history and better-for-you snacking benefits and elevate it to the likes of chips, popcorn and nuts, which have long-standing food holidays of their own.
The team organized a one-day consumer and media event at Mall of America, the nation's largest retail/entertainment complex, and created a brand experience for the estimated 80,000 daily guests, engaging attendees with branded photo ops, games, temporary tattoos and samples.
The centerpiece of the event was a 2x3 portrait made entirely of Jack Link's Jerky that immortalized Sasquatch. Extensive media outreach spread the word with a national news release, syndicated article and a time-lapsed video that illustrated the making of the Sasquatch jerky portrait.
In 2013, National Jerky Day helped consumers and the media feed their wild side in an unexpected way.
Jack Link's took to the skies for "Operation Sky Meat," a mighty, meaty mission to drop a massive amount of jerky from the sky and create an attention-grabbing spectacle, thrilling onlookers and media alike, according to Papacek.
Spreading the National Jerky Day festivities farther across the country, Jack Link's took to Hollywood Boulevard for a daylong sampling event and provided charitable donations to several philanthropic organizations in honor of the holiday.
POP CULTURE
In 2012, the biggest media story of the year was the presidential election. Jack Link's threw its own candidate into the ring. (It was Sasquatch, of course.)
In order to capitalize on the buzz of the political stories and the viral, sharable nature of election-related content, Jack Link's immortalized the presidential candidates as 2x3 portraits made of jerky.
The affectionately dubbed "Meat Romney" and "Barack Obameat" were revealed just prior to the Republican National Convention to give media and consumers a fresh and much-needed break from politics as usual and draw attention to Jack Link's.
With success building, each year is filled with the anticipation of topping the previous year.
"We were amazed at how much traction and earned media buzz we received for the inaugural National Jerky Day—so it put the pressure on the following year's planning," Papacek said.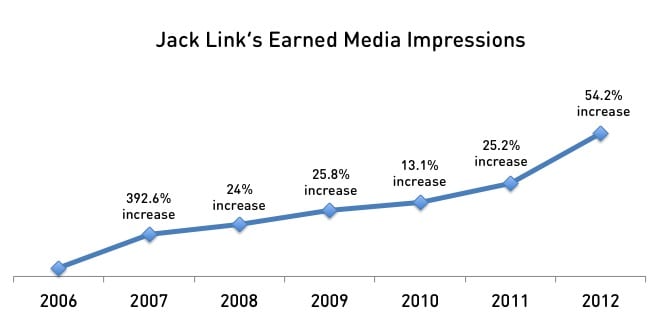 THE RESULTS
Through the eight years of developing and leveraging "Feed Your Wild Side," the company has seen tremendous growth from a business standpoint.
As a private company, Jack Link's does not release financial numbers, but its market share has nearly doubled. As a leading U.S. meat snack brand, it's the No. 1 snack brand purchased in convenience stores, and has made its way into the top 10 snacks sold in all other retail outlets.
Every year the Jack Link's brand garners hundreds of millions of earned media impressions. Some of placements include BuzzFeed, "Eat This Not That," The Huffington Post, The Today Show, ESPN, Mashable, MSNBC, The Dr. Oz Show, The New York Times, The Today Show and The Wall Street Journal.
Each media relations campaign for Jack Link's delivers great learning for the brand and the agency. Close attention is paid to the news of the day and to what's happening with pop culture because the brand and the agency know that it will affect earned media results. PRN
Creating Your Own Milestones (or a Festivus for the Rest of Us)
When planning annual earned media relations programs, developing a "special day" campaign can be rewarding. There are hundreds of observances throughout the year. So you can latch on to one of those, or you can create your own.
That's what Jack Link's and Carmichael Lynch Spong did to create a new holiday—National Jerky Day. Here are four tips to create your brand's special day, and then reap the earned media rewards.
1. Research the calendar. Make sure the special event or day that you want to initiate does not already exist. Determine when your special day should be celebrated and remember to keep it timely.
2. Give people a reason to celebrate. Figure out what makes your special day compelling and different from the other existing events.
3. Register. Submit your special day, for free, to Chase's Calendar of Events, the most comprehensive authoritative resource on special events, holidays and historic anniversaries.
4. Partner and celebrate. In states in which Jack Link's has factories and offices, and therefore contribute to the economy, the company worked with local governments to proclaim Jack Link's Jerky Day.
CONTACT:
This article was written by Grete Lavrenz, senior principal, chair of food and beverage, Carmichael Lynch Spong. She can be reached at grete.lavrenz@clynch.com.
This article is an excerpt from PR News' Top Case Studies in PR, Vol. 6. To order a copy, visit prnewsonline.com/pr-press/.