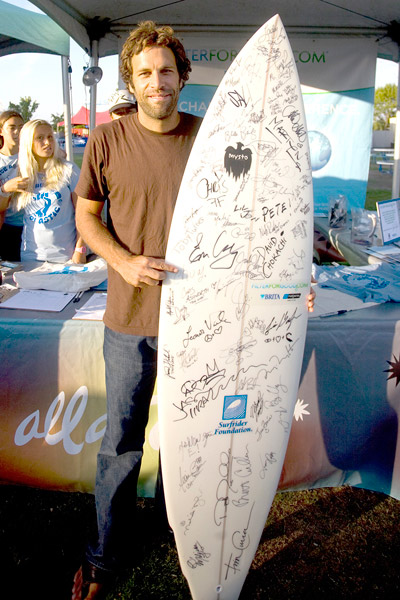 Chairman of the Board: Musician Jack Johnson donated 100% of his "To the Sea" tour profits to nonprofit partners, including Brita FilterForGood's national partner, the Surfrider Foundation.
Photo courtesy of Edelman
To show how small changes can make a big difference, Brita and Edelman joined forces with singer-songwriter Jack Johnson in the summer of 2010 for the Brita FilterForGood campaign. To encourage concert-goers to reduce their bottled water waste, Brita provided Hydration Stations and reusable bottles at venues throughout Johnson's 2010 "To the Sea" North American tour.
By aligning with a popular musician like Johnson—a well-established credible voice in the environmental and music community—Brita was able to organically insert the FilterForGood campaign's message in the tour and set an example for advanced green practices in the live music industry.
Since 2007, The Clorox Company, makers of Brita products, has worked hand-in-hand with agency Edelman on the FilterForGood program. The campaign's primary PR objectives were to reduce bottled water waste and generate awareness among media, influencers and consumers of Brita products as a key ingredient in living a sustainable lifestyle. The campaign has hit the road with several touring artists, including U2, Lady Antebellum, The Black Eyed Peas, Dave Matthews and Ben Harper to spread Brita's sustainability message.
It's this grassroots approach to reducing people's dependence on single-use plastics that helped Brita build a relationship with Johnson, a dedicated leader in the sustainability space.
Johnson's greening efforts, environmental advocacy and personal commitment to protecting the environment is evident in every detail of his work—from recording his CD using solar energy and printing the sleeves on 100% recycled paper to traveling in biodiesel tour vehicles and selling tour merchandise made from sustainable materials. In forming a natural union with a renowned environmentalist of Johnson's caliber, Brita earned a place on tour to discuss citizenship and sustainability with an eager audience.
YOUNG AND GREEN
Research conducted in 2009 by Edelman showed that young adults and concert-goers are especially receptive and influential targets for environmental messaging.
According to the 2009 Edelman goodpurpose Report, protecting the environment remains the No. 1 social cause consumers care about, and 83% of consumers are willing to change their personal habits to make tomorrow's world better. Young adults in particular are more likely to recommend products and start trends since they share thoughts and opinions daily via online communities with a broad audience of peers.
Edelman's audience analysis tool, Media Impact, identified music and alternative radio as key communications outlets, noting that music is often at the forefront of change and that concerts are the heart of the music movement.
MESSAGE OF A BOTTLE
Staying true to the FilterForGood campaign's beginnings, the Edelman team understood that direct engagement with influencers and consumers would help create a strong, authentic relationship between Brita and its target audience. They developed a music tour strategy with unified messaging and integrated tactics to build credibility and authenticity with concert-goers and media about the personal and environmental benefits of using a Brita filtration system and reusable bottles.
Brita and Edelman's combined eight-person core team functioned as an integrated unit, from strategizing to executing. Edelman worked extensively with Brita to determine which tours to partner with, and how to present Brita's relationship with the artist through different forms of media.
INTERACTIVE TACTICS
At each concert venue along Johnson's 35-stop North American tour, a member of the core team would gather and lead 100 volunteers to help run Brita's outreach in educating Hydration Station visitors on practical actions they could take, such as taking the FilterForGood pledge to go "bottled water free." Interactive displays and games also allowed fans to connect with the campaign and Brita products in an entertaining and engaging way throughout the tour.
Brita's partnership with folk-rock singer Jack Johnson proved that music, CSR and social media do mix. As Johnson sang the praises of reusable water bottles during his 35-city 2010 summer tour, Brita's FilterForGood Facebook page saw a steady rise of fans. Some of those fans, no doubt, came from Johnson's own Facebook page flock of about 3 million fans. Source: Edelman
INTERCONNECTED MEDIA
While the campaign was successful in securing coverage through a variety of channels—traditional print and online, and social media—Lainey Canevaro, senior VP at Edelman, notes that she and her team always tie coverage back to their social media activities and use both sides of the continuum to share information.
"There is no 'traditional' and 'social' media anymore—it's all interconnected and works in a cycle," says Canevaro. "The goal for gaining media coverage should be that people can share the content and pass it on again, whether it's to your viewers, to your readers, followers or friends."
Using Twitter, Facebook and YouTube to elevate the conversation, Jack Johnson and FilterForGood engaged consumers by sharing exclusive videos, photos, live tour updates and concert ticket giveaways to fans and followers while promoting the Hydration Stations in advance of each show.
"We've had a Facebook and Twitter presence for the past couple of years, and one of the things that's important to us is we don't just jump in and out of the conversation," says Canevaro. "We try to stay engaged in social media conversations in order to have a credible face in place."
Brita and Edelman also organized mobile text-to-win sweepstakes and encouraged fans to text Brita's short code for a chance to win various prizes, including autographed memorabilia and a grand prize concert package—and to sign up for Brita alerts both before and during the events.
The live event, media coverage and digital PR efforts resulted in refreshing results, including:
• Nearly 7,000 concert-goers took the FilterForGood Pledge to go bottled water-free during the "To the Sea" tour.
• Because the tour went bottled water-free, 60,000 disposable plastic water bottles were kept out of landfills.
• Johnson demonstrated his support of FilterForGood's mission by sharing the partnership on his Facebook page to his more than 2.8 million Facebook fans (now 3.3 million).
• Throughout the concert partnership, FilterForGood's Facebook fan count increased by more than 83% (see chart for details).
• Nearly 30 print media outlets covered FilterForGood's involvement with Johnson's tour, earning more than 11 million impressions, including placements in Metro New York, Us Weekly, Billboard, Adweek and Brandweek.
• New York Times reporter Stuart Elliott announced the partnership in an exclusive post in the Times ' influential Media Decoder blog.
• At the end of the tour, Johnson received Billboard's 2010 Humanitarian Award for his involvement in a wide range of environmentally conscious and philanthropic efforts, including his work with FilterForGood. Brita created a video montage to honor all of Johnson's green initiatives while Johnson was being presented with his award during the show.
• Johnson donated 100% of his "To the Sea" tour profits to local nonprofit partners, including Brita FilterForGood's national partner, the Surfrider Foundation.
FilterForGood's success can be attributed to building an authentic partnership and delivering a credible message, not just landing headlining talent. "We led with a cause, and then brought the Brita brand along for the ride," says Drew McGowan, senior group manager of PR and sponsorships for Clorox. "That's very different than leading with the brand, over-promoting Brita and looking for artists and celebrities to further endorse us."
By engaging with influencers, media and consumers in a credible manner and in the right venues, Brita was able to seamlessly integrate with Jack Johnson's environmental messaging and inspire his fans to consider Brita's brand and products as part of a sustainable lifestyle.
While Jack Johnson won't be touring in the summer of 2011, Brita and Edelman are exploring other partnerships with artists and music festivals to deliver their authentic messages to thirsty concert-goers. PRN
CONTACT:
Drew McGowan, drew.mcgowan@clorox.com; Tad Kittredge, Tad.Kittredge,@clorox.com; Lainey Canevaro, lainey.canevaro@edelman.com.
Follow Bill Miltenberg: @bmiltenberg