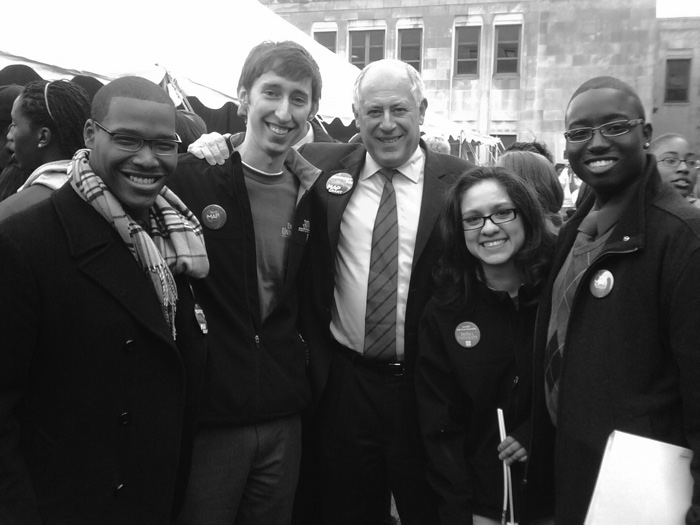 DePaul students rallying in Springfield to restore Illinois Monetary Award Program financial aid funding took their case directly to the governor in October 2009. Left to right: student LeAaron Foley; student government president Dillon Goodson; Illinois Gov. Pat Quinn; student government VP Elena Suarez; and student Charles Snelling.
Institution: DePaul University
Timeframe: April - October 2009
As one of the largest higher education institutions in Illinois, DePaul University faced a major threat to its student body and reputation when nearly $10 million in financial aid was at risk. But a savvy communications and public affairs campaign tapped into the common interests of both internal and external influencers and prevented the much-feared veto.
In October 2009, the Illinois General Assembly planned to cut funding for MAP, the Monetary Award Program designed to provide in-state college students with financial aid. Due to deficits, the state decreed MAP expendable despite the $200 million it was providing to students across Illinois. A school that takes pride in its ability "to provide high-quality education to promising students regardless of their backgrounds or economic means," DePaul would have to act fast to save the 4,600 undergraduates that received MAP, and the 138,000 students statewide, from no longer being able to pay their tuition.
Determined to live up to its stated mission, DePaul took action to launch a PR campaign to restore MAP funding before the upcoming veto session only a few weeks away.
"The objective perspective was twofold: to raise awareness that this is an important program, and to make people aware of the need to fully fund it and that we couldn't accept this cut," says Peter Coffey, director of government affairs, DePaul University.
Several initiatives would have to be met before the needs of the affected students could be replenished. Gaining the General Assembly's attention would first require gaining the attention of multiple audiences, including faculty and staff, trustees and alumni, and—most importantly—the students themselves.
Public, private and community college students would need to collaboratively get involved to show that they—both those utilizing the grants, as well as their more financially secure peers—would be affected by the cut. According to Coffey, even those who would be losing funding lacked awareness about the issue.
"Because financial aid is complicated, there were students who were receiving the MAP and weren't aware of it," Coffey says. "We had to educate students by telling them they had this, where the dollars were coming from, and who was the right person to call."
COALITION BUILDING
Coffey explains that before reaching the legislators, project participants would have to reach students and families so that they could collectively contact the appropriate legislators according to where they reside. In a time when revenue is down and demand is increasing for state services, involving the government would mean making them see MAP is critical to the success of DePaul, which had students from 58 of the 59 senate districts in Illinois, and to the success of schools statewide.
"We wanted to be sure that the legislators didn't view MAP as a luxury," Coffey continues. "We matched up students to their legislators, put a face on it and personalized it. As phone calls and letters and e-mails increased, the legislators became very aware that this was important in their district."
While cohesiveness undoubtedly brings about the most success in initiatives like these, another important aspect to any campaign is good leadership. In DePaul's campaign, the newly appointed vice president of public relations and communications served the purpose of organizing internal and external audiences. From her first day on the job, DePaul turned to Cheryl Procter-Rogers to give advice on what the university might do to persuade state legislature to reverse the faction.
"My role was facilitator and counselor," Procter-Rogers explains. "When I looked across the institution, it was clear to me that in order to create a strategy that would have an impact, we would have to include all of those who intersect with this issue."
She accomplished this by identifying any organization or group that was somehow related to the issue at hand, and could provide assistance to the campaign's goals. This included working with internal areas, such as the Government Affairs Unit at DePaul, as well as bringing in outside forces, like students' parents. Outlining a common purpose for everyone involved ensured that DePaul's collective voice would be heard.
Additional internal organizations included the Student Government Association, Student Affairs and Financial Aid and Alumni Relations offices. The campaign also scored the involvement of the Federation of Independent Illinois Colleges and Universities (FIICU) and other higher education associations.
For the FIICU, which represents 58 private, nonprofit colleges across Illinois, the MAP initiative was a critical one. "It was essential to keeping college affordable to thousands of students in the state," says Paul Frank, VP of government relations at FIICU.
"A lot was already going on, it was just a matter of bringing all these efforts together to integrate them into one campaign," says Procter-Rogers. "When you have an issue that affects a small percentage of the student body, what about the three-quarters that are not impacted? How do you make this issue relevant for them? You must find the commonality that will bring the cohesiveness to this group quickly so that they see the benefit of working together."
ARMY OF SPOKESPEOPLE
Communication was quickly pursued in a variety of ways. Students were alerted to the cause through an e-mail blast, the university reached out to encourage support within and outside the DePaul community and, eventually, letters and e-mails were sent by staff and students to a range of legislators. Leaders of the university were made available to speak to the media, and op-ed pieces appeared in school and local newspapers.
Facebook and Twitter got the word out, and an online newsroom, alumni page and other areas of the DePaul Web site advertised the campaign.
Offline, information kiosks were set up around campus where students could learn about MAP's importance, and provide the input the campaign needed by sending congress an e-mail on the spot from the provided laptop computer.
In addition to sending letters and sharing personal stories, a rally was organized for Oct. 15 to ensure students and other concerned individuals were both seen and heard. With an initial estimate of 30 to 40 participants, nearly 200 students showed up to display their T-shirts, buttons and signs that presented the DePaul colors as well as the undivided opinion that MAP should not be wiped of the map.
The success of the initiative became clear on several fronts:
• Letters to Legislators: More than 3,000 people in the DePaul community wrote letters to their legislators urging the restoration of MAP.
• E-mails: After the DePaul president sent an e-mail urging the university community to utilize the FIICU's letter-writing tool, the FIICU Web site collected and sent 4,045 Save MAP e-mails to Gov. Pat Quinn, and other legislators.
• Rally Rebels: The close to 200 students present at the rally included effective speakers who brought awareness of DePaul's mission to the 2,500 government figures, academic leaders, Illinois students and other community members present.
• Media Placements: 35 major media outlets delivered the Save MAP message to 5.5 million people. This included an op-ed placement in the Chicago Tribune and coverage by every major Chicago broadcast outlet.
On Oct. 18, 2009, a news conference was held that featured Gov. Quinn—joined by DePaul's president, students, and mascot—signing the bill to restore MAP funding. The Illinois General Assembly had passed the bill three days earlier with a nearly unanimous vote.
Today, however, the battle for MAP funds continues. According to Coffey, Gov. Quinn has proposed a $25 million increase in MAP's budget, but the state budget hasn't been approved yet—the deadline is June 30. Fifteen DePaul student representatives went to Springfield on March 3 to lobby representatives to support MAP funding. The Student Government Association at DePaul also passed a formal resolution in support of MAP and this will be presented to the governor and legislators in the coming weeks. PRN
[Editor's Note: This case study
was excerpted from the just published PR News Top 100 Case Studies in PR Guidebook,
Vol 5. Go to www.prnewsonline.com/store/49.html for more information.]
CONTACT:
Peter Coffey, pcoffey2@depaul.edu; Paul Frank, paul@federationedu.org.