Diverse Appeal, FedEx's custom publication covering the company's diversity efforts, has been a staple of the delivery services giant since 1997. For years, the quarterly magazine was produced by the human-resources department and distributed to 18,000 FedEx employees across the U.S. However, in the fall of 2011 FedEx decided to change the editorial direction of the publication and expand its audience.
"We needed to focus the editorial more broadly and increase the focus on our nonprofit sponsorships, such as the NAACP and Dress for Success, as well as scholarships found throughout the entire organization," said Pam Roberson, communications advisor, diversity programs for FedEx.
She added, "We also wanted to address the volunteerism throughout the company because we have volunteers who are very passionate about supporting nonprofit organizations in their communities."
To steer the change, FedEx shifted the responsibility of producing Diverse Appeal to the company's PR department, moving out of HR.
The communications team proceeded to produce a comprehensive redesign of the publication, with more color, improved paper quality and sharper editorial.
Yet the magazine makeover was just one aspect of a multipronged PR program designed to enhance FedEx's messaging when it comes to diversity.
The program, which captured PR News' 2013 CSR Award for Diversity Communications, features four print and online publications/channels, with Diverse Appeal leading the editorial pack.
The overall objectives of the FedEx diversity communication campaign included:
• Effectively communicating the FedEx commitment to diversity and inclusion to both internal and external audiences.
• Raising awareness among all audiences about FedEx programs, initiatives and outreach focused on diversity.
• Providing sales executives and other stakeholders with useful narratives and statistics on diversity in order to enhance RFPs for potential business.
TURN THE PAGE
FedEx's PR team kicked off the diversity campaign by overhauling Diverse Appeal. Rather than strictly covering FedEx's CSR efforts and philanthropic donations, the team shifted the editorial to focus on FedEx managers and non-managers alike, so long as they had a compelling story to tell about diversity.
For instance, since the relaunch in late 2011, the magazine has run a significant number of articles on FedEx employees who work with small businesses, many of them minority-owned, according to Roberson.
"We not only want to talk about marketing to a diverse customer base but also want to make sure our diverse suppliers are aware of the opportunities in working with FedEx," she said.
Take the Winter/Spring 2012 issue of Diverse Appeal. It includes stories on entrepreneurship in Africa, effectively managing across cultures and youth mentoring. Featuring glossy photography, robust graphics and user-friendly content, the magazine would feel right at home on consumer-magazine newsstands.
With a more inclusive approach between the covers, FedEx increased Diverse Appeal's circulation to 30,000, from 18,000 (FedEx has a total of 300,000 workers worldwide.)
Part of the increase in circulation is due to a new electronic version of the magazine.
In addition to being promoted to all employees across all FedEx's operating companies, Diverse Appeal is made available to the general public via FedEx's Facebook page, the FedEx Blog and the "Diversity" sub-page of the "About FedEx" section of the corporate website.
BETTER PACKAGING
The new editorial approach has resonated with FedEx employees. For example, Inanc Inan, a senior financial analyst at FedEx Express in Canada, wrote a letter to the editor praising the publication.
He added: "As an immigrant and a gay man, I would be one of the people in the professional world who truly understands and appreciates the value of efforts promoting diversity.
Productivity of our communities and corporations will only grow as we embrace our differences and the synergy that comes out of that."
Repackaging Diverse Appeal, however, is part of a larger effort to raise awareness about FedEx's diversity-related activities.
FedEx's Global Citizen Report, an annual publication that launched in 2010, also got a makeover in late 2011 to add more coverage of FedEx's diversity efforts on the ground level.
"A huge part of the report now talks about our people," Roberson said. "We have a 'People' section that covers statistics and information about the workforce and [employees] who have a fuller view of diversity within the company."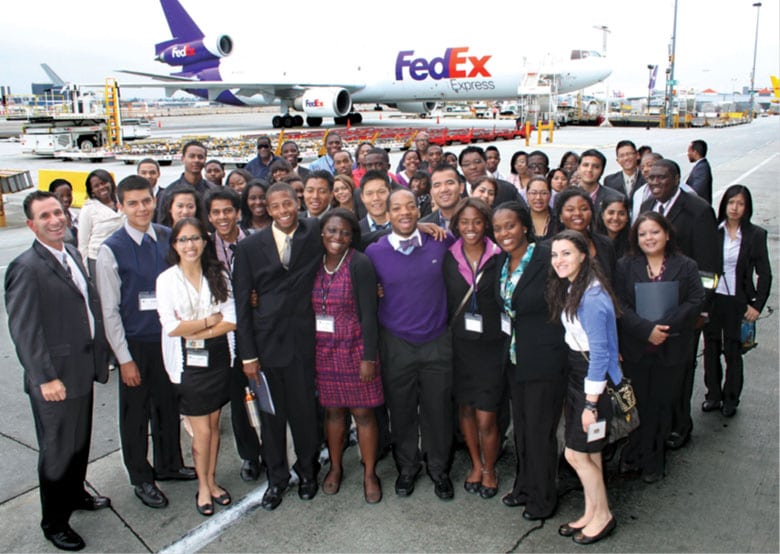 NEW DELIVERY
As part of the diversity campaign, the PR crew at FedEx also made some alterations to the company's blog. Previously, the blog's diversity coverage consisted mostly of articles written by senior managers discussing the company's business-related efforts at growing diversity.
In contrast, the new blog features articles written by FedEx employees focusing on what they are doing "on the front lines" of diversity, Roberson said.
In the last several months, the blog has commanded significantly higher exposure. For instance, the average number of views for non-diversity blog posts is 1,772, while the average number of views for diversity-related posts is 2,223, according to FedEx.
The final piece of the diversity campaign is Diversity Outcomes Report, a 16-page brochure that rolled out in September 2012.
Roberson said the brochure has helped to tie all of the diversity efforts together. "We're constantly being asked by employees, 'I'm ready to meet a customer, what kind of information can you share with me about diversity?'" she said.
Diversity Outcomes Report, with an annual frequency, provides a general overview of FedEx's diversity efforts and serves as a sales and marketing tool for senior FedEx employees to share with customers and prospects.
Roberson stressed that that the overall response to the diversity campaign has been overwhelmingly positive. "It took all of these pieces of the puzzle to make it work," she said. "We wish we could have done some of these things sooner."
Still, the results have been solid (see the infographic, previous page).
Roberson stressed that there are two things to keep in mind when plugging diversity.
"You need to get everybody who you can talking about what you're doing," she said. The second piece of advice? "Social media changes the landscape. It encourages people to talk about your efforts and take pictures. The more people talking about [your efforts] the better." PRN
Pam Roberson, pam.roberson@fedex.com
Changing the Mix in Diversity Communications
Diversity communications has become a crucial aspect of a brand's overall messaging, particularly when it comes to employee relations. Pam Roberson, communications advisor of diversity programs at FedEx, shared some tips on how to improve your diversity programming.
1. Get everybody talking. Empower employees who volunteer at company-sponsored diversity programs to use social media to talk about their experiences. Twitter, Facebook, Instagram and other social platforms can be powerful tools to spread the word about what the company is doing in the community.
2. Make sure leadership is involved. Have senior executives set aside a few minutes in their regularly scheduled town halls or other departmental meetings to include stories, photos, videos and other messaging about diversity-related initia ti ves and volunteer opportunities. This will not only help raise awareness across the corporation, but help increase the number of internal "brand ambassadors" for the company. If you have a company blog, encourage executives who may have a personal interest in a particular organization or cause to post about their involvement and what it means to them that their company supports these types of programs .
3. Use third-party endorsements. It's one thing for a company to demonstrate to the news media the good work the company is doing by having employees volunteer to mentor kids, but it's significantly more powerful if the mentoring organization is the one telling the story. Encourage the groups you support to have their leaders and staff (as well as your own employees) use social media to talk about the impact your company's support has on their efforts.
This article appeared in the August 26 issue of PR News. Subscribe to PR News today to receive weekly comprehensive coverage of the most fundamental PR topics from visual storytelling to crisis management to media training.