In order to present one identity—as a comprehensive lighting solutions provider— Philips decided to completely reposition the company by consolidating brands. To accomplish its goal, Philips worked with Global Experience Specialists (GES) and unveiled this new approach at Lightfair International (LFI) 2013. Prior to 2013, Philips had 40 brands exhibiting in multiple exhibit spaces at LFI, each heavy with product displays. The new positioning required GES and Philips to produce a single 10,000 square-foot innovative booth to house all previously separated brands. This booth ultimately won Best of Show.
MAIN OBJECTIVE
The primary objective was to attract Philips' target audience of lighting designers and engineers with a highly visual, unique show floor presence, while also positioning Philips as the leader in lighting technology and innovation.
All products and market segments had to be represented in one exhibit, including office, hospitality, retail, outdoor, healthcare and components.
Merging 40 brands into one seamless experience is no easy feat. Strong, organized and open communication between Philips and GES was essential to ensuring the success of Philips' unveiling the "One Philips" identity as a light solutions provider.
For a project of this nature, you can help keep everyone in the loop by getting together often and maintaining a predetermined meeting schedule, while also having one individual provide a notes summary after each meeting.
In the months leading up to LFI, GES met with Philips' segment leaders on a consistent basis to review ideas, strategies, floor plans and renderings.
Being on a tight timeline, it was most helpful to have everyone involved throughout the communication process.
For instance, instead of the client meeting with the sales team and the sales team filtering information to the detailers and project managers, the detailers talked directly with Philips' product engineers.
By removing the middle person during these conversations, all answers were provided quickly and the detailers and product engineers could work through solutions together, in real-time.
When the job is technical and time sensitive, the transfer of information is best shared live. Further, everyone on the team should know what his or her counterparts need regarding deliverables; in this case, the overlapping of information is a good thing.
Make sure you have the right team as the project develops. The team at the beginning will be the strategists who design the overall objectives. The team at the midpoint will be the product managers, while the team at the end will be the technical staff and engineers.
Circle back to the original strategy team and the client's technical experts team often to be sure you remain on track.
For example, while producing Philips' exhibit, the rubber road product engineers were involved in the early stages of development and were brought back in the loop before construction began. By doing so, the engineers had general visibility into the project, were able to offer feedback, and could recognize their responsibilities.
BE FLEXIBLE
In the past Philips' many exhibits at LFI were organized according to brands and products. Since merging the brands, GES and Philips had to create a way to present the newly organized six market segments (office, hospitality, retail, outdoor, healthcare and components).
The key to designing these segments was the incorporation of spatial and monetary flexibility.
The team had to make sure that segment floor plans did not get too tight too early. With so many products merging into one space, it's best to allow the segment designers breathing room so that areas can be as fluid as possible.
This is achieved by leaving extra space when designing the floor plan. For instance, if one segment leader finds she needs a bit more space to incorporate products, then the surrounding segments can be shifted from the left or right.
BRAND INTENT
Research. Research. Research. To understand a brand's intent, you need to know its products inside and out.
By taking a proactive approach and researching more than 200 Philips products and their controls, GES was able to strengthen its ability to recognize patterns between products, analyze how light illuminates the environment, visually harmonize segments and successfully present the "One Philips" identity—making light the focus, not the product. It also increased product knowledge and ensured that innovative solutions were more easily ascertained.
The team could triumphantly come up with solutions to questions such as, "How do you transition from office lighting to outdoor lighting without it being a jarring experience?" and "How can we display products in the hospitality segment to help attendees feel the experience of light?"
As the saying goes, "Knowledge is power." In order to present an exhibit that moves away from a focus on the products themselves as separate entities to a focus on what the products are able to do for the market—the solutions they provide—you must first understand the intricacies of the products and how they fit together.
For example, in the Hospitality Segment, GES created a gallery for the SkyRibbon product launch.
With color emitting only from the SkyRibbon in the 14'x30' ceiling, this product demonstration articulated visually to the attendees that the SkyRibbon could effortlessly transform an environment.
For a lighting demo to be deemed successful, the beam angles, spreads and the reflective qualities of the materials in the space have to be taken into account in the design and construction.
Traditional applications for the SkyRibbon are semi-permanent and mudded into the surface for a flawless effect, but LFI, GES and Philips needed to come up with a way to install it for the temporary three-day event.
The team developed an innovative solution while these products were still being developed, which ultimately led to a successful and stunning visual display.
NEW CHALLENGES
Changes are inevitable. You will have to hit a curveball every now and then. To alleviate some of the stress that comes with unforeseen changes, track your progress on spreadsheets, use diagrams whenever possible, and (as mentioned earlier) share information among team members and meet together often.
To overcome logistical challenges, know your environment. Venue and exhibit location within the building all played a part in determining the best way to present the six different segments.
Ceiling height, show management and electrician restrictions, etc., were all topics that needed to be addressed before ideas (as to how best present One Philips) were suggested to the client.
The last thing you want to do is propose a great idea that turns out to be a logistical nightmare.
Use spreadsheets and maintain an open dialogue with the client to orchestrate shipping, organize what products you need and when, discuss show freight and determine manufacturing timelines.
Integrating numerous individual products into one experience can also be tough. But doing the necessary research and preparation meets this challenge head on.
Know the products and understand the industry (as an example, if the lighting industry is going through a dynamic change by transitioning to digital technology, you should know that).
Understand the client's intent, ensure an environment where innovative ideas and solutions are welcomed and recognize the many possibilities that come with blending art and science.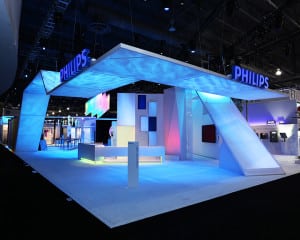 EASING COMPLEXITY
Teamwork is essential to complex projects. Teams face challenges together—from development to implementation. Solid teamwork ensures that innovative ideas and solutions necessary to push through a project's challenges are only a phone call or meeting away.
For instance, GES and Philips needed to install a high- end rustic display in the retail segment of the LFI booth—definitely a challenge in need of a solution.
Instead of one person or group trying to determine the best idea, the site foreman, shop detailers, lighting designers and salvage yard joined forces to discuss the display. Ideas were proposed, merged and molded, and ultimately an effective solution was discovered that also aesthetically tied in with the other segments. The result? An innovative success. PRN
(This is an excerpt from PR News' Top 100 Case Studies in PR. To order a copy of the guidebook, please go to www.prnewsonline.com.)
CONTACT:
This article was written by Nicole Howard, communications specialist at Global Experience Specialists (GES), and Stephanie Hall, senior marketing manager at GES. Nicole can be reached at nicole@viad.com, and Stephanie can be reached at shall@ges.com.
Key Ingredients for an Effective PR Team
Leadership. Without strong leadership, it's next to impossible to establish an effective team. Before you organize a team, make sure you have the right person at the helm. If you're at the helm, learn what it takes to be the best leader possible—don't just talk the talk, walk the walk.
Trust and respect. These qualities go hand in hand, and a team can't function without them.
Communication. Open communication provides a solid foundation for success and innovative thinking.
Organization. Knowing who is in charge of what is key to keeping on schedule.
Goal-driven. Outlining goals and ensuring that they match up with the company's overall objectives helps keep the team members passionate and striving towards a successful end.
Transparency. Don't be afraid to allow the team members visibility into their colleagues' projects. It'll help everyone understand how their individual responsibilities fit into the bigger picture, and ideas will be able to be discussed across the board.
The story originally ran in the Feb. 10, 2014 issue of PR News.
Read more subscriber-only content by becoming a PR News subscriber today.