Federal public housing was established in the 1930s as an answer to insufficient housing and unemployment during the Great Depression. Today, 2.2 million people in the U.S. rely on public housing as a viable living solution; however, negative stereotypes associated with public housing present challenges for residents and communities. This prompted HAI Group, a family of companies that serves public housing communities with niche insurance programs, to lead a campaign to improve the perception of public housing. Its non-profit entity, HAI, Inc., partnered with Cone Communications to develop and launch ReThink: Why Housing Matters. It challenged Americans' misperceptions about public housing by reinforcing its benefits through compelling story telling initiatives.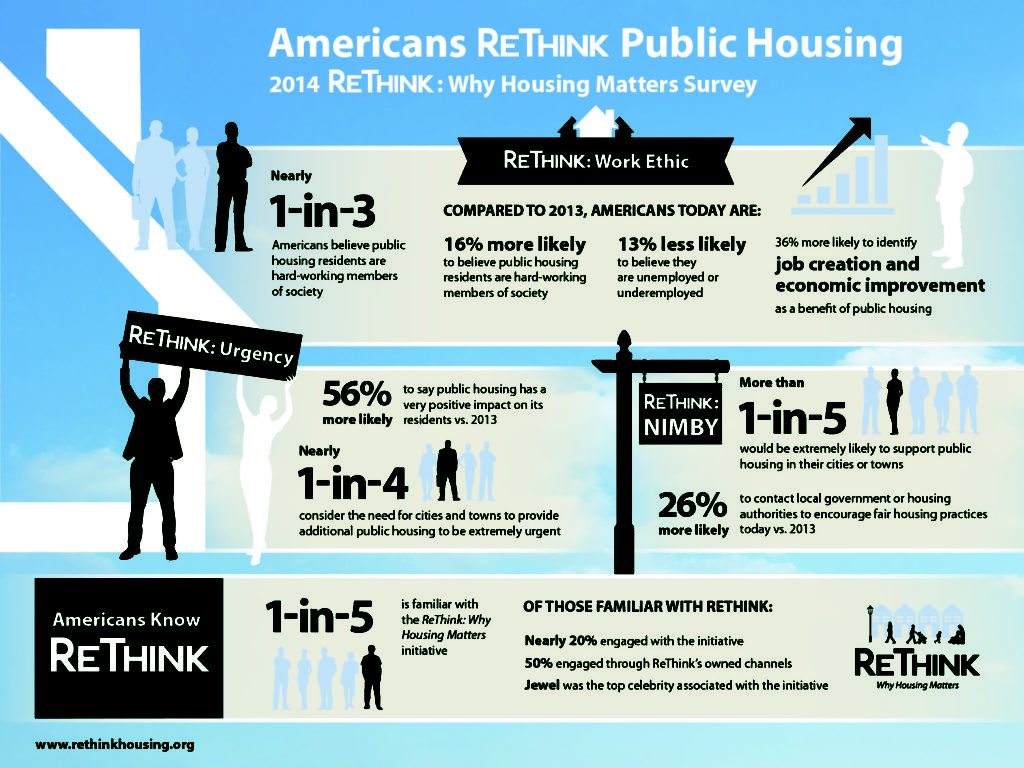 THE GOALS
Planning for ReThink began with extensive research to measure Americans' views toward public housing and establish a benchmark for the campaign.
Media audits and social media analysis revealed most conversations about public housing criticized public housing policy, funding, crime, or the overall effect on community, furthering negative misperceptions.
A survey of 1,000 American adults showed 83% believe U.S. citizens deserve a decent and safe place to live; however, 63% do not support public housing in their neighborhoods and 52% would not want to live near a public housing unit.
The survey also found a lack of knowledge about public housing's benefits; almost half of Americans (40%) believe that public housing has a negative impact. Based on the research and media audits it was decided to infiltrate local media with ReThink messages, as well as create an opportunity to reach national media.
Cone's plan for ReThink included a regional and national earned media strategy, story-telling hub, program logo, branding, and a national PSA with a celebrity.
Singer-songwriter Jewel served as celebrity spokesperson, offering her personal experience with homelessness. A documentary-style video captured Jewel's passion for the issue and relayed stories of people who lived in public housing. Videos were housed on the story-telling hub, ReThinkHousing.org, and on dedicated Facebook, Twitter and YouTube pages.
The campaign garnered 16,000+ website visits; gained 1,300 new Facebook fans and 250 Twitter followers. There were more than 28,000 video views with a 4% click-through rate to the ReThink website from the YouTube-hosted PSA advertisement (4-8x better than industry average of.5 – 1%). ReThink generated 519 million impressions from 6,433 placements nationwide across print, broadcast, online, and social media channels.
The campaign also received praise from high-ranking officials at the U.S. Department of Housing and Urban Development.
THE EXECUTION
Entering the second year of the initiative, HAI, Inc. challenged Cone to find new ways to educate consumers. While ReThink's original aim was to encourage Americans to rethink their views of public housing, 2014's main objective was to move beyond raising awareness, and authentically engage consumers.
That led to the launch of the "ReThink: Why Housing Matters Song Contest with Jewel," engaging Americans and raising awareness for public housing around the common fact that everyone deserves a place to call home.
Through a customized microsite and Facebook application, hundreds shared stories and photos about the meaning of home. Entries served as inspiration for Jewel to write a home-related song.
The grand prize winner met Jewel at a performance of the song, "Home to Me." This effort used a phased approach to maximize media opportunities and consumer touch points:
• Phase I: Jewel brought authentic and credible attention to launch the song contest with top-tier media interviews across all mediums during a media day in New York City.
• Finalist/recording phase: To create buzz for the song, Jewel participated in an interview with USA Today. In addition, media kits were provided to the 10 finalists to help them spread the word about ReThink and drive votes for their entry. Local coverage was secured in many of the finalist media markets.
• Phase II: As part of the April song launch, which included an intimate performance in Los Angeles, Jewel participated in a second media day with top-tier print, broadcast and online media.
THE RESULTS
Music service SoundCloud hosted Home to Me with a customized ReThink-branded page, and embedded a SoundCloud player into ReThinkHousing.org and within social posts across ReThink's and Jewel's Facebook and Twitter accounts.
A paid social strategy supplemented earned media to drive contest entries, voting and song downloads. Media results included:
• 70+ million impressions from 300+ placements that were 100% positive in sentiment
• Key placements included People, the Associated Press, and Access Hollywood, among other media outlets.
•Online coverage included ABCNews.com, Billboard.com, CBSNews.com and Parade.
• Radio stations nationwide shared "Home to Me" online
• 18,000+ website visits since launch, with top traffic drivers being major media placements
• Facebook fan base rose by 138%, Twitter by 119%
ReThink succeeded in starting to shift perceptions about public housing. Research conducted in 2014 showed that, compared to the 2013 results, Americans are 16% more likely to believe public housing residents are hard-working members of society, and 13% less likely to believe they are unemployed or underemployed. Americans are 56% more likely to say public housing has a positive impact on residents versus. 2013.
"When people think of public housing, they think of stark high rises, the way public housing used to be decades ago after the Great Depression. But public housing has evolved," said Courtney Rice, corporate communications and Branding Manager for HAI Group. "Our efforts showcase the vibrant people who live in public housing today and demonstrate how it benefits society as a whole."
Sidebar: A Toast to Third Parties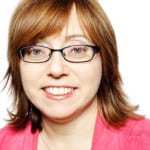 The plan to shift negative public perceptions and drive consumer engagement and support for a decades-old issue such as public housing involved tactics that can be used for a variety of PR campaigns. Below are some of the key lessons from the ReThink: Why Housing Matters campaign.
▶ Create strong measurement. Benchmark studies are identified by the Public Relations Society of America as a best practice for measuring a campaign's effectiveness, including reputation or brand equity. HAI, Inc., proactively undertook a two-phased, Pre-Launch and End-of-Year 1 Survey, and established a national benchmark for understanding and perceptions in 2013 and changes in 2014. While pressure always is on PR to deliver return on investment for its campaigns, applying benchmarking is a tested approach to correlating shifts in consumer perception with awareness of PR executions. We believe the benchmark studies will help set the stage for decisions about long-term planning and prove the campaign has had a demonstrable impact on local perceptions and attitudes in a short period of time.
▶ Pulse content across multiple platforms. Today's ever-shifting media landscape requires an investment beyond earned media to achieve objectives. We decided to pulse out content and assets over a period of time to maximize media engagement. For this year's campaign, we pitched stories around celebrations such as National Housing Month. We complemented this effort with paid media, particularly on Facebook and Twitter.
▶ Work the third-party angle. Always maximize the reach of partners, third-party advocates and supporters. Emphasize how your client is offering viable solutions by arming them with robust campaign assets. In our case, Public Housing Authorities leveraged ReThink campaign assets with their constituents and media to help reshape local perceptions and generate positive coverage. A bonus: The effort also can help forge new relationships and increase engagement from current supporters. —M.O.
(This article was written by Maureen O'Connell, director at Cone Communications.)
CONTACT:
Maureen O'Connell, moconnell@conecomm.com
This article originally appeared in the December 22, 2014 issue of PR News. Read more subscriber-only content by becoming a PR News subscriber today.