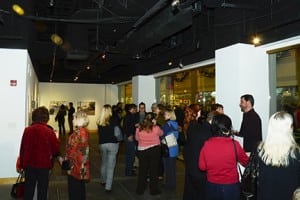 The architectural artifacts of a city—its monuments; its heavy, somber courts and stately City Hall and its aging churches and synagogues—are part of the urban dweller's collective consciousness. They're the kinds of buildings that have weathered the shifting landscape and stood the test of time. But what about city streets that have morphed and changed and redefined themselves?
Those are the streets that tell the story of a city, and one woman in Norfolk, Virginia, decided to help tell their tales. A slew of dusty old boxes of slides, photo negatives and prints of the city's streets throughout history sat in the offices of the Norfolk Redevelopment and Housing Authority (NRHA) last year, waiting to be digitally converted into an online searchable database.
As Casey Scalf, the agency's Webmaster and graphic designer, scanned them, she thought of an idea to help show how much these streets have changed through fires, wars, The Great Depression, and continued to reinvent itself.
While stretches of city blocks get ripped down and rebuilt, many of them remain echoes of their past selves. Newer banks replace older ones, newer retail outlets replace older ones and new residences replace the broken-down homes of yesteryear.
AUGMENTED REALITY
Scalf, who has photographed fine art portraits as well as plenty of rock concerts, pays close attention to tech trends. She had noticed a technique being used in commercials that featured images of older photographs being laid on top of present-day images of the same area.
Called Augmented Reality (AR), the procedure evoked a strong emotion, showing two perspectives of the same location. Scalf decided to apply the idea to her work with Norfolk, using the stacks of old images available to her.
"Being that we are a housing and redevelopment organization, there were a lot of photos that showed drastic changes," Scalf said. "I immediately saw Norfolk in a new light and I wanted others to experience these amazing transformations. An augmented series was the best way to showcase the experience and really impact the viewer."
It took more than 400 hours to digitally scan 23,000 photos in order to create the digital online gallery.
Every photo was tagged and cataloged with keywords such as location or the year in which the photo originated. However, some of the images had no information associated with them.
Then, 18 of the images were selected to be part of an augmented reality series. Scalf preferred photos that had a person in them. "It created a more powerful message," she said.
SHOW, DON'T TELL
Augmented reality has been used in a variety of ways and isn't limited to just using photographs. It often uses computer-generated imagery layered on top of images, whether they are stationary or moving.
Some examples are a computerized map line on a GPS' photographed images of city streets or a football analyst on television "drawing" X's and O's onto a football play after it has ended to demonstrate how it worked.
Television news watchers witness AR at work every night when the weatherperson shows how the cold and warm fronts are moving across the landscape with lines that are on top of radar images.
Scalf's use of AR was much simpler than that, but extremely effective in telling the story of Norfolk and how NRHA's work has affected the city.
STREET LIFE
A good portion of the streets that were photographed didn't have any information attached, so NRHA needed to figure out exactly where the streets were located. Scalf said that figuring this out was the most difficult stage of the project, taking several weeks.
Once the locations were identified, Scalf took to the streets with her camera and the images.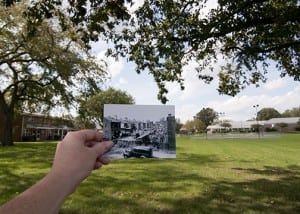 She would get funny looks from passersby when she was standing in the middle of streets with a photo in one hand and her camera in the other. But there were also fellow tech-trend watchers who would get excited seeing her shoot the photos.
The goal wasn't just to showcase how much Norfolk has changed and grown but illustrate how much NRHA has helped foster that change.
The 74-year-old organization has 350 employees and an annual capital and operating budget of $100 million. Its main goal is to "provide quality housing opportunities that foster sustainable mixed-income communities."
The work of the NRHA continues to help shape Norfolk, a city in seemingly constant transition.
To help spread the message of the Augmented Reality images, a local art house, the Seiden Gallery, featured 15 of the 18 photographs in a show that opened in December 2012 and ran for more than a month.
Hundreds of visitors saw Scalf's work at Seiden, which is managed by Norfolk Cultural Affairs, an eight-year-old organization that oversees the city's Public Art program and special events.
Both the Augmented Norfolk series and the digital photo archive were put up on NRHA's website, NRHA.us.
Here are some of the results following the release of the archive:
• The augmented reality images increased the community's awareness of the NRHA much more than a standard photo archive would have.
• The NRHA YouTube channel increased to more than 500 views, nearly overnight.
• The exhibition, which had more than 100 people attend the opening, generated coverage in such local media publications as the Virginian Pilot, Veer Magazine, and AltDaily online.
SPREAD THE WEALTH
"Since our city is rich in history and culture, our citizens and residents were very curious about its history," Scalf said. "Once we launched the galleries on the website, people fell in love with the images."
She added: "It was especially powerful to chat with those people who remember these areas of the city when they were growing up some 50 years ago, and hearing their stories of the transformation. The Augmented Norfolk series really brought back a sense of pride to the community."
The images are currently showcased in NRHA's offices and are often on loan. Most recently they were displayed at the 90th anniversary celebration of local law firm Crenshaw, Ware & Martin PLC.
According to Scalf, there are plans to make a book out of them. Perhaps in another 70 years, the organization will do another photo shoot with an image on top of an image in front of the location.
3 PR Tips on Using Augmented Reality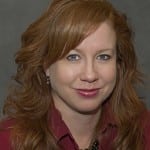 Know your audience. Using augmented reality is a great way to reach millennials while also attracting an older audience because it is still such a distinctive concept. It stands out and grabs your attention. It's a perfect way to marry the old and the new, literally. It transcends generations.
Stay up-to-date. augmented reality has been used by big brands for some time without people really knowing what it was called. It doesn't have to just be a photograph layered on a photograph. It can be more complex than that. A good example is Fox's use of the digital first-down line it uses during its NFL coverage. To use AR in the best way possible for your brand, pay attention to how others have used it. For instance, an AR-enabled Stella Artois app lets people point their phone at a bar and see if it serves that brand or beer (or not) while an Absolut campaign made it so people could point their phones at a bottle and a film would then pop up and show you how the vodka brand was produced.
Be ready to adapt. The thing with AR is that there are all sorts of creative ways to use it, so you need to let your brain play with it a little. In time, I think we will be using AR for everything, from virtually trying out furniture in our house to virtually trying on clothes. I think we will be using AR to look up how to fix things ourselves. Just pull up augmented reality images of your washing machine and it will show you how to fix the issue. We will be using it everywhere in our lives, so there's no reason PR departments and agencies shouldn't use it to communicate their messages.
This sidebar was written by Casey Scalf, Webmaster at Norfolk Redevelopment and Housing Authority.
CONTACT:
Casey Scalf, cscalf@nrha.us; www.caseyscalf.com.
---
This article originally appeared in the April 21, 2014 issue of PR News. Read more subscriber-only content by becoming a PR News subscriber today.