In this digital age, many Americans have a hard time stepping away from their hand-held devices. The annual National Day of Unplugging (NDU) encourages the world to take a break from technology for just 24 hours and remember that there's more to life than staring into your screens all day. The nonprofit Reboot—a hip, Jewish think tank that launched NDU— didn't have a lot of money to publicize the fourth annual event. so PR agency Weber Shandwick had to be very selective about where it put its energy.
The day, which is celebrated on the first Friday of March, had received press coverage in national dailies and tech outlets in previous years. The organization had also partnered with such groups as Slow Food and Volunteer Match in order to encourage people to "Unplug and Eat Together" or "Unplug and Give Back."
"We found that diluted the branding and message," said Dan Lee, the Media Relations Director in Weber Shandwick's Lead Media practice. In contrast, this year's effort was marked by a desire to show how NDU was affecting individuals.
TUNE OUT, TURN ON
To tell those stories, Weber Shandwick dug through numerous studies in order to identify media trends and findings that could help confirm that people are having trouble separating themselves from their devices. Some of the things they discovered include the following:
• A majority of Americans (61%) are addicted to the Internet.
• A majority of American adults (76%) use the Web daily.
• Web addicts have brain changes similar to those hooked on drugs or alcohol.
• The American Psychiatric Association considers Internet addiction an official mental health disorder.
These findings reinforced "one of our core messages—that unhealthy dependence on technology is increasingly becoming an issue," Lee said. "We leveraged each of these points to establish the need for a respite from technology, helping drive our audience to the NDU site."
The site also featured ideas for what to do after unplugging as well as an "Unplug Pledge" for those involved to sign.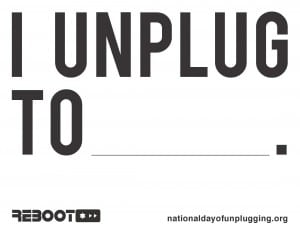 This simple sign was at the heart of the campaign Weber Shandwick Worldwide put together for nonprofit Reboot's National Day of Unplugging (March 1). Participants posted pictures of themselves with the sign and shared with the world what they were going to do when they unplugged: eat hot dogs, play with cats, flirt, etc.

SOCIAL OVERLOAD
One of the key ingredients in the most recent campaign was to ask people to get themselves, their families and their friends to fill in the blank of "I Unplug To ___" on a sign, take a picture of them holding it up, and post it to NDU's website. Those images highlighted the disparate message of how people actually spend their time when away from technology, whether it is sleeping, climbing mountains or chilling out with their families.
The beauty of these images, of course—as well as the Pledge to Unplug on the Reboot site—is they are incredibly shareable on social media. That was a key element in Shandwick's strategy: Engage people to tell their stories and then share them extensively.
Reboot gained a large amount of visibility with its heavy doses of retweeting and reposting (to Facebook) the content that others had created.
But the organization also benefited in another way from generating all that content: "Both of these tools allowed us to collect information about our constituents and to maintain contact with them after the event through collected email addresses," Lee said.
He added, "In that way we moved from promotion to true engagement with people who are interested in the topic of unplugging."
There was also an effort to engage Twitter handles that have substantial followings.
"In 2012, we saw social engagement from key influencers such as designer Rachel Roy, so we sought to leverage that same enthusiasm and reach high-profile influencers who could pass the message to followers," said Tanya Schevitz, national communications manager/San Francisco programs coordinator for Reboot.
In addition to Ariana Huffington and Ashton Kutcher, media outlets such as Harvard Business Review, Time and Yahoo! News tweeted about it, while some outlets either incorporated the #unplug hashtag or provided a link to the National Day of Unplugging website.
A NEW PLEDGE
The emphasis on social media meant that those metrics were the most important to Reboot this year, though it was extremely happy to receive attention from such broadcast outlets as CNBC's Closing Bell, NBC's Jimmy Fallon Live and NBC's The Tonight Show, among other outlets.
Indeed, by the end of the campaign, people from throughout the world had pledged to unplug. The campaign also garnered these results:
• NDU received 6,749 individual mentions on Twitter (reaching more than 19 million recipients).
• More than 28,000 unique visitors came to the NDU website in the month leading up to the event.
• People from all 50 states and 115 different countries got involved in the campaign.
• The NDU Facebook page had more than 5,000 likes and more than 280,000 impressions in the same month.
• The campaign exceeded expectations and collected more than 161 million impressions, with 156 online and 145 broadcast hits including placements in the 'follow' top tier.
Another plus: Reboot has seen continued references to the NDU well beyond the event itself, suggesting sustained awareness.
The majority of the traditional and social media coverage of NDU picked up on the importance of taking regular breaks from technology to reconnect with friends, family and the community, instead of just the one-day tech turnoff.
With a campaign that cost $10,000 to run, that means the program netted a CPM of about 5 cents, including both traditional and social-media impressions.
"We are trying to keep the conversation about unplugging continuing throughout the year by continuing outreach to media (primarily through the agency) and also by doing more unplugging events," Schevitz said. "This year we are also going to reach out to long-lead publications to expand the type of articles written about the NDU."
After all, reaching out is exactly what the National Day of Unplugging is all about. PRN
CONTACT:
Dan Lee, dlee@webershandwick.com; Tanya Schevitz, Tanya@rebooters.net..
Three Ways to Breathe New Life in a Story
New York-based PR agency Weber Shandwick has a reported annual revenue of $500 million and is owned by Interpublic Group of Cos. Dan Lee, media relations director in Weber Shandwick's Lead Media practice, shared his thoughts on how to resuscitate a story in order to gain even better results.
1. Be Socially Savvy. Drive traffic to your website and raise awareness for your campaign via social channels. In addition to crafting Reboot's Facebook and Twitter posts to help generate online conversation around the NDU (National Day of Unplugging) and the use of #unplug, we used the "I Unplug To ___" photo-submission campaign to encourage active participation. This new element both encouraged media to talk about why they unplug and created socially shareable content that promoted the movement, further inspiring readers and followers to also take part in the NDU.
2. Dig for Data. Uncover recent research, studies, or trends about your topic to develop fresh angles to make your news relevant. For example, our team found a new study by Pew Internet and American Life Project stating that 61% of current Facebook users have voluntarily taken a break from using Facebook. We tied this data point directly to our pitch to pique press interest in the NDU.
3. Motivate the Media. If appropriate, motivate the media to be the subject of their own story. Who has a tougher time unplugging from technology than reporters? Pitching a reporter to take a break from technology and be the subject of his or her own story proved to be an effective follow-up tool that sparked a fun conversation about the NDU and, in many cases, secured a story. Several reporters we targeted with this approach liked the idea of sharing their own personal struggles with unplugging from technology, as they knew their readers and followers could directly relate to that, too.
This article appeared in the July 22 issue of PR News. Subscribe to PR News today to receive weekly comprehensive coverage of the most fundamental PR topics from visual storytelling to crisis management to media training.