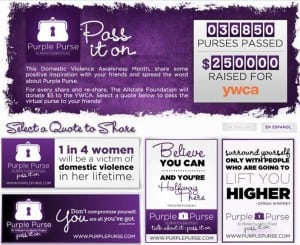 Allstate Insurance Co. sees all sorts of claims submitted each year that the insurer decides whether it should pay out. The Allstate Foundation, however, picks its issues and can offer up big bucks in support.
Last year, the Allstate Foundation didn't just throw money and energy at the problem of domestic violence in America—an issue that the company has been combating since at least 2005—but, with an assist from the Zeno Group, helped to drive discussion about a topic that most people prefer not to talk about.
The PR vehicle was the Purple Purse, the foundation's symbol for domestic violence that launched in 2011.
In 2012, the goal was not only to get people to talk about the subject but use the Purse to inspire conversation and show that the Allstate group is a leader in driving the overall awareness about domestic violence.
"Domestic violence has been called the No. 1 human rights issue of our time," says Kyle Donash, communication manager, media relations and issues management at Allstate. "Furthermore, lacking financial knowledge and resources is cited as the number-one indicator of whether a domestic violence victim will stay, leave or return to an abusive relationship."
PURSE STRINGS
According to PurplePurse.com, one in four women are subjected to domestic violence in their lifetime yet more than one third of Americans have never discussed the issue at all.
With stats like that to consider, the Foundation offered $175,000 to the YWCA for programs to help domestic-violence survivors.
However, Allstate didn't just fork over the cash. People had to "pass" virtual and physical purses (filled with information about domestic violence) to one another, with each pass triggering another small donation.
The campaign reached its goal in the first two weeks of October, and the total amount garnered was $250,000.
"Zeno and the Foundation literally put the purple purse into the hands of Americans to get involved. Purse sharing, both physically and virtually, was critical in achieving our campaign goals," says Danny Cohn, senior VP of Zeno Group. "Virtual and physical purses will be used in the 2013 campaign."
There were 500 physical purses stuffed with information about domestic violence; each purse was passed between thousands of people throughout the campaign.
These were distributed across the country to key stakeholders, such as 75 Allstate agents, advocates for educating people about domestic violence and journalists.
"Agency owners were selected to participate based on involvement in the Allstate Against Abuse Team, a group of agency owners who use their financial expertise to help survivors achieve their financial goals and stay free from violence," Donash says.
PURPLE PASSION
With each purse, there was a constant drumbeat to "pass it on," because every purse registered at purplepurse.com earned $10 for the YWCA each time [a purse] was passed to a new registered user.
Fourteen local YWCAs were selected to raise money directly for their organizations, with each outlet given 10 purses to pass around. On Facebook.com/PurplePurse, each virtual pass earned YWCA $5.
Helping to spread the word was celebrity spokesperson Rosario Dawson, ("Kids," "Men In Black II") who is an active board member of V-Day, a global organization that works to end violence against women and girls.
Domestic violence is particularly resonant for Dawson; during her childhood her mother worked in a New York City shelter.
She kicked off the campaign with satellite-media interviews early in the month, followed by a PSA. She also taped an Audio News Release in both English and Spanish.
"In the communities where I grew up there was a lot of violence. It keeps people from being able to do better for themselves - work wise, dropping out of school, missing workdays," Dawson told the Times of India.
She adds,"The financial strain that it puts on people is really the culprit, these are not people who are not worthy and can't do better for themselves. They are people who want to do better and just don't have the tools and resources, so for me, it's really personal. It's a cycle that needs to be stopped."
Zeno aimed its media outreach at national morning and daytime talk shows, newspapers in the top 100 media markets, online news websites, women's lifestyle publications and Hispanic media.
IN MOM WE TRUST
But while the presence of Dawson got the campaign play in some major media outlets, she certainly wasn't enough to carry it.
The Allstate Foundation also partnered with Social Moms—a highly influential online network with more than 30,000 members—to increase online conversation about Purple Purse.
That group held a Twitter Party, using #PurplePurse, to share info. To aid purse passing via social media, the foundation created an inspirational video as well an informational article to share.
Back in the physical world, the foundation passed along signage, media toolkits and detailed instructional playbooks on how to get folks to "pass it on" to all YWCAs as well as Allstate agents who were involved.
THE TAKEAWAY
Purple Purse Signage and Purple Purse Facebook Application: Zeno developed a wide variety of Purple Purse signage to make the message more shareable on social media.The media goal of the program was 117 million impressions, but it topped out at 155.8 million impressions through more than 1,550 placements. Interviews with Dawson ended up on such media outlets as Access Hollywood, CNN Showbiz Tonight, FoxNews.com, and The Huffington Post.
Social Moms made a huge impact with their online conversations, resulting in 41,114,863 impressions.
Other results included:
• #PurplePurse reached 1,751,467 unique people and achieved a trending status.
• More than 1,100 Twitter users sent more than 4,000 tweets using #PurplePurse.
• The editorial article produced by the foundation also collected 72,318 social media impressions, 453 shares, 395 comments and 247 "like" results on comments.
• Purple purses were passed more than 37,000 times and $250,000 was donated to the YWCA to fight domestic violence.
Most important, though, was that Zeno and the Foundation were successful in getting the conversation started. "Thousands of conversations took place about domestic violence because of this campaign," Donash says.
Since the donation goal went up to $250,000, the local YWCAs that had been expecting to receive $10,000 apiece instead received $15,000 to help domestic violence survivors and other women.
And even though the $250,000 goal was met before the month ended, the purses continued to be passed both online and offline, resulting in even more people being exposed to the campaign's ideas and the possibility of pushing aside society's unwillingness to talk about such a important and pervasive issue.
The PurplePurse.com site also provides a way for the conversation to continue long past the campaign's October timeframe. Users post photos of themselves on one page of the site with purple purses. Another page featured a slew of YouTube videos dealing with domestic violence. The campaign also included user-submit videos, such as employees in a CPA office passing a purse along to one another.
Other pages feature dynamically loading Twitter and Facebook feeds . Throughout the site, visitors are encouraged to discuss and share information dealing with domestic violence, and to share the site with others.
"Domestic violence can be a difficult topic for many people to discuss with their friends and family," Donash says. "Purple Purse made having those conversations easier. When more people start talking about this cause, everyone benefits." PRN
CONTACT:
Kyle Donash, Kyle.Donash@allstate.com; Danny Cohn, danny.cohn@zenogroup.com.
4 Tips on Generating Good PR Out of a Tough Subject
Getting involved with a difficult subject can lend an organization a sense of seriousness and empathy, but it can also weigh down brand image. Zeno Group shared its thoughts on how best to turn tough subjects into good PR:
1. Get creative. Further engage the general public by making it easier to talk about difficult topics in a creative, relatable way. We put a powerful, physical resource into the hands of Americans, helping reinforce the icon and need to raise awareness (about domestic violence). Also distributing signage and media toolkits to key stakeholders you involve helps spread awareness in an effective and meaningful way.
2. Think about partnering with a celebrity spokesperson to discuss the topic in the mainstream media.
3. Develop both online and offline elements to your campaign, giving people a chance to get involved in the cause and initiative.
4. Use your network and relationships. Most time, people want to get involved and help out. Engage key stakeholders, such as employees, media reps and key opinion leaders, to help spread the word.
This article appeared in the June 3 issue of PR News. Subscribe to PR News today to receive weekly comprehensive coverage of the most fundamental PR topics from visual storytelling to crisis management to media training.