Maintaining a stellar brand reputation goes beyond providing great products and services. It also requires maintaining authentic connections within the community. Canadian cable TV and phone service provider Telus recognized the importance of connecting to—and improving—the community it serves and decided to introduce a program that has raised millions of dollars and bolstered its customer base.
Telus CEO Darren Entwistle wanted to give people another reason to try Telus, so he helped to inspire a program that both the company and its customers are proud of.
"People want to do business with a company that shares their values for community and environmental well being," said Telus VP of community affairs Jill Schnarr.
Telus considers itself a leader in corporate social responsibility (CSR). When the company began strategizing about a TV and Phones for Good campaign, it wanted to roll out a program that was mutually beneficial. But that is easier said than done.
"We looked at communities in our incumbent areas where we offered TV services," Schnarr said. "And we targeted communities that had a high percentage of analog TV subscribers and were with our competitors. We knew they would have a higher propensity to switch to us for our digital TV service."
Telus targeted a large consumer market that not only subscribed to the competition's phone or television services, but also engaged with what Telus saw as an inferior product.
This is not a unique strategy. What is unique, though, is how Telus applies this approach to attracting new subscribers for its services. Aggressive advertising, promotions or reduced pricing could have been the media vehicles the company employed in its effort to attract new clients.
But instead it focused on how to reach out and touch the communities in a charitable way and on a hyper-local level. The program, which launched in 2009, features the following elements:
• Telus introduces the TV and Phones for Good initiative into 12 to 15 communities each year, which breaks down to about three to five new communities each quarter.
• Each campaign typically runs between three to six months.
• The campaign initially donated $100 dollars to a local charity for each subscription sold. This was later adjusted to $25, so that Telus could expand the program.
SET GOALS
Like any good PR campaign, a clear set of objectives must be laid out ahead of time.
Of course, the number-one goal for any company is to boost the bottom line, but a campaign like Telus' should establish goals that support the primary goal. With that in mind, Schnarr identified three of the TV and Phones for Good objectives:
• Sustained business is essential, but before you can hold onto a new customer you first must make them a customer.
• It's crucial to differentiate yourself from your competitors. Telus believes its community programs are a major factor that sets it apart from the competition.
• Your brand is only as good as its reputation, and TV and Phones for Good is aimed at promoting brand lift.
"We also had social goals," Schnarr said. "We wanted to make sure that what we were investing in had major impact within the community and carried real importance to people within that community."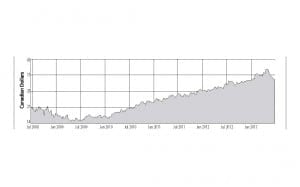 MAKE IT WORK
A symbiotic campaign like Telus' can present huge challenges in execution, namely identifying the wants and needs of an entire community.
Giving to charity is often noncontroversial, but don't assume that the charitable effort is going to go off without a hitch. Finding a program that serves an entire community is a task that may require lots of troubleshooting and feedback.
"We made some mistakes along the way," Schnarr said. "In some cases we didn't pick the most meaningful project, and you could see that based on the take-up in that community. It served as a good lesson."
Schnarr stressed that working alongside the marketing department was extremely beneficial in terms of connecting to the community and measuring its engagement. "If we were not working with marketing, then we were not having success in that community," she said.
To maximize success and customer satisfaction, Telus provides its customers with scorecards to rate the company's practices.
One of the questions Telus asks is: Do customers believe the company is making a difference in the community? Remarkably, 35% of customers said that Telus is making their community better, up from roughly 25% in 2008.
Not only does Telus take the pulse of its customers, but it taps into what its employees are thinking as well. Asked the same question about Telus' efforts in the community, 91% of the company's employees said that they believe the it is making a profound impact on the quality of life in the communities it serves.
IT'S ABOUT RESULTS
Happy customers are one thing, but a program that carries a budget of $9.1 million also requires tangible results. And they have been impressive:
• The company is 30% to 50% above forecast in sales performance versus projections in communities that host TV and Phones for Good.
• According to Schnarr, the company's retention rate has also improved. "Fewer people are leaving," she said. "We have reduced churn—the actual number of people who have turned off the product has been noticeably reduced."
• Telus has raised nearly $10 million for local communities that otherwise wouldn't have access to such funds.
• Several thousand new customers; 58,154 in 2011 alone.
LESSONS LEARNED
Since the campaign began Telus has gained some key insights into what works in cause-marketing campaigns.
Through a mix of informed decision-making and trial and error processes, the company has created campaigns that have resonated with its consumers. It has provided a tangible social impact in the community and it has benefitted financially in terms of sales, reduction in customer churn, brand enhancement and employee engagement.
There are few key lessons that Telus said helped to drive its results:
• In order for your message to be meaningful within a community and to resonate with consumers, a local charitable recipient is best. It provides a tangible place that people can easily identify where their money will go and how it will be spent within the community.
• Large causes and charities are great, but they are removed from the everyday experience of people in that community. So targeting community-specific needs is your best bet.
• The amount you donate should be meaningful, but does not have to be exorbitant. Telus started its program donating $100 for every new subscriber before reducing the donation to $25 per new subscriber. The move still allows the company to make a meaningful pledge per individual and simultaneously grow its cause-marketing campaign.
Telus' success with its cause marketing campaign has continued to grow and improve. Programs like TV and Phones for Good can improve a brand's strength and make its employees and stakeholders feel good about themselves.Vintage PR.
CONTACT:
Andrew Wilczynski, Andrew.Wilczynski@telus.com.
5 Reasons Why Brands Should Invest in CSR Programs
1. If your brand is serious about being part of the community then it must do more then just offer products or services. That means getting out there, connecting and giving back to the community that makes you a viable company.
2. They call it "cause marketing" for a reason. Giving back can strengthen your brand. Still, writing or presenting big checks only goes so far if your stakeholders can't make a personal connection to the cause, or contextualize where the money is going.
3. Symbiosis. Aligning your brand with a nonprofit organization can offer several benefits to both your company and your new partner. More specifically, a partnership based on community service can introduce your brand to new audiences. Not only that, but the brand's association can have a serious impact; depending on the recipient, some may associate your brand with the charity work that you sponsor, which has obvious benefits.
4. Giving back can support team building and bolster employee morale. For instance, companies can create friendly internal fundraising contests or games to fuel engagement. Still, be sure to remind your employees why they are giving and the impact the donations are making on the community. This will not only make them feel good, but motivate them to sustain the program.
5. Support can be leveraged into sales. There are several ways to spike sales through giving. Telus is an excellent example, as is Ben and Jerry's, which gives 1% of its sales to "peace." This can be especially helpful if your product or service is in a competitive market; sometimes it could be the charity your brand supports that nudges someone to chose you and not a competitor.
This article appeared in the July 1 issue of PR News. Subscribe to PR News today to receive weekly comprehensive coverage of the most fundamental PR topics from visual storytelling to crisis management to media training.