The adage may say otherwise, but just because you build it doesn't mean they will come—at least not in the context of digital communities executives build around their brands. On the contrary, the Web constructs that external stakeholders build seem to draw more attention than anything that smells of corporate messaging or PR-driven content. But that's not to say that social media isn't a key component of communications efforts, whether they're intended to increase brand awareness, build reputation or boost PR effectiveness.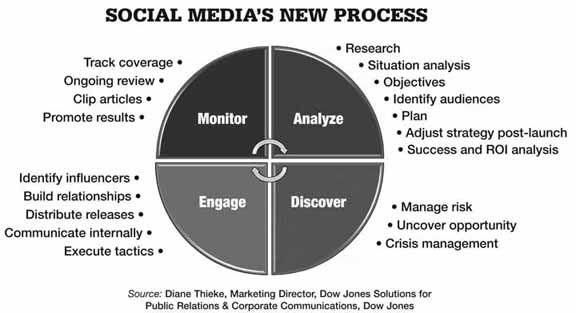 "Social media offers highly targeted opportunities in relevant outlets," says Idil Cakim, VP of interactive media at GolinHarris. "Audiences will be focused on your issue, and they will embrace your topic and spread [it via] word of mouth."
This, of course, is a best-case scenario, as focused audiences that take your messages viral via word of mouth are hard to come by.
"There is simply more competition for viewers than ever before. As a result, world of mouth has become the most influential factor in what companies consumers choose to interact with," says Curtis Hougland, founder of Attention PR. "It's not enough to air content. We must also share, link, tag, organize, barter, pitch and publish content authentically and systematically across social media."
In the face of these overwhelming responsibilities, new communications processes are rapidly emerging (see chart on page 6); luckily, communications professionals who have executed successful social media campaigns can offer tips for navigating the digital realm without inflicting irreversible harm to organizations' brands and reputations.
PARTICIPATING IN EXISTING CHANNELS
â–¶ Identify your online influencers. Before you begin building and managing your own communities around your brand, you must develop a deep familiarity with the conversations in existing online forums. Then, identify the leaders of these forums—those individuals who have influence over the audience based on their expertise and standing within the community. These will be the targets of your outreach efforts, and the people with whom you must ingratiate yourself.
Influencers don't fit a standard profile, though, as every brand has nuances that appeal to unique audiences. Just because a blogger has a massive following according to Technorati, doesn't meant he/she reaches the individuals who are most relevant to your brand. To identify the social media participants most influential to your target audiences, Cakim recommends considering them in the context of these attributes:
• Volume: Number of blog posts, etc.
• Authority: Number of in-bound links, authority ranking on Technorati, etc.
• Network: Number of followers on Twitter, number of active blog readers, etc.
• Conversation: Quality and quantity of comments, etc.
• Expertise: Content, industry-specific behaviors, etc.
• Demographics: Readers' average age, gender, spending habits, etc.
â–¶ Assess influencers' reach. Once you have identified your relevant online influencers, assess their reach. "To mobilize forces through social media, you need both reach and relevance," Cakim says.
According to Diane Thieke, director of PR and corporate communications for Dow Jones, an influencer's reach can be assessed according to how regularly they write about your company or industry, how connected they are to other influencers you've identified and whether or not they were early adopters of social media tools. For example, have they been on Twitter since its early days? How long have they been actively blogging?
â–¶ Engage influencers to build relationships. Once reach and relevance have been determined, it's time to engage these influencers with the purpose of pitching them stories and garnering positive coverage of your organization's initiatives. Don't make a pitch your first contact with a blogger; instead, begin following them and commenting on posts.
"Silence is not golden," Thieke says. "Build relationships publicly. Read and post to [influencers'] blogs."
Then, when you do approach them with an idea, they will be more likely to listen.
â–¶ Know when to say when. Finally, there is the question communications execs always ask: When it comes to negative commentary online, how do I know when to respond and when to keep quiet?
"Comment on [raging fires], not momentary puffs of smoke," Thieke says. "Set the facts straight and add perspective. Avoid the spitting match."
This is a time when knowing your most influential social media users works to your advantage: If a blogger with huge reach and relevance starts throwing flames, it's most likely going to require a response. If it's a blogger with a smaller audience/less relevance to your brand, it will probably behoove you to let it pass on its own.
CREATING YOUR OWN CHANNELS
â–¶ Know what you're getting into. Any social media endeavor that represents your brand is a big investment—not necessarily of money, but of time and manpower. Social media platforms are needy. Leveraging them to their fullest extent, Cakim says, requires training; tools for research, content development and distribution; internal support for marketing, advertising and PR; and a response strategy for handling conversations.
If you don't have the resources to maintain an active blog, there are alternatives.
"If you find it hard to commit, start a group blog," Thieke says. "That allows you to promote experts, divide up the work, schedule updates and have more control—but not too much."
â–¶ Sustain your online communities. The moment your Web platform's content becomes stagnant, everything you worked to achieve becomes null and void. Sustaining a viable interactive community, Cakim says, requires regular updates, prompt responses to inquires and participation-driven features like contests and opinion polls. She points to InterContinental Hotels Group as a best-in-class example of engaging users through its Priority Club Rewards Community, a Web portal that offers members various activities and resources, as well as a forum for conversing with one another.
â–¶ Determine outputs. A branded online community can generate a number of outputs, including increased trust, engagement and loyalty; ideas for new products or improved services; support for a cause; and increased sales.
Earned social media generates a number of benefits," Hougland says. "It drives traffic through natural search, inspires word of mouth among viewers and buzz among prospects, manages reputation and stems negative sentiment, deepens viewer relationships and drives awareness."
Regardless of your social media approach—participating in an existing community or creating your own—it's impossible to avoid the role digital communications now plays in reputation and brand-building.
"Social media is now a mainstream phenomenon. People no longer simply consume media; they create and share it," Hougland says. "They are conversing about [your brand] with or without your complicity, so join the conversation or get out of the way." PRN
CONTACTS:
Idil Cakim, icakim@golinharris.com; Curtis Hougland, curtis@attentionpr.com; Diane Thieke, diane.thieke@dowjones.com