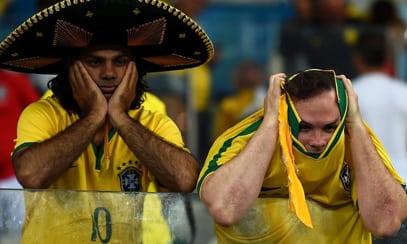 Brazil's loss to Germany in the World Cup semi-final match on Tuesday has been called historic, inconceivable, stunning and overwhelming, among other things. The country's worst-ever competitive result was the cause of much despair, as the images and videos coming out of the country during and after the German rout attest to.
One thing most people are not calling the loss is dangerous—but it may be for the brands that jumped at the opportunity to use the game's drama for social media gain. Digiday provides a roundup of brands newsjacking the Brazilian defeat, some of which display a borderline lack of tact.
The goal of brands and organizations using social media to remark on something happening in the news is obvious—more visibility leads to more awareness, which is the whole point of being on social media in the first place. It's essentially free advertising. Many buy into the idea that newsjacking is good for the brand, relentlessly citing the Oreo Super Bowl tweet as a landmark achievement of human thought.
But Brazil losing a World Cup semi-final in Brazil in such a stunning, catastrophic manner is different. This loss will haunt the country for years, possibly generations, much the same way that their loss the last time they hosted the World Cup—a nationwide tragedy known simply as Maracanazo—has impacted the country for over a half-century.
Sports fans—especially soccer fans—are incredibly passionate, and after spectacular losses it may be better for brands who want to steer clear of their wrath to stay out of the discussion.
Follow Brian Greene: @bwilliamgreene