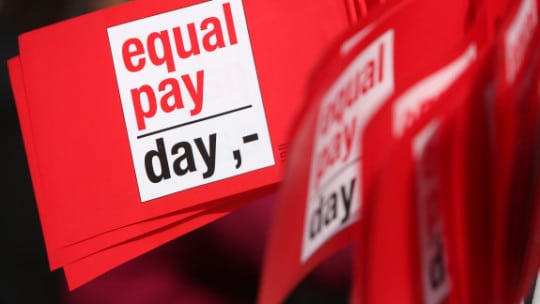 National Equal Pay Day just might be the most interestingly timed holiday. Begun in 1996, April 12 symbolizes how far into a year women in the U.S. must work on average to earn the equivalent of what men made in the prior year.
Any brand that values its reputation, particularly with millennials, wants to avoid being perceived as behind the curve on pay equity. As a result, a few brands touted their gender-neutral compensation bona fides today on social. On the other hand, many brands seemed to approach the day cautiously, preferring to remain silent on social rather than wade in on what could be seen as a controversial topic.
While #EqualPayDay was the top trending tweet at 3 p.m. ET, our unscientific search of tweets showed an abundance of politicos, unions, individuals and organizations tweeting. Relatively few non-media brands participated. The non-media brands we saw stuck out as a result. Delta Airlines tweeted: "Women have to work 20 extra weeks to earn what men do in 1 year. Not at Delta." Fashion retailer Barneys New York tweeted, "Barneys New York is proud to support ‪#EqualPayDay and women's equality" and added a quote from Gloria Steinem.
Another active non-media brand was Hill+Knowlton Strategies. As women make up 70% of the PR industry, it's appropriate that one of the PR powerhouses touted several steps it's undertaken to level the pay equity gap. Ahead of today's holiday, H+K said last night that in 2015 it undertook a review of what it pays men and women. The firm said it was "satisfied" with the findings, yet asked an outsider to audit its result. That outsider was Dr. Martha Burk, former chair of the National Council of Women's Organizations, who came to national prominence when she led a fight to open Augusta National Golf Club, which hosts the Masters, to women.
A recipient of PR News' Top Places to Work in PR and diversity honors, H+K says it also will review pay data annually; should the data reveal a gender gap, leadership will "proactively work" to rectify the imbalance; and all employees "will complete unconscious bias training to help control for factors that have been shown in academic research to impact advancement and compensation of women and other minority candidates."
While pay inequity is said to be rampant in the tech industry, several firms took great pains to confirm it ain't so, although to be fair, Arjuna Capital, a small investment firm, pressed nine tech giants to reveal their pay packets, including Facebook, Microsoft, Apple and Amazon.
Responding to Arjuna's request to unveil pay data, Microsoft's EVP HR Kathleen Hogan, in a blog Monday, wrote, "Today, for every $1 earned by men, our female employees in the U.S. earn 99.8 cents at the same job title and level." Racial and ethnic minorities in the U.S. combined earn $1.004 for every $1 earned by their Caucasian counterparts, Hogan wrote. "Breaking it down even further, African American/black employees are at $1.003; Hispanic/Latino(a) employees are at 99.9 cents; and Asian employees are at $1.006 for every $1 earned by Caucasian employees at the same job title and level, respectively."
Facebook said it pays men and women equally and is reviewing its data.
Needless to say, the holiday is highly political. Accordingly, President Obama took to Twitter to designate a monument in D.C. to women's equality. Located on Capitol Hill, the Belmont-Paul Women's Equality National Monument, formerly known as the Sewall-Belmont House and Museum, will be protected permanently under the auspices of the National Park Service. The house is associated with the National Women's Party, which fought for women's suffrage in the early 1900s.
Follow Seth Arenstein: @skarenstein