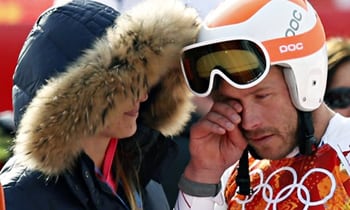 Olympic skier Bode Miller's on-camera emotional breakdown during an interview after his bronze medal victory drew a lot of heat on social media, and for once it wasn't directed at him. The five-time Olympian has courted controversy in the past for taking the games too casually and for being a party boy. But this time it was NBC's Christin Cooper who drew criticism for pursuing an insensitive line of questions about the death of Miller's brother.
Sports commentators often seek dramatic angles in their reporting to add depth to their coverage, but many Olympic fans took to social media after Miller's interview claiming that NBC went too far this time.
Miller chose not to engage in the post-interview firestorm, except to say that he did not blame Cooper for his reaction.
Miller could have joined the social media bashing of Cooper, and he was encouraged to do so by some fans. By taking the high road, he not only showed his support for Cooper but also provided a great example of handling a sticky media situation.
Scott Ziegler, social media strategist at Makovsky, recommends similar behavior for brand managers when they find themselves pressured to get involved in a news story. Ziegler recommends looking at your brand's objectives and personality to see if a comment is appropriate. If there is no compelling need to get involved, then stay out of it. Only comment if it is absolutely necessary.
In Miller's case, it was a matter of showing empathy for a journalist with whom he has had good relations. In your own case, it never hurts to make a brand look human.
Follow Richard Brownell: @RickBrownell