Press releases are press releases, and blog are blogs. Never the twain shall meet? That depends.
More than half (60%) of PR executives said they have not used blog type news releases without a formal news release, according to an exclusive study conducted by marketing communications agency MWW.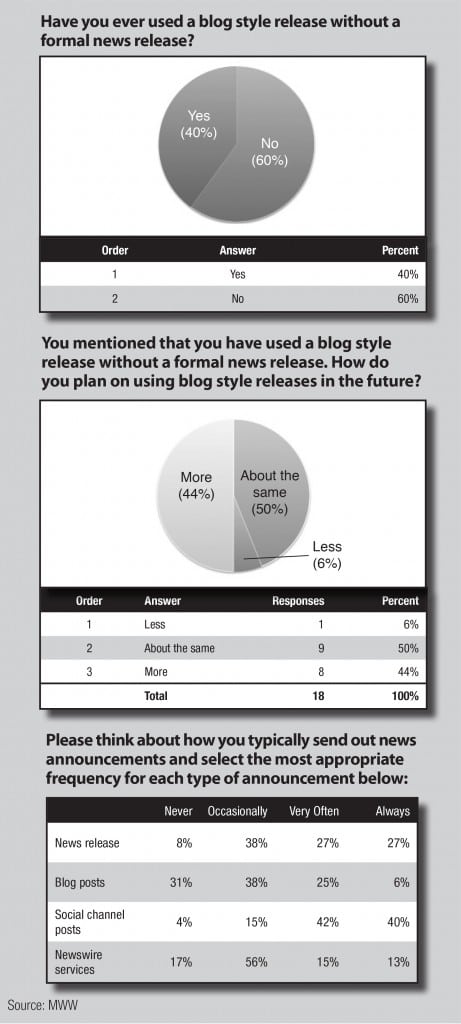 Among those PR executives who are using a blog style release without the accompaniment of a formal news release, 44% of the respondents said they plan to use more blog style releases in the future while only 6% said they would use them less.
"It's not blogs versus news releases, that's the wrong discussion," said Ephraim Cohen, executive VP of technology and digital content at MWW. "The discussion should be around formats, and when to use one, or the other, or both."
The online study, which was conducted in December and January, garnered a total of 42 responses. Nearly 80% of the respondents work in communications for a company or PR agency, with 42% in a management or supervisory role.
Despite the tremendous growth in social platforms, formal press releases still hold sway with stakeholders, according to the survey.
"It's a formal documentation of the news, whereas a blog is a place to further the dialogue to what's in the news release, and then, if it's appropriate, extending to other mediums such as video," Cohen said.
He stressed that traditiional and new media outlets alike still expect a formal press release for news and information. "As expectations change our delivery of news will change, as well." PRN
CONTACT:
Ephraim Cohen, ecohen@mww.com.
Editor's Note: Kudos from the client on a job well done (with budgets to follow) is a marker of success for PR agencies. But being recognized by your industry peers has its own rewards for PR professionals. PR News' PR Agency Elite Awards celebrates the best in class in PR. Share your clients success stories and tell us why you belong on the A-list. To enter, please go to www.prnewsonline.com. The entry deadline is March 14. Happy trails.
Source: MWW
The story originally ran in the Feb. 10, 2014 issue of PR News.
Read more subscriber-only content by becoming a PR News subscriber today.