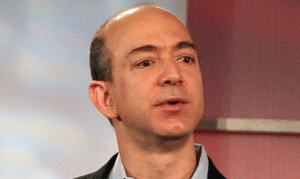 Amazon founder Jeff Bezos just added a new chapter to his already formidable legacy. The Internet tycoon announced Monday that he will buy the Washington Post for $250 million, ending the Graham family's 80-year ownership of the daily newspaper.
The deal leaves just a handful of family-owned newspaper companies, including the New York Times Co. (Our guess is the powers that be at the Times Co. are feeling a little bit of a chill down their collective spine this morning following the surprising announcement regarding the sale of the Post.)
Bezos will acquire the Post in a personal capacity and not on behalf of Amazon the company, according to several reports.
The deal may perhaps inspire other billionaires to purchase some of the nation's other newspapers and/or legacy media brands, which continue to struggle with both declining advertising and circulation due to the growth of digital media and free access.
(On Monday it was announced that Newsweek, which for years was owned by The Washington Post Co. before it was sold to Sidney Harman for $1 plus a reported $47 million in liabilities in 2010, is again being sold; this time by IAC/InterActiveCorp. to IBT Media, the publisher of the International Business Times.)
In his letter announcing the sale, Bezos did not mince words about the challenges that lie ahead for the Post, as well as the entire newspaper industry. Here's an excerpt:
"The Internet is transforming almost every element of the news business: shortening news cycles, eroding long-reliable revenue sources, and enabling new kinds of competition, some of which bear little or no news-gathering costs. There is no map, and charting a path ahead will not be easy. We will need to invent, which means we will need to experiment."
Aside from providing an honest assessment of the impact that that the Web is having on the newspaper field, the letter provides a lesson or two for corporate executives and PR pros communicators alike on how to communicate a sensitive issue amid so much media upheaval.
Bezos acknowledges the trepidation that some folks at the Post might have about the pending sale but also takes pains to assure employees and stakeholders that he's not going to get in the way of the newspaper's leadership.
The letter is respectful to the Graham family, and it's also realistic about bringing change to the brand and the need for more innovation.
Matthew Schwartz: @mpsjourno1