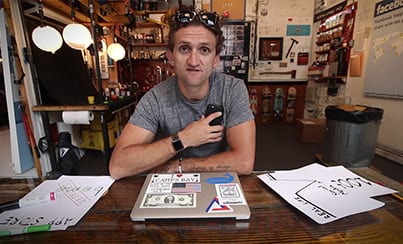 Live streaming via Periscope or Meerkat may be too mediated for the brains behind Beme, a social media app that just launched for the iPhone challenging the established notion of the carefully crafted personas people currently present on social media. The app allows you to record and share raw moments via your iPhone by holding the device to your chest and without looking through a viewfinder. The result is a real-time, in-the-moment short video that disappears once it is viewed, but can be commented on by the viewer.
Casey Neistat, the app's creator, noted in a video announcing Beme that his app is addressing a problem with other social media platforms.
"Social media is supposed to be a digital or virtual version of who we are as people," said Neistat. "Instead, it's this highly sculpted, calibrated version of who we are, told through filters that make our eyes bluer and carefully selected images to portray a version of who we are that doesn't really resemble the reality of things."
Neistat knows something about social media. He first gained attention with a pre-YouTube era video called "iPod's Dirty Secret," which earned over 6 million views in its first month of release, according to a New York Times report. He currently has several hundred thousand followers on Snapchat, 800,000 subscribers to his YouTube channel and fans and followers who eagerly wait outside Beme's offices for just a moment of his time.
Communicators looking for new ways to connect with people on social media may be intrigued by Beme's approach. People can be wary, and sometimes downright cynical, about the content they see from brands on social media. Their trust does not come easily, and only after they can be convinced that what they are seeing is true and based in reality. Beme could be a vehicle for that.
"Truth is so much more interesting than the fiction we're used to," Neistat told the Times.
Some would disagree with that sentiment, though.
Sarah Kessler of Fast Company wrote about Neistat's view, "Maybe video clips that are shot blind, not reviewed or edited and instantly broadcasted will create a less-invasive way to share. But the result is not a "real me," just another version—and one that's so far much less fun to follow."
To learn more about new trends in social media, join PR News for the Big 4 Conference taking place in San Francisco on August 6. You will hear from top communicators from Adobe, IBM, Aflac, Transamerica, Levi Strauss, FedEx and Edelman. 
Follow Richard Brownell: @RickBrownell