It was a scene that makes PR pros cringe: Hollywood director Michael Bay bolting from the stage during an appearance at last week's Consumer Electronics Show after the teleprompter failed. Bay was there with a Samsung PR executive to plug the company's new 150-inch curved television. From a communications standpoint, it was a good idea (at least on paper) to have the director of the Transformer film series promote a new TV that would, er, "transform" television viewing.
It was an opportunity for Samsung to get its message out to CES attendees, many of whom are online influencers and early adopters of new technologies. But the buzz related to the event—with a healthy dose of Schadenfreude via social media—was about Bay's meltdown, rather than Samsung's state of the art TV.
The episode underscores the challenges communicators face when producing PR programs and events, which are increasingly dependent on technology. The onus is on communicators to come up with a back-up plan that will not only mitigate any technical glitches (which will happen) but ensure that the overall message doesn't get buried.
Perhaps more important, it also points to some of the inherent problems PR executives must confront when trying to get the boss and other C-suite executives to carry the message and put their ego aside.
"When it comes to helping CEOs prepare [for events], PR execs have to say, 'You may not like this, but I'm here to save you from yourself,'" said Doug Spong, founder and president of Carmichael Lynch Spong, adding that the higher-level the executive, the more likely that during an event or speech something is going to happen that deviates from the original script.
YOUR NEW BFF
Before you do anything make sure that a senior PR executive will provide coaching and counsel to the C-level exec about the presentation, because no C-suite executive is going to take direction from someone four or five levels down the food chain.
Start the process by having a conversation with the person's executive assistant, who can be your new BFF when it comes to carving out some time with the executive in order to rehearse the program and make sure he or she knows what's at stake.
And when coaching CEOs for presentations, Spong said, don't leave anything to chance: What's your plan if the light goes out? What do you do if the PowerPoint fails?
When something does go wrong the most popular remedy is for the executive to be self-effacing or tell a story that wasn't in the original script but still is relevant to the message.
MAKE AMENDS
Ethan Rasiel, CEO and co-founder of Lightspeed Public Relations, who was previously PR director at Samsung, stressed that because it's difficult to inoculate C-level execs from something going wrong during a presentation, PR pros need two separate back-up plans:
1. On-stage recovery: Advise the speaker that he needs to keep his cool and deliver the overall message, even if it's impromptu.
2. Off-stage recovery (if needed): Find a way to reiterate the original message and recover value that may have been lost when things went awry. Samsung "should have had Michael do a do-over, in a two-minute video, explaining, 'This is what I meant to say,' which would have gone a long way," Rasiel said.
Tim Washer, who has worked in executive communications at IBM, PepsiCo and Cisco Systems Inc., has advised dozens of C-level execs on how to focus on the single most important idea they need to convey during a speech and salvage things if there's any type of glitch.
"I advise that [the executive] put a 3X5 index card in her pocket with a few bullet points," related to the original message, Washer said.
Echoing Sponge's comments, Washer stressed that when things go wrong during a presentation both humor and self-deprecation can be "incredibly endearing to an audience."
Another (and new) way to focus C-level execs for public appearances, Washer said, "is to say, 'If this happened to Michael Bay it can happen to anyone. Let's have a conversation."" PRN
CONTACT:
Ethan Rasiel, ethan@lightspeedpr.com; Doug Spong, doug.spong@clynch.com; Tim Washer, timwasher0@gmail.com.
How to Avoid 'Pulling a Bay' During PR Programs
Have you ever pulled a Bay during an important presentation? I sure have.
"Pulling a Bay" is my phrase for Hollywood director Michael Bay's on-stage meltdown during a recent presentation made on behalf of Samsung at the Consumer Electronics Show
Bay's stagefright is the norm, not the exception. Indeed, a now-famous survey said that Americans fear public speaking more than they do dying.
I, too, once feared public speaking. And, then I discovered stand-up comedy. I've been performing stand-up for seven years. It's been so useful in improving my public speaking that we now include it in the training of all Peppercomm employees. We've also trained hundreds of client executives in the art and science of stand-up comedy.
Comedy to the rescue. Had I had the chance to train Michael Bay in stand-up beforehand, here's what I would have said:
1. Own your fear. Everyone experiences anxiety before stepping on stage. Rather than freak out about it, embrace it. Here's a trade secret: the audience cannot tell you're nervous.
2. Cut the umbilical cord. I despise PowerPoint presentations (or any ersatz, pre-planned speech on a teleprompter). The single best way to avoid pulling a Bay is to memorize your four or five key messages in advance.
3. Show vulnerability. Even when I have memorized my presentation, I can still experience brain freeze. When I do, I admit it. Had Michael Bay been able to chuckle and sigh, "Sorry, guys, I can't remember the prepared speech," he would have lowered his own stress and the audience would have empathized with his plight.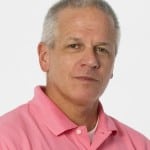 Steve Cody is managing partner of Peppercomm. He can be reached at scody@peppercomm.com.