Winner: Weber Shandwick – American Airlines Reduces its Carbon Footprint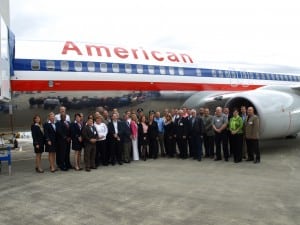 American Airlines teamed up with PR agency Weber Shandwick to spark communications plans around various fuel-saving campaigns designed to reduce American's carbon footprint. A major destination for the campaign: Engage employees in environmental initiatives by emphasizing what each can do to help conserve energy through Fuel Smart, the airline's fuel conservation program. The campaign wanted to inspire targeted work groups to implement existing fuel conservation strategies and reach the 2011 savings goal of 134 million gallons of fuel, followed by the 2012 goal of 148 million gallons.
American sought to keep employees engaged in current conservation practices while encouraging progress toward new fuel-saving initiatives via the Fuel Smart website, including expanding recycling efforts both inflight and on the ground. The campaign also featured a mobile Fuel Smart education booth for team members to take to events around the airline, such as airport employee programs and the company's annual sales conference.
What's more, Fuel Smart initiative posters that highlighted various team projects were supplied to departments, airports and maintenance bases, along with a steady stream of content about the initiatives on Jetnet, America's intranet.
Via the campaign, Fuel Smart surpassed its goals of 134 million gallons of fuel saved in 2011 by 7 million. At an average price of $3.05 per gallon, this represents at least $430 million in savings. —Matthew Schwartz
Honorable Mentions:
Brunet-García Advertising & PR - Speak Up for Florida's Waters initiative

Keep a Breast Foundation - Non Toxic Revolution

Oklahoma Municipal Power Authority (OMPA) - Oklahoma Comfort Program (OCP)
Back to the 2013 Nonprofit PR Awards