Winner: The Nature Conservancy – Broadcast Bench: Making Nature Relevant to TV Reporters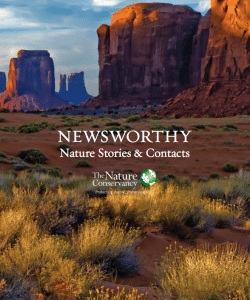 A team of five works with an average of 200 international and national media reporters. The Nature Conservancy received a great deal of feedback from the media about how it could better facilitate journalists' needs, especially for broadcast. Producers and bookers said they needed information more readily available about nature and natural events in bite-size pieces with biographies and photos of Conservancy experts.
That's why the team published information for this community in booklet form and distributed it to contacts throughout the media. This booklet was created so that the media could keep it by their computers, and whenever the topic of "nature" came up, they could easily locate experts in the category and reach out to someone who was prepared to go on TV in a moment's notice.
"We turned our messaging on its head to approach nature from a consumer angle. For example, instead of leading with the rivers we protect, we educated consumers about where their water comes from and how rivers impact their lives. Then we began training a new community of media-savvy experts who committed to respond to media inquiries on relatively short notice, such as natural events like floods, fires and hurricanes," says Bloom.
The team trained these scientists, practitioners, marketing officers and executives to become the Nature Conservancy's Global Spokesperson Network. This group offered experts on a wide range of the most relevant issues including climate change, natural disasters, clean air, green living, the health of our oceans and much more.
Between July 1, 2011 and June 30, 2012, the team achieved 16 television broadcast hits, including five major hits on CBS News programs and four appearances on NBC Nightly News, 878 hits on top-tier news websites, accompanying newspaper/magazine websites and high-traffic mainstream blogs. —Bill Miltenberg
Honorable Mentions:
• America's Wetland Foundation - Blue Ribbon Resilient Communities Envisioning the Future of America's Energy Coast
• Cause Communications - "2-Minute Answer Guide for Nonprofits" Book and Website
• NYU Langone Medical Center – TEAM SCIENCE – 2012 Research Report
• Office Depot Foundation/JKG Group - 2011 Office Depot Foundation Report to the Community