Winner: DoSomething.org – DoSomething.org's Bully Project & Bully Report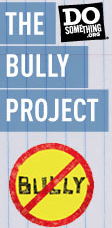 Bullying is an important issue for teenagers, but it's also a topic that's regularly addressed by organizations and the media. DoSomething.org wanted to approach bullying differently—the organization had a hunch that young people were feeling left out of the conversation, and made it a goal to find out just what teens thought about bullying.
After consulting with its Youth Advisory Council—150 teens from across the country —on calls to action and attitudes on the subject, DoSomething.org created a Facebook app that would allow teens to weigh in on bullying, and give their schools a "bully grade." They would then be able to invite their friends to participate as well.
Launched on March 27, 2012, the campaign piggybacked off of a partnership with the movie "Bully," and popular Nickelodeon star Victoria Justice filmed a PSA that was used for press outreach and also placed on a number of broadcast networks.
| | |
| --- | --- |
| | DoSomething.org's Bully Project met every one of its goals, acquiring 120,000 new members and garnering more than 274.5 million media impressions. There were 196,000 installs of the Facebook app; and 134,000 users submitted a full bullying report (graded) on their schools. —Scott Van Camp |
Honorable Mentions:
• Fenton - Mom's the Word
• Ogilvy PR - Million Hearts: TEAMing UP to bring high blood PRESSURE DOWN Ogilvy Public Relations on behalf of the Centers for Disease Control and Prevention (CDC)
• Powell Tate - This Is Personal
• United Nations Foundation - Uniting Girls to Change the World